Arcade Bomb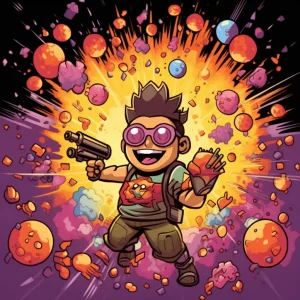 Arcade Bomb by Red Tiger Gaming is one of the best online slot games on the market today. If you're a fan of classic fruit machines, this game will take you back to the good old days. With five reels and twenty paylines, Arcade Bomb offers you lots of chances to hit the big time with a top payout of 1000 coins.
This game is packed with explosive features and bonuses that will blow your mind. You can set off bombs to destroy symbols and get closer to hitting the jackpot. The bombs have a timer that counts down, and when it reaches zero, the bomb will detonate on the reels for some big wins!
Another feature that sets this game apart is the regular alerts that pop up on the screen warning you of an incoming bomb. We must say it's a refreshing change to have something blowing up that doesn't involve politics.
Overall, Arcade Bomb is an enjoyable and dynamic game that will keep you on your toes. The graphics are bright, colorful, and have a nostalgic feel to them. So get out there and have fun playing this explosive game- and don't forget to watch your back!
Traditional Fruit Machine Theme With Modern Innovations
Arcade Bomb takes you back in time with its traditional fruit machine theme, but it also incorporates modern graphic innovations for a game with a unique feel. You'll feel like you're playing an old-school slot machine, but the bomb-themed background adds an unexpected element of excitement. It's like playing an explosive version of your favorite classic game!
What really sets Arcade Bomb apart from other traditional slot games are the exploding bombs with countdown timers. These innovative features enhance the visual appeal of the game and create a fun gaming experience that will keep you entertained for hours. It's a refreshing change from the usual static images that you see on most slot games.
All in all, Arcade Bomb is a great choice for anyone who wants to experience the nostalgia of a traditional fruit machine, wrapped in modern innovation. The game has a fun, light-hearted feel, which makes it a great option for anyone who wants to unwind after a long day. Give it a spin and see if you can win big!
Bombs Away! The Only Special Feature Of Arcade Bomb
Boom! Explosions are the name of the game in Arcade Bomb. And with each of the four-colored bombs representing a unique kind of explosion – vertical, horizontal, cross, and diagonal – players are in for some explosive fun.
But these bombs don't mean doom and gloom – quite the opposite in fact. When they explode, adjacent symbols are transformed into identical ones, creating potential wins aplenty. Who knew that bombs could be so lucrative?
One thing worth mentioning is that there are no wild or scatter symbols here. It's all about the bombs. What, did you want more? You greedy guts! But seriously, sometimes simplicity is key. And in this case, Arcade Bomb delivers on its promise to provide an entertaining slots experience with its explosive gameplay.
Enjoy Simple and Easy to Understand Gameplay
Arcade Bomb is unapologetically simple, which makes it a perfect choice for beginners who want to play slots without the hassle of complicated features. Playing Arcade Bomb is a lot like being in an arcade. Without the trouble of leaving your home, the game brings the fun and thrills of an old-fashioned arcade to your fingertips.
Don't be fooled by the simplicity, though. The game does offer a special feature where a bomb symbol will count down to zero on each reel before exploding and transforming into another icon. Who knew bombs could bring so much fun to online gaming?!
If you're someone who doesn't have much time to spare, but still loves to play slots, Arcade Bomb is perfect for you. The uncomplicated gameplay gives you a chance to unwind and enjoy the game without any annoyance or frustration. In fact, it's so easy to play that it can help you relax and forget about everything else, even if it's just for a few minutes.
Potential for Explosive Wins with Bombs
Are you ready for an explosive experience? The Arcade Bomb slot game may seem simple, but don't let that fool you! With the potential for massive wins from the bombs, this game will blow you away. Literally! You might even end up feeling like you're defusing a bomb as you hit that spin button and wait for the symbols to line up.
One of the best things about Arcade Bomb is the bombs themselves. These are no ordinary bombs; they contain the power to generate identical symbols on adjacent tiles. That means more chances for you to win big! And who doesn't love a good explosion every once in a while?
Looking for a classic fruit machine slot? Arcade Bomb has got you covered. Or maybe you're new to the world of slots and want a game that offers the potential for significant rewards? This game might just be what you're looking for. With simple gameplay and the possibility of massive payouts, Arcade Bomb is a blast!
FAQ
What is Arcade Bomb?
Arcade Bomb is a slot game that combines the nostalgia of traditional fruit machines with modern animation techniques.
Who created Arcade Bomb?
Arcade Bomb was created by Red Tiger Gaming, a highly regarded games software developer based in the United Kingdom.
How many reels does Arcade Bomb have?
Arcade Bomb has 5 reels, which is a standard feature found in most classic slot games.
Is Arcade Bomb easy to understand?
Yes, Arcade Bomb has simple gameplay rules, and it's easy to understand, making it ideal for novice players.
Are there any wild symbols in Arcade Bomb?
No, Arcade Bomb doesn't have wild symbols, but it features bombs that can transform adjacent symbols into identical ones.
What is the maximum payout in Arcade Bomb?
The maximum payout in Arcade Bomb is 1000 coins.
What special features does Arcade Bomb have?
Arcade Bomb's only special features are bombs that change adjacent symbols. Each of the four colors represents a different type of explosion – vertical, horizontal, cross, and diagonal.
Is Arcade Bomb suitable for experienced players?
Arcade Bomb is a classic fruit machine slot game and lacks the complexity and variety of modern games. If you're an experienced slot player looking for more features or options, this game may not be the best choice.
What we like
Traditional fruit machine theme with modern innovations
Explosive bomb feature creates unique and exciting gameplay
Simple and easy-to-understand gameplay great for beginners
Potential for significant payouts
What we don't like
Lack of other special features like wilds or scatters
May not appeal to players looking for more complex gameplay