Alien Antix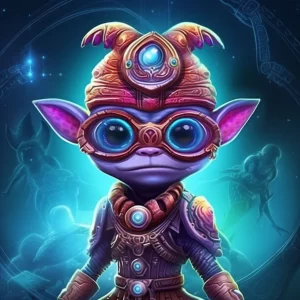 Ah, the vast expanse of space… so mysterious, so alluring. Who knows what kind of lifeforms exist beyond our galaxy? Well, we may not have to wait for that interstellar encounter any longer, thanks to Alien Antix online slot game! This game has got it all — weird alien heads, huge cash prizes, and enough space fun to make Buzz Lightyear jealous.
In Alien Antix, these stupid aliens need YOUR help to form clusters, and they're willing to pay you in cash for your services! So get ready to cluster those mushy alien heads and win big! Experienced gamblers will find this game to be right up their alley, and even newcomers can give it a try with its user-friendly interface.
With 64 square grids, cascading drops, and a deliciously high variance, Alien Antix will take you on a wild ride through outer space! That's right, folks, you read that correctly. So put on your spacesuit and get ready for an adventure of a lifetime with Alien Antix online slot game.
Get Ready to Blast Off with Alien Antix: A Review of the Gameplay Features and Symbols
Looking for a slot game that's out of this world? Look no further than Alien Antix! This game is packed with features that will have you feeling like you're exploring the universe.
Let's begin with the wilds. These little green guys are here to help you win big. But watch out, they might just abduct your winnings! Just kidding, they're safe. Or are they? You never know with aliens!
Along with the wilds, there are extras such as win multipliers, a free spin bonus, and colossal symbols. These features make the game more interesting and add to the excitement of each spin. I mean, who doesn't love a good explosion?
Forming clusters is key to winning, and the colossal symbols and wilds help to increase the chances of doing so. And if you're lucky enough to trigger the Colossal Capers Free Spins bonus round, you'll be treated to eight free spins and colossal alien heads. It's like being abducted and taken to an alien disco party!
All in all, Alien Antix is a game that's truly out of this world. With its quirky symbols, fun gameplay and exciting features, it's definitely worth a spin. So buckle up and get ready to explore the galaxy!
Free Spin Bonus and Variance
Are you ready to join the alien invasion on the reels of Alien Antix? Not only will you enjoy stunning graphics and a spacey soundtrack, but you'll also get a chance to trigger the Colossal Capers Free Spins. And let me tell you, these spins are out of this world!
The wild symbol is the key to unlocking this bonus. Land it on the reels and you'll get eight free spins. But that's not all. Each spin comes with a colossal alien head that covers multiple positions on the reels, increasing your chances of landing a big win.
And if you're lucky enough to hit a winning cluster with a wild symbol, you'll get a 1x multiplier for each cascade win. That means your winnings can skyrocket faster than a rocket ship!
But be warned, this game is not for the faint of heart. With high variance, you'll need a healthy dose of courage and luck to survive the alien invasion. But don't worry, the rewards can be astronomical if you're up to the challenge.
Graphics and Animations
Alien Antix, the online slot game from Blueprint, is out of this world! The graphics and animations are so good that they will make you feel as if you are on a far-off planet. The creatures are amazing and show an array of emotions, ranging from amazement to shock and everything in between. You won't be able to resist the charm of these cute little creatures.
What's even better is the light effect that comes along every time you win. It's as if the aliens are congratulating you on your win! The best part of the game, though, is when you get the colossal symbols. These massive creatures create their light effect that is so impressive you won't want to stop playing the game.
The space-themed background is a sight to behold. The meteors that explode the planet's surface, the bizarre space objects that float around, and the galactic vortex spinning endlessly, create a volatile corner of space that will amaze you.
Overall, the graphics and animations of Alien Antix are out of this world. Blueprint has done an excellent job of creating a game that is visually stunning and incredibly entertaining. This game has the perfect combination of stunning visuals and exciting gameplay that will keep you hooked for hours on end.
Other Similar Space-Themed Slot Games
So, you're looking for other space-themed slot games to enjoy? We got you covered! Thankfully, the endless abyss of the vast universe offers plenty of options to choose from.
If you're looking for a more cinematic experience, you might want to blast off with NetEnt's Aliens. This slot game takes place in the same universe as the popular sci-fi movie series with the same name. Get ready to battle xenomorphs in the cool bonus round, and you might just win big.
Of course, let's not forget about the age-old classic, Starburst. Even though it may not necessarily be a space-themed game, it does offer a beautiful, intergalactic-inspired design. Plus, with the potential of landing some Wilds and re-spins, you never know how much treasure you could be bringing back to Earth.
But, if your space adventures are really taking you to the outer limits, you could take a chance with Cosmic Fortune. This space-themed progressive jackpot game offers five jackpots, including a Mega Jackpot that could have you swimming in so much cash, you could put Elon Musk out of business.
Regardless of which space-themed slot game you choose, whether it's Alien Antix or one of the other fantastic options, let's just hope you don't get lost in the cosmos.
FAQ
What is Alien Antix?
Alien Antix is an online slot game with a cast of alien creatures that need to form clusters to win. It has 64 square grids that offer cascading drops, a wild symbol that substitutes for any, and triggers a free spin bonus.
How do I win in Alien Antix?
You need to see five or more of the same alien creatures occurring on horizontal or vertical rows and adjacent to each other to form a winning cluster. The highest wins are made with 25 or more of the same.
What are colossal symbols in Alien Antix?
Colossal symbols can be all alien heads that occupy a rather substantial part of the reel-set, creating their own light effect. They can trigger a free spin bonus called Colossal Capers Free Spins.
What is the maximum payout in Alien Antix?
The maximum payout in Alien Antix is 50,000x. The game also has high variance.
Is Alien Antix a fun game to play?
Yes, experienced gamblers will find this game fun to play. The creatures show a life of their own, and every winning outcome is made known by a light effect that evaporates the symbols.
What is the most valuable symbol on the reels in Alien Antix?
The most valuable symbol on the reels is the orange cyclops alien. A win involving this symbol in 25 or more cases can result in a prize of 100x multiplied by the triggering bet.
What other similar slot machines are there?
If you like stories about extraterrestrial life forms, you may enjoy the Aliens slot machine by NetEnt, which offers 3D graphics and interesting features.
What is the wild symbol in Alien Antix?
The wild symbol in Alien Antix is an atom and its electrons in their eternal rotation. It substitutes for any symbol and can trigger the free spin bonus.
What we like
Variety of bonuses and symbols for increased chances of winning
Fun and unique gameplay with clusters
High variance and maximum payout of 50,000x
Excellent graphics and animations that enhance the overall gaming experience
What we don't like
Game may not be as enjoyable for novice players