Alchemist's Gold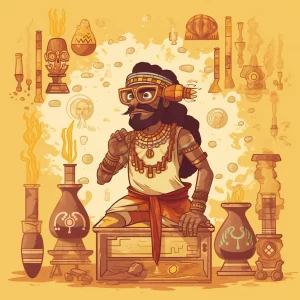 Get ready to turn base metals into gold in Synot Games' slot game, Alchemist's Gold. With its modern approach, stunning graphics, and sound effects, players will surely enjoy this game. You'll find a standard configuration of 5 reels and 10 lines, with various symbols that perfectly embody the binding theme: alchemy.
But don't worry, you don't need a degree in chemistry to figure out this game. It's easy-peasy, and with a little bit of luck, you could walk away with a treasure trove of winnings. The Alchemist's Gold Slot Game is a game for all skill levels – perfect for novice players or seasoned high-rollers looking to ease the burden of their high-stakes games.
The graphics deserve a special mention – the game is beyond realistic. The slot machine is set on what appears to be an alchemist's wooden table, with ancient Greek-style alchemical symbols hanging around the reels. It's a unique and captivating experience that will leave you enlightened and entertained at the same time.
The game's symbols are just as impressive – from the mythical green dragon to the gold bars, there's a symbol to cater to every player's taste. The Wild symbol is represented by the powerful dragon, substituting for all other symbols except for the Scatter. Landing 3, 4, or 5 Scatter symbols triggers the Free Spins Game and may bring you luck and free spins, leading to big wins. Who doesn't love free stuff, especially when it comes with a chance to win big?
Overall, Alchemist's Gold Slot Game is a must-try for those looking for a fun and exciting online casino gaming experience. It's easy to play, offers big payouts, and its graphics are out of this world. Give it a try and discover the gold hidden behind the mysterious curtains of the alchemist's table.
Gameplay And Features
Looking for a casino slot game that can turn your lead into gold? Look no further than Alchemist's Gold! This game boasts simple yet engaging gameplay that's perfect for both newbies and veteran players alike. With its Mystery Symbol feature, you can increase your chances of creating winning combinations and increase your chances of winning big. Who knows, you might even end up turning your whole screen into a sea of gold like a successful sorcerer!
But that's not all – Alchemist's Gold also has a 50/50 game that allows players to double their winnings. It's like a game within a game – it's like getting a present inside a present! If you're feeling lucky and want to try to double your money, then this game feature is perfect for you.
The simplicity of the game's mechanics, combined with the added excitement of the Mystery Symbol function and the 50/50 game, make Alchemist's Gold a game that'll give you hours of fun and a chance to win big. So why not give it a try and see what kind of treasures you can uncover?
Graphics and Symbols
If you are tired of playing slot games that look like they were made in the early 90s, then Alchemist's Gold might just be the breath of fresh air you need. The graphics of this game are nothing short of fantastic, featuring attention to detail that is simply unmatched. The colors are bright and vibrant, and the animations are smooth and slick – just the way a good slot game should be!
Now, let's talk about the symbols. It's refreshing to see a slot game where the developers have put some thought into the symbols instead of just slapping the usual high-card ranks on the reels. Alchemist's Gold features symbols that perfectly fit the game's theme of alchemy, and each one is beautifully rendered. You'll find yourself easily immersed in the world of this game, thanks in part to the amazing symbols on the screen!
In addition to the elements of earth, air, fire, and water, you'll also see various mixes of chemicals shimmering across the reels. These symbols may not be as visually striking as some of the others, but they can still help you on your way to a big win, so be sure to keep an eye out for them!
Overall, the graphics and symbols in Alchemist's Gold are top-notch, and worthy of any slot game enthusiast's attention. It's like someone took a time machine back to the middle ages (except with better graphics)!
The Mysterious Magic of the Mystery Symbol Function!
Are you ready to witness some real alchemy in action? If so, then the Mystery Symbol function in Alchemist's Gold is just the feature you've been looking for! This feature will randomly select a symbol and then transform it to any other symbol, increasing your chances of winning. It's like having a magical potion at your disposal, and who wouldn't want that?
Now, you might be wondering – is this function consistent? The answer is no, but that's part of the fun! When it does pay out, it does so in a truly unique and unpredictable way. It adds a whole new level of excitement to the game, and you never know when that Mystery Symbol is going to work its magic to make you a winner.
So get ready to channel your inner alchemist and experience the mystical and magical Mystery Symbol function in Alchemist's Gold. Who knows, you may just discover the secret formula for winning big!
Double or Nothing: The Chance to Double Your Winnings In Alchemist's Gold
Are you feeling lucky? Well, get ready to put it to the test because Alchemist's Gold is giving you the opportunity to double your winnings! Yes, you read that right! You have the chance to multiply your payout with a 50/50 game that asks you to guess the color of the next drawn card.
Sure, it's a risky gamble. But hey, where's the fun in playing it safe all the time? With high stakes comes great reward, and if you're lucky, you could be the next millionaire in town. Of course, we're exaggerating here but there's no doubt that the possibility of doubling your winnings is thrilling in itself.
A word of caution though, don't let this feature get the best of you. Knowing when to stop and take your winnings is the key to a successful gambling experience. Oh, and don't forget to enjoy the excitement of the game while you're at it! Now, let's get back to Alchemist's Gold. This game has an exciting bonus round, great graphics, and smooth gameplay, making it one of the most entertaining slot games out there.
Overall, having the chance to double your earnings with a simple prediction is one of the highlights of Alchemist's Gold. Take the plunge, breathe in, and go all in. The stakes are high, but the probability of getting it right is exhilarating. So are you feeling up to the challenge?
FAQ
What is Alchemist's Gold?
Alchemist's Gold is a video slot game created by Synot Games that allows players to dream of important wealth starting from metal.
What is the structure of Alchemist's Gold slot?
Alchemist's Gold slot starts with a normal structure of 5 reels and 10 lines to present some pleasant gifts to gamers.
What is the Mystery Symbol function?
Alchemist's Gold slot includes a Mystery Symbol function that is ideal for creating winning combinations.
Can I multiply my winnings in Alchemist's Gold?
Yes, you can multiply your winnings over and over again by betting what you have conquered.
What are the different game symbols in Alchemist's Gold?
The different game symbols in Alchemist's Gold include playing cards, earth, air, fire, water, and a pink luminous vial.
What is the importance of the mysterious symbol in Alchemist's Gold?
The power of the mysterious symbol is to transform into any other image selected randomly, thus increasing the chance of making the winnings.
Does Alchemist's Gold offer free spins and bonuses?
No, Alchemist's Gold lacks features that would spice up its gameplay a little, but its Wild will fill the absence of free spins and bonuses.
Is there an additional round of pure chance in Alchemist's Gold?
Yes, Alchemist's Gold offers an additional round of pure chance called a 50/50 game that allows players to double their winnings.
What we like
Simple gameplay with a Mystery Symbol function
Well-crafted graphics that stand out
Symbols that reflect the alchemy theme
Chance to double winnings with a 50/50 game
What we don't like
Inconsistent bonus feature
Risky 50/50 game