Action Dragons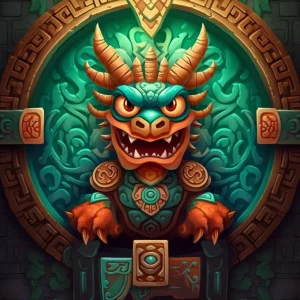 Buckle up, folks! This is Action Dragons, the online slot game that will have you biting your nails with excitement! Created by Ainsworth, it features an Asian-inspired theme complete with dragons, swords, and ninja stars – what more could you want?
The game boasts five reels, three rows, and an impressive 30 always-active paylines. That's right, you don't need to worry about choosing your paylines here, because every single one is in play. With a medium variance, theoretical return to player rate of 96.57%, and a maximum payout of 1500x on winning bets, you'll want to get your claws (or should we say, talons?) into this game ASAP.
The graphics are top-notch, the sound effects are thrilling, and the bonus features are simply divine. You'll get the chance to trigger free spins and multipliers as you spin those reels. And what's more, you'll have the chance to land those highly-coveted dragon symbols that bring the biggest payouts of all.
In summary, Action Dragons is a beguiling game with enough twists and turns to keep you interested for hours on end. So get your game face on, folks, and get ready to take on the fire-breathing dragons!
Special Bonuses
Are you tired of the same old slot game bonuses? Fear not, my adventurous friend, because Action Dragons has got something special just for you.
First off, let's talk about the wild dragon. No, not the mythical creature that breathes fire and hoards gold (although that would be pretty cool). This wild dragon helps players complete winning combinations, swooping in to save the day when luck seems to be against you.
But that's not all – the free spin round increases the chances of collecting high-value prizes. Who doesn't love free spins? It's like being a kid in a candy store, but instead of candy, it's cold hard cash.
Now, if you're really lucky (or just really good at hitting the right buttons), you might trigger the Lucky Multiplier Spins bonus during the free spin round. This bonus can boost your rewards by up to 5x. Let's do the math, shall we? That means if you're betting big, you could walk away with a whopping 1500x your bet.
So, my fellow slot game enthusiasts, if you're feeling lucky and looking for something different, give Action Dragons a try. You never know what kind of treasures those dragons might be hiding.
Gameplay Features
Get ready to feel the heat with Action Dragons, an online slot game that will have you breathing fire! But before you unleash your inner dragon, let's take a look at the gameplay features.
First of all, kudos to Ainsworth for making the game more intuitive than ever before. With a betting range that starts at $1,00 and goes all the way up to $48,00, players have plenty of options to choose from. And if you're feeling lazy, the autoplay mode provides a relaxed gaming experience – perfect for those lazy Sunday afternoons.
But hold on, that's not all! Additional optional settings let players control their balance expenditure, making it easier to keep track of your bankroll. And for those feeling particularly daring, the Max button allows players to place the highest bet with just one click. It's like playing Russian roulette, but with dragons!
Need more information? No problemo. The paytable can be accessed via the menu in the bottom left corner. So, whether you're a seasoned player or a newbie, Action Dragons has got you covered.
Graphics and Sound
If you're looking for a game that's visually stunning, Action Dragons won't disappoint you. The game's stylized reels are heavily influenced by Chinese culture, featuring symbols like gold coins, the yin and yang symbol, and a ribbon-bound gold coin. But let's be honest here, would it be a proper Chinese-inspired slot without a fire-breathing dragon? Don't worry, Action Dragons has got you covered.
The icing on the cake is the striking jade color of the background. It's almost like it's telling us to jump right in and get lost in a world of adventure. If you're playing on a desktop, you'll enjoy the full effect. But if you're more of a mobile-pinching person, don't worry. This game's graphics are just as impressive on mobile devices. You'll never have to worry about missing a thing!
And we can't forget the modern Chinese music in the background. It's just what you need to put you in the mood for some action. Literally. Don't blame us if you decide to take on the world after playing Action Dragons. We warned you.
Payouts and Variance
Are you ready to discover the payouts and variance of Action Dragons? Brace yourself because we've got some juicy details for you!
First things first, to win in this game, you'll need three matching symbols on any of the 30 paylines. Of course, the highest payouts come from getting five matching symbols. But here's a pro tip: keep your eyes peeled for the dragon symbol, as it pays out the most.
Regarding variance, Action Dragons is considered a medium variance game. So, while you won't win as frequently as you would in a low variance game, the payouts will balance out eventually. And, with a theoretical return to player of 96.57%, there's a good chance you'll have some winnings to show for your efforts.
Now, let's talk about the bonus round payouts. Yes, they may be lower than in base gameplay, but the guaranteed multipliers make up for it. Who knows, you could still get lucky and hit a massive jackpot in the bonus round.
Finally, if you love Action Dragons, we recommend checking out Konami's Ancient Dragon slot machine. It features a similar Chinese-themed design and has an impressive 100 paylines.
So there you have it, folks. Now it's up to you to spin the reels and see if luck is on your side today!
FAQ
What is the minimum and maximum bet range of Action Dragons slot game?
The game bet range starts at $1,00 per spin and maximum at $48,00.
What is the theme of Action Dragons online slot?
Action Dragons has an Asian-inspired theme, featuring symbols such as lucky fish, vases, and gold coins inspired by Chinese culture.
What is the theoretical return to player of Action Dragons slot game?
The theoretical return to player of Action Dragons slot game is 96.57%.
What kind of bonuses does Action Dragons offer?
Action Dragons offers unique bonuses such as free spin round and Lucky Multiplier Spins.
Are the symbols of Action Dragons well-designed?
Yes, the symbols of Action Dragons are well-designed, given that it's developed by Australians Ainsworth Gaming Technology that specializes in creating online slot games with Asian themes.
What is the wild symbol in Action Dragons online slot?
The wild symbol in Action Dragons is the dragon, which appears on multiple reels simultaneously and substitutes all symbols except for the scatter and bonus symbols.
What is the payout potential of Action Dragons online slot?
Action Dragons online slot has a potential maximum payout of up to 1500x on a winning bet.
Which similar slot games can be compared to Action Dragons?
Konami's Ancient Dragon is another famous slot game with an Asian-inspired theme similar to Action Dragons.
What we like
Unique bonuses with wild dragon and Lucky Multiplier Spins
Intuitive gameplay with optional settings
Visually impressive reels and graphics
Medium variance with a theoretical return to player of 96.57%
What we don't like
Payouts during bonus round are lower than in base gameplay
Maximum bet is limited to $48,00