Acorn Pixie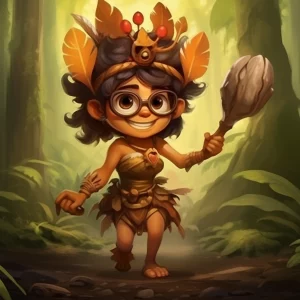 Looking for a slot game that will transport you to a magical forest filled with adorable fairies, whimsical mushrooms, and glittering treasures? Look no further than the Acorn Pixie Slot Game, brought to you by Bally Technologies!
With 5 reels and 30 to 50 paylines, this game is sure to provide players with plenty of chances to win big. But it's not just the rewards that make Acorn Pixie so enchanting — the stunning animations and immersive gameplay will keep you playing for hours on end.
With wild symbols, free spins, and bonus rounds, there are plenty of opportunities to earn some extra loot. So what are you waiting for? Give Acorn Pixie a spin and let the magic unfold!
Get Ready to Go Nuts – Gameplay Features
If you're looking for some magical slot game action, Acorn Pixie has got you covered. With its charming fairytale-like graphics and fun gameplay features, it's bound to keep you entertained for hours on end.
Now, let's talk about the gameplay features that make Acorn Pixie so addictive. First up, we have the Cluster Wild 2×2 feature that's sure to make your winnings go tree-mendously high. This feature lets you combine wilds to create 2×2 icons that can land anywhere on the reels, giving you a chance to win big. It's almost like your slot game dreams have been 'oak-ified'.
The Acorn Pixie Bonus feature takes things up a notch (or maybe a branch?). Triggered by the appearance of three scatter symbols on reels 2, 3, and 4 simultaneously, this feature unlocks seven free spins, and increased paylines up to 50. That's right, 50! You don't need to be a math whiz to know that equates to more chances to win.
And if you're feeling extra adventurous, the Bonus Buy feature allows you to choose from three different options to access the game's features. With so many opportunities to win, you're sure to be acorn-stoppable.
Graphics and Symbols
The graphics and symbols of Acorn Pixie are exquisite. The game's aesthetic is superbly crafted and impresses from the start. The mystical valley that welcomes the player is visually stunning and makes one feel like they've been transported to another realm. Not only are the graphics easy on the eyes, they are also catchy and playful. It's not uncommon to find yourself laughing in delight at the symbols and animations.
There are fairies that flutter around the screen, cute elves that ride acorns, beautiful flowers, dragonflies, and the occasional mushroom. The combination of these symbols add to the game's magical and whimsical atmosphere. You'll feel like you're in a fairy tale! The most valuable symbol is the elf on an acorn. When players find five of these on a payline, they'll get a maximum value of 10x their bet. It's an exciting adventure that's full of surprises and great rewards.
We've got to admit, Acorn Pixie may not be the type of game that will make you an instant millionaire, but you'll surely have a great time playing it. It's the perfect type of game for anyone who loves great graphics, cute characters, and a fun game experience. Who knows, while you're busy having fun, the game might just help you earn some life-changing money.
Valuable Symbols
Are you ready to discover the most enchanting and valuable symbols of Acorn Pixie? Look no further, we've got you covered!
The elf sitting on top of an acorn is the symbol that you want to keep an eye on. Not only is it adorable, but it's also worth a maximum value of 10x your bet if you find five on a payline. That's right, folks, the elf is not only cute but generous too!
The wild symbol in Acorn Pixie is also pretty valuable. It can replace any other symbol in the formation of winning combinations (except the scatter symbol). And if you were lucky enough to find five wild symbols, you can win up to 20x your bet. That's some serious acorn madness, my friends!
So gather your inner pixie and get ready for some wild and magical spinning action in Acorn Pixie. Who knows, maybe you'll be lucky enough to find all the valuable symbols and win big time!
Entertainment Value
Acorn Pixie, the slot game with the charming title that reminds players of a classic fairytale, is a barrel of laughs and fun, thanks to its vibrant colours and a good sense of humour. The first thing that players will notice about this game is the beautiful graphics which bring the world of pixies and enchanted forests to life. What could be more entertaining than reliving your childhood tales?
But as much as we all love pretty pictures, it's the bonuses that get us truly excited. Acorn Pixie offers a well-structured gameplay experience, with fixed lucky wilds and scatter symbols that increase your chances of landing a winning combination.
However, despite its entertaining value, some players may find the gameplay a bit too slow-moving for their tastes. But hey, good things come to those who wait, right? Don't let that discourage you from diving into this fun and whimsical world, just give it a little patience, and we're sure you'll be rewarded in the end.
Overall, Acorn Pixie is a great slot game for those looking for a light-hearted and visually stunning experience, with the added bonus of some decent payouts. Give it a spin – who knows, maybe you'll find your happily ever after.
FAQ
How many paylines does Acorn Pixie have?
Acorn Pixie has 30 to 50 paylines.
What are the bonus features of Acorn Pixie?
The bonus features of Acorn Pixie are Cluster Wild 2×2 and Acorn Pixie Bonus.
What is the elf on the acorn symbol?
It is the most valuable symbol that gives a maximum value of 10x your bet if you find five on a payline.
What is the maximum payout for finding five wild symbols?
The maximum payout is up to 20x your bet.
What is the Cluster Wild feature?
Cluster Wild enables you to use combined wilds that become 2×2 icons that are randomly placed anywhere on the reels.
What is the Acorn Pixie Bonus feature?
Acorn Pixie Bonus feature unlocks seven free spins and increased paylines up to 50, with fixed wilds that remain on the grid.
What is the Bonus Buy feature?
Bonus Buy feature allows access to the bonus features at a cost without waiting for them to activate naturally.
Is the Acorn Pixie game innovative?
The game graphics are exquisite, but the gameplay structure is not innovative.
What we like
Stunning graphics and symbols
Exciting bonus features like Cluster Wild and Acorn Pixie Bonus
Valuable symbols pay up to 10x and 20x the bet amount
Fun and entertaining gaming experience
What we don't like
Gameplay may be sluggish for some
Not very innovative gameplay