6 Fruits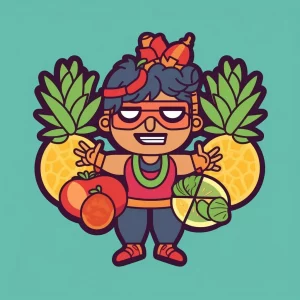 The gameplay of 6 Fruits is as basic as one of those salad bars where you fill up your plate with only iceberg lettuce and croutons. The structure of 5 reels and 3 rows of symbols for only 5 paylines is not exactly groundbreaking, but sometimes, less is more. Combinations are formed from left to right, and I'd like to confirm that I did actually spell that correctly the first time. Cheers to my second-grade teacher, Mrs. Jenkins.
The cherry is, what you would call, a high achiever – the only symbol that triggers doubled payments. Kind of like that one kid in your class who always got straight A's but was also the teacher's pet. The number 7 is the symbol you're really rooting for because it offers the highest payouts of up to 5,000 times the bet. That's enough to make you sing, "Oh baby, baby, it's a wild world!"
The game doesn't offer any special features or bonuses, so if you were looking for a game with all the bells and whistles, you might be disappointed. But let's face it, sometimes it's best to keep things simple. And if you're clever enough to come up with a winning strategy, then you're well on your way to hitting those big prizes. Just don't forget to share your secrets with me!
Symbols
Get ready to sink your teeth into six different fruit symbols in the online slot game, 6 Fruits. You can match watermelons, plums, lemons, grapes, cherries, and the lucky number 7. While all the symbols are delicious, the cherry is the only one that truly pulls its weight. It triggers doubled payments and makes the perfect addition to a fruit salad (or your bank account).
The number 7 is the real MVP in this game, though. Offering payouts of up to 5,000 times the bet, it's like winning the jackpot in a fruit machine version of The Price is Right. You'll want to give this juicy number a high five once you hit that jackpot and retire to a private island. Just don't forget to invite your favorite fruit symbols to the party!
It may not unlock any special features, but it sure knows how to make it rain with monetary rewards. Think of it as your rich uncle who slips you a little something extra on your birthday – only, you know, with a slightly less cheesy mustache.
Payouts
Get ready to win big bucks with 6 Fruits! With an RTP of 95.64%, this slot game is sure to satisfy even the most experienced gambler. Payouts are as solid as it gets, and range from modest 20x rewards to the grand prize of 5,000x the value of your bet.
It's no secret that number 7 is the lucky number, and in 6 Fruits, it's also the highest paying symbol. That's right, roll 5 lucky 7s, and you'll be laughing all the way to the bank. On top of that, be on the lookout for the cherry symbol, as it's the only symbol that doubles your payout when it appears.
Lastly, let's not forget about the star symbol, which acts as a Scatter and gives you some sweet monetary rewards. Although it doesn't unlock any special features, it still adds to the excitement of hitting the jackpot. So what are you waiting for? Spin those reels and hit it big!
RTP: Roll the Profit
Let's talk about the money, honey! 6 Fruits has an RTP (Return to Player) of 95.64%. That's like an 'A' grade in school, but instead of acing a test, you're making money!
Think of it this way: if you bet 100 coins, theoretically, you should get back around 95.64 coins. That's not too shabby, right? I mean, it's not like winning the lottery, but at least you won't need to eat instant noodles for a week.
Although, speaking of noodles, maybe you could use those 4.36 missing coins to buy yourself some instant ramen! I know, I'm amazing at math.
Graphics and Soundtrack
Alright, let's talk about the graphics. 6 Fruits has a look that takes you back to a simpler time, where life was all about playing one-armed bandits in a seedy casino. The retro-style graphics work so well here that you might feel like you're playing on an old CRT screen in your grandpa's basement.
And what about that soundtrack? It's like a time warp to the 80s. If you're a fan of old-school gaming, you're going to love it. Even if you're not, you'll probably find yourself humming along to the catchy tunes.
Overall, the graphics and soundtrack of 6 Fruits aren't going to blow your mind, but they fit in perfectly with the theme of the game. It's like wearing a pair of your favorite high-top sneakers. They might not be the newest kicks on the block, but you can count on them to get the job done.
FAQ
How many paylines does 6 Fruits have?
6 Fruits has only 5 paylines.
What is the minimum and maximum bet for 6 Fruits?
The minimum bet for 6 Fruits is 0.05 and the maximum is 100.
Does 6 Fruits have bonus features?
No, 6 Fruits does not have any bonus features.
What is the highest payout in 6 Fruits?
The highest payout in 6 Fruits is 5,000 times the bet when landing 5 number 7 symbols in a row on a payline.
Is there a Scatter symbol in 6 Fruits?
Yes, the star symbol acts as a Scatter but only offers a monetary reward and does not unlock any special features.
What is the RTP of 6 Fruits?
The RTP of 6 Fruits is 95.64%.
Is 6 Fruits a modern or retro-style slot game?
6 Fruits is a retro-style slot game with a simple and clean design.
What symbols are featured in 6 Fruits?
6 Fruits features 6 fruit symbols – cherries, watermelons, plums, lemons, grapes, and the number 7 – as well as a star Scatter symbol.
What we like
Simple and clean gameplay
Solid payouts, with bets up to 5,000 times
Clean graphics and retro-style soundtrack
95.64% RTP is higher than other classic slot games
What we don't like
Only 5 paylines available
No special features or bonuses