SlotFather II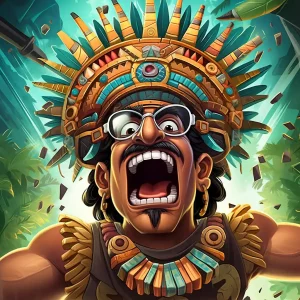 If you're looking for a casino slot game that's sure to give you an offer you can't refuse, then Betsoft's SlotFather II is the game for you. Get ready to step into the shady world of the mafia and spin the reels on this cinematic masterpiece of a slot game.
With its five reels and 243 Ways to Win, SlotFather II will have you feeling like the boss. And with a graphic design that's as sharp as a well-tailored suit, you'll feel like you're a part of the action. Just be sure to keep your hands clean, you don't want to leave any fingerprints.
Get Spicy with Betsoft
Betsoft has been spicing up the online slot game scene for years. These guys will make sure your gaming experience is full of excitement and engagement. It's no secret that they create some of the hottest games in the market.
Get ready to be entertained with some of the best graphics and sound effects in the business.
Go Mafia with SlotFather II
Get ready to enter the world of organized crime with SlotFather II. This slot game has a mafia theme that will keep you immersed in its world of underground operations. You'll come across some familiar faces from the first installment, such as slick gang members, that come with sharper art style in this second iteration.
In this mafia world, you're betting on your luck to make your way through the ranks of the syndicate – will you get busted or make it out with big rewards? You never know with the SlotFather pulling the strings and his goons waiting for you to slip up. But don't let that intimidate you, the game is full of surprises, bonuses, and rewards that come in all shapes and sizes.
243 Ways System: The Easiest Route to Wins
Say goodbye to the frustration of keeping track of paylines in SlotFather II. With the 243 Ways System, you can win on any combination from left to right on the 5×3 layout. And who wants to worry about paylines anyway? That's like being bothered by that friend who always forgets their wallet when you go out to eat.
But enough about unreliable friends – let's talk about reliable wins. With the 243 Ways System, players have an easier route to big payouts. It's like finding the perfect parking spot on a busy day. You didn't have to fight for it, but damn does it feel good.
Symbols and Prizes
Get ready to match some symbols and win big in this mafia-themed online slot game! The Slotfather II offers a variety of thematic symbols that can earn you some serious cash.
Of course, there are the usual suspects in the form of low-value symbols such as cigars and brandy. But how about matching the Leaning Tower of Pisa for a win? Who knew Italian architecture could be so lucrative?
And if you really want to hit the jackpot, keep an eye out for the big boss himself – the Slotfather. With the potential to earn thousands of credits if you match five in a row, he's the top dog you'll want to impress.
Exciting Features You Can't Miss Out On!
Are you ready to experience the full thrill of SlotFather II? Buckle up, because this game offers some seriously exciting features that will have you on the edge of your seat!
First, let's talk about the Wilds. It's not just any regular symbol – it's a cash-filled box just waiting to be cracked open. And who doesn't love cash, am I right? Plus, keep an eye out for the blue truck symbol. It's not just a pretty picture, it scatters your payout too.
If you manage to score three of the same symbols including the blue truck, you'll trigger a Free Spin. Hello, more chances to win big! After each standard win, you have the option to double up your winnings. Definitely worth the risk if you're feeling lucky.
SlotFather II vs The Godfather: A Slot Showdown
Hey, pint-sized Pacinos and Lombardis, we're about to settle a score. The Godfather slot game is a game packed with all the firepower of the blockbuster hit it draws inspiration from, offering players 25 paylines of mafia-themed fun, along with a top prize of 1,000 times your bet per line. In the other corner, we have the sequel SlotFather II, with its all-new 243 Ways system and more exciting features than a Bank of America heist.
Now, both games have plenty of similarities – after all, they both deal with the underbelly of organized crime – but let's not mince words: only one can emerge as the winning slot. And frankly, with its updated mechanics and bonus features, SlotFather II is the game you'll want to parole your extra change to play. Don't get us wrong, The Godfather is a solid game if you're a fan of the movie, but SlotFather II is the game that offers more bang for your buck.
FAQ
What is the theme of SlotFather II?
The game uses a mafia theme, and many of the characters seen in this title are the same from the first slot.
What is the format of SlotFather II?
The game uses the 243 Ways system, which means that you can win on any combination from left to right on the 5×3 layout, so players don't have to worry about paylines as much.
How do I activate the free spins mode in SlotFather II?
When any two of the mafia figures lock onto an active payline, you earn The Slotfather II free spins.
What is the Big Bonus Boss in SlotFather II?
The Big Bonus Boss is a big bonus that can land you after earning The Slotfather II free spins.
What is the Double Up button in SlotFather II?
The Double Up button is the button next to the Spin button. After each standard win, you can click it, enter a Heads or Tails game, and double your initial win.
What is the minimum and maximum bet in SlotFather II?
The game starts with the low cut 0.01$ and can reach up to 1.00$ which is multiplied by your bet level, which ranges from 1 to 5.
Can I play SlotFather II on mobile devices?
Yes, the game is available on mobile devices, on a range of platforms, including both iOS and Android smartphones and tablets.
Is SlotFather II similar to The Godfather online slot?
No, SlotFather II and The Godfather online slot have different themes, features, and payouts.
What we like
Stunning cinematic graphics
Exciting mafia theme
243 Ways system with easier winning potential
Variety of features including Wilds, Scatters, and Free Spins
What we don't like
May not appeal to players who dislike mafia-related themes
Not as widely available among online casinos