Maya U Max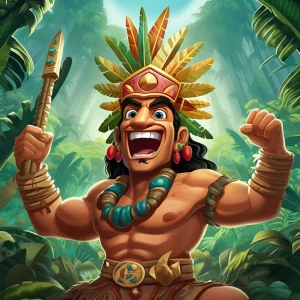 Casino slot games have almost become a standard, but Maya U Max breaks through that monotony with its expanding reels feature during free spins. It's like the icing on a cake, makes you feel good for no particular reason. Moreover, the U Max symbol is the key to unlocking countless winning possibilities – it has the power of holding all other icons and opening new ways to win. Sounds like a stubborn capricorn that just won't give up, doesn't it?
The game mechanics are user-friendly for beginners, and it still offers enough complexity for experienced gamblers. So, whether you're a newbie or a pro, Maya U Max is a game worth trying because you don't want to be the only one missing out.
Big Bucks on the Line
Looking for a game that's dripping with potential for big payouts? Look no further than Maya U Max! With a jackpot potential of 12,000x the initial bet amount, you'll be feeling like a Mayan king (or queen) in no time.
When the U Max symbol hits, you'll be granted up to 248,832 ways to win. That's more ways to win than there are species of insects in the Amazon rainforest. So, get ready to rack up those wins and roll in some serious dough.
It's not just about the money, though. The expanding reels feature will keep you on the edge of your seat and your eyes glued to the screen. Who says you need to go on a jungle adventure when you can have one right from your desktop?
Graphics and Design
If you're a fan of Indiana Jones and Lara Croft, Maya U Max's graphics will transport you to the world of ancient Mayas, except you'll hopefully avoid any booby traps. The attention to detail is impressive, and the game's symbols will have you feeling like you've discovered a secret treasure trove. And forget about those boring backgrounds – Maya U Max's jungle temple will have you feeling like you're exploring the Amazon (minus the mosquitos). Even though the game is easy to navigate, don't be surprised if you get lost in the immersive experience.
Get Ready for Adventure with Maya U Max's Unique Features
If you're tired of the same old boring slot games with nothing but fruit and card icons, then get ready for an adventure with Maya U Max. This slot game offers a refreshing departure from the norm, providing players with a thrilling journey into the heart of the jungle.
But that's not all – Maya U Max's unique features take things to a whole new level. With expanding reels during free spin rounds, activated by the U Max symbol, players have the opportunity to win up to 248,832 ways. That's more chances to strike gold than you could shake a stick at!
Who knows what kind of treasures lie within? One thing's for sure – Maya U Max stands head and shoulders above its competition thanks to these incredible features.
Get Real with the Return to Player (RTP) Rate
Maya U Max's RTP rate of 95.69% exceeds the industry average, so you might want to give this game a shot if you're looking for higher chances of winning. Imagine raking in nearly all of your bets back! Even experienced players have something to be excited about here because a higher RTP rate truly means you can hit that jackpot.
FAQ
What is Maya U Max?
Maya U Max is a new online slot game by Gong Gaming featuring an expanding reels system during free spin rounds for increased winning opportunities.
What is the theme of Maya U Max?
Maya U Max is inspired by the ancient Maya civilization, featuring bright and detailed graphics for an immersive experience.
How does the U Max symbol work?
The U Max symbol contains all other icons in the game and can activate during free spin rounds, offering up to 248,832 ways to win.
What is the maximum jackpot in Maya U Max?
The maximum jackpot in Maya U Max is 12,000x the initial bet amount.
What is the RTP of Maya U Max?
The RTP of Maya U Max is 95.69%.
Is Maya U Max easy to play?
Yes, the simplicity of the design and the engaging gameplay make Maya U Max easy to play for both experienced and new slot players.
Why is Gong Gaming innovative?
Gong Gaming's innovative approach to slot machines is demonstrated in Maya U Max's expanding reels feature and unique symbol system, offering a new gaming experience for casino players.
Who would enjoy Maya U Max?
Maya U Max is sure to leave a lasting impression on even the most experienced slot players and offers a new and exciting gaming experience for players of all skill levels.
What we like
Expanding reels feature during free spins
U Max symbol for countless possibilities
Impressive jackpot potential of 12,000x bet amount
Higher than average RTP rate of 95.69%
What we don't like
Limited variety of symbols
No bonus game feature