Malice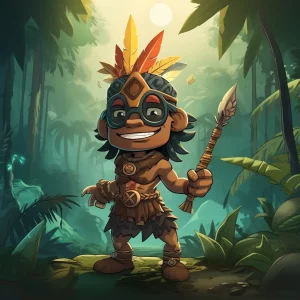 Looking for a spine-chilling adventure? Malice has got you covered! The graphics in this game are nothing short of spectacular, transporting you to a dark and dangerous forest illuminated by breathtaking fireflies. The accompanying intense soundtrack will have you on the edge of your seat the entire time!
The symbols in this game pay homage to the time-honored classic Alice in Wonderland with potions, cakes, and hats with 'eat me' written on them.
Pro-tip: Play Malice at night with all the lights off, a blanket wrapped around you, and your favorite snack by your side. We double-dare you!
Get Wild with Malice: Special Symbols and Gameplay Modes!
Malice might conform to the norms of your average online slot game, but it still packs a punch. The game's 5×3 grid doesn't disappoint, boasting fifteen symbols on each spin and a whopping twenty-five paylines. And don't forget about those special symbols that can turn your gameplay from mild to wild!
The four aces represent the game's Wild symbol and can substitute other symbols to up your chances of hitting the jackpot. Keep an eye out for the teacup, the Scatter symbol that can trigger free spins mode if you land three or more of them. And if you're really lucky, you might hit the Bonus symbol that opens the door to a world of extra winnings through the game's unique bonus round.
So come on, make some mischief with Malice – where even your average teacup is wilder than you think!
Malice: The Classic Slot That Sticks to Convention (with 95.08% RTP)
Looking for a slot game that plays by the rules? Then Malice is for you. With an RTP of 95.08%, you can be sure that you're not getting ripped off (well, not too badly). This game offers players 25 paylines and a classic 5×3 grid with just enough symbols to keep things interesting (and confusing).
But don't let the traditional set-up fool you – Malice has some tricks up its sleeve. With fun Wild, Scatter, and Bonus symbols, you never know what surprises await you when you spin those reels. And best of all, you don't have to be a seasoned gambler to enjoy this game – it's perfect for beginners and experts alike.
So if you want to stick with the classics and maybe even win some cash, give Malice a spin. Just don't blame us if you end up spending all night chasing that elusive jackpot (we warned you).
How Does "Malice" Compare to Other Alice in Wonderland Slot Games?
It's time to ask the age-old question: how does Malice stack up against other Alice in Wonderland themed slot games? As it turns out, there are quite a few options out there. It seems like every developer on the planet has tried their hand at capturing Wonderland's magic.
However, some games rise above the rest. Take Alice & The Mad Tea Party from WMS, for example. It's got the same whimsical theme as Malice, but with its own unique gameplay mechanics and features that'll have you grinning like the Cheshire Cat.
Don't get us wrong, Malice is still a solid choice for anyone who loves all things Alice. It's just important to note that it's not necessarily reinventing the wheel. But hey, if it ain't broke, don't fix it.
Inspiration from Alice in Wonderland: A Dark Twist on a Classic Tale
Malice is the darker, edgier version of the Alice in Wonderland-inspired game that will have you clutching your seat with anticipation. This game takes all the whimsy, magic, and madness from the classic tale and transforms it into a thrilling slot machine experience that will leave you begging for more.
The game's symbols are a playful nod to the familiar world of Alice in Wonderland, with potions, cakes, and hats all making an appearance. But don't be fooled by its innocent façade – Malice takes a turn for the dark side, with dangerous twists lurking around every corner.
The music and background set the mood for this hair-raising adventure, while the unique twist on a classic tale will keep you spinning those reels for hours on end. Just remember to keep your wits about you, or you might find yourself falling down the rabbit hole into the heart-pumping world of Malice!
FAQ
What is Malice about?
Malice is an online slot game inspired by the world of Alice in Wonderland, playing on the name of the main character.
What are the graphics and sound like in Malice?
The game's background features a dark forest illuminated by fireflies, while the music creates an atmosphere of adventure and danger. It's a varied and intense soundtrack, one of the most complex you'll find in online slots.
What are the technical aspects of Malice?
Malice adheres to the conventions of online slots, offering a 5×3 grid with fifteen symbols on every spin, forming winning combinations. The Wild symbol can substitute for all other symbols in the game. There's also a Scatter and a Bonus symbol, unlocking their corresponding modes.
What is the RTP of Malice?
The RTP of Malice is 95.08%.
What is the storyline of Malice based on?
The storyline of Malice is based on the classic tale of Alice in Wonderland, with an added dark twist.
How many paylines does Malice have?
Malice has twenty-five paylines.
What is the Wild symbol in Malice?
The Wild symbol in Malice is represented by the four aces. It can substitute for all other symbols in the game.
Are there any other slot games similar to Malice?
Yes, there are many slot games that use the Alice in Wonderland theme. If you want to try another slot that tackles the same subject matter, we recommend Alice & The Mad Tea Party from WMS.
What we like
Dark and intense ambience
Graphics and sound design work wonderfully together
Special symbols enhance gameplay experience
Adheres to online slot conventions
What we don't like
Limited number of paylines
May not appeal to players not interested in Alice in Wonderland theme