Lucky Aliens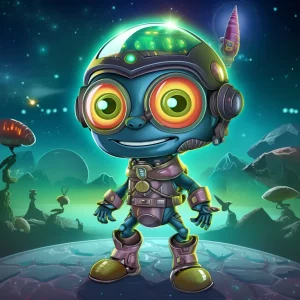 If you're looking for a slot game that's out of this world, then Lucky Aliens is the game for you. With five reels and three horizontal lines, you'll be spinning through fifteen symbols on each spin faster than a UFO. And the best part? You get to decide the value of the bet on each line and the number of paylines to play on, ranging from five lines up to a maximum of twenty. That's more options than a Martian has for different shades of green.
Get ready to go on an intergalactic adventure with the alien symbol in the game, which acts as the Wild symbol capable of replacing all others. It's like having your very own E.T. to help you win big. And if that's not enough to make your head spin, the spaceship serves as the Scatter symbol that triggers the bonus mode. It's the equivalent of being beamed up by Scotty himself!
Out-Of-This-World Audio and Visual Design
Prepare yourself for a fantastic audio-visual experience with Lucky Aliens, where you'll be greeted with an adorable one-eyed alien sporting a jetpack and tons of space-themed symbols such as laser guns, rockets, and strange looking extraterrestrials of all shapes and sizes. The graphics are cartoonish and vibrant, making it a pleasure to stare at the screen even when the reels aren't spinning with thrilling alien waves.
The background music is a memorable mix of common themes and futuristic sounds that transport you to another galaxy. The sound design is also spot-on with the reels spinning in perfect harmony with the tune, making it difficult for you not to tap your foot along with the beat. You'll be so engrossed in the audio-visual experience that you'll forget all about probing for extraterrestrial life and instead be hooked on spinning the reels!
Payline Options
So, you're feeling lucky, huh? Well, Lucky Aliens has got you covered! One of the coolest things about this game is the ability to customize your bet on each line and the number of paylines you want to play on. You can choose anywhere from five lines to the max of twenty. Talk about options!
This feature really sets Lucky Aliens apart from other games by this development house. It's like the developers said, 'Let's give them the power to make their own luck!' And boy, do we love feeling powerful.
Bonus Mode: Get Your Alien-Flying Skills Out of This World!
Are you ready to embark on a space adventure like no other? Well, lucky for you, the bonus mode in Lucky Aliens will take you on an intergalactic ride you won't forget! Look out for the Scatter symbol, aka the spaceship – it'll trigger the bonus mode where you can pilot your very own UFO and shoot down a fleet of spaceships. Just make sure not to crash and burn…
And don't worry, you won't be alone in your extraterrestrial mission. The number of lives you get in the bonus mode will be equal to the number of Scatter symbols you obtain. So, the more spaceships you destroy, the higher winnings you'll earn – it's that simple! With the bonus mode, you can take your winnings to another galaxy. So, buckle up and get ready for an epic ride!
Theme: Lucky Aliens is out of this world!
If you're ready to launch into outer space and explore galaxies far, far away, then Lucky Aliens is the perfect slot game for you! This space-themed game is packed with vibrant colors, playful cartoonish aliens, and catchy sound effects that will keep you entertained for hours on end.
Granted, Lucky Aliens may not have the same level of fame as other leading titles, but that just makes it even more exclusive and mysterious. Think of it like finding a hidden planet full of treasures and mystery.
FAQ
What is Lucky Aliens?
Lucky Aliens is a slot game produced by WMG that features a fun space/alien theme.
What makes Lucky Aliens different from other slot games?
Lucky Aliens allows players to decide both the value of the bet on each line and the number of paylines to play on. Additionally, the bonus mode is triggered by the Scatter symbol, which sends players on a UFO shooting spree.
What is the Wild symbol in Lucky Aliens?
The Wild symbol in Lucky Aliens is the small alien that appears on the left side of the game screen. It can replace all other symbols.
What is the Scatter symbol in Lucky Aliens?
The Scatter symbol in Lucky Aliens is the spaceship. It triggers the bonus mode, where players command a UFO and shoot at spaceships.
What other games share similarities with Lucky Aliens?
There are many other space/alien themed slot games, such as Rocket Returns by Bally, Space Adventures by Rabcat, or Cosmic Fortune by NetEnt.
Is Lucky Aliens safe to play?
Lucky Aliens is safe to play as long as players gamble responsibly. It's important to pay attention to the large banners that appear after each win, which may give the impression of winning when the game account is actually decreasing.
How many paylines can you play on in Lucky Aliens?
In Lucky Aliens, players can switch from five paylines up to a maximum of twenty, which is a very high number compared to the standards of WMG.
What is the style of the graphics in Lucky Aliens?
The graphics in Lucky Aliens have a colorful and cartoonish style, with symbols that range from rockets to laser guns, passing through a rich array of aliens of different shapes and sizes.
What we like
Customizable payline options
Fun bonus mode with rewarding payouts
Colorful and visually appealing design
Catchy blend of background music and sound effects
What we don't like
May not be as widely distributed as other titles
Limited variation in symbols and gameplay