Lucky 88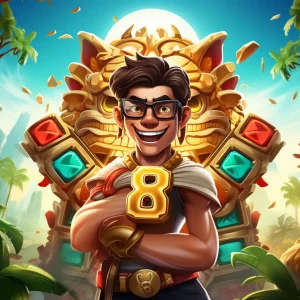 Get ready to experience the lucky charms of the East with Lucky 88. Aristocrat's five-reel, 25-payline slot game offers players numerous symbols and bonuses that can lead to huge winnings. Whether it's the lucky lions or auspicious dragons, you're sure to find Asian cultural symbols that bring you fortune.
With Lucky 88, it's all about finding the perfect combination of symbols. With so many paylines available, you have the opportunity to win big in every spin! So if you're a fan of unpredictable gameplay and want to try your luck, Lucky 88 is a game you don't want to miss.
Visuals and Design
Prepare to be dazzled! The colors of Lucky 88 are brighter than a disco ball on New Year's Eve. Aristocrat has done an incredible job of creating a celebratory atmosphere that will put a smile on your face faster than a clown car at the circus. The game's eastern theme is like taking a trip to Asia, but without the jet lag or the funny smelling durian fruit. The colors of red, yellow, and orange are gorgeously intertwined with the game's design and are steeped in Asian traditions. It's almost like being transported to a real-life Lucky 88 festival, minus the crowds and overpriced street food.
Theme and Cultural Significance
Feeling lucky? If not, you might want to give Lucky 88 a spin. This slot game is all about luck, a concept that's hugely important in Eastern cultures and particularly in Chinese culture.
Why is luck so important? Well, it could be because of the game's main symbol: the number 8. In Asian cultures, this number is considered super lucky. That might be why this game has become so popular worldwide.
So give it a try and see if that lucky 8 helps you win big. Just don't forget to thank us when you hit the jackpot!
Bonus Features: Increase Your Luck and Fortune
Are you tired of seeing the same old boring playing card symbols in slot games? Lucky 88 has got you covered with a variety of symbols that represent luck and fortune in Chinese culture. From the drum that beats in harmony with your heart, to the elegant Chinese heron, and even a golden monument – there's no shortage of chances to win big. But don't forget about the most valuable symbol of them all – the Chinese emperor. Not only can he bring you multipliers up to 88, but he's also wild!
Ready to secure big wins and double your fortune? Look no further than the 'Scatter' symbol. It's not just any ordinary symbol – it can get you up to 188 coins! That's right, this little gem will more than double the amount rewarded by other thematic symbols in the game, like the golden lion and Chinese heron. So what are you waiting for? Take a chance and see where your luck takes you in Lucky 88!
Similar Games to Try Your Luck
So, you already love Lucky 88? What's next? Don't worry, we have you covered. Check out Lightning Box's Fortune 8 Cat! It's another oriental-themed game full of good vibes and good luck. Even the cat on the game's logo agrees. Who knows, you might get lucky with this feline game too.
This game guarantees you a purr-fect time with its fun animation and cool graphics. Just like Lucky 88, it's loaded with exciting features and bonus rounds, making it an excellent option for slot enthusiasts. Purrs aside, this game is no kitten when it comes to payouts and winning potential.
FAQ
What is the theme of the Lucky 88 slot game?
The Lucky 88 slot game has a theme based on the significance of luck in Chinese culture, with the number 8 being considered extremely auspicious in Asian cultures.
What are the features of the Lucky 88 slot game?
Lucky 88 features five reels, 25 paylines, and various symbols and bonuses to help players win big.
What are the symbols used in the Lucky 88 slot game?
Symbols in the game include playing cards J, Q, K, and A, as well as a drum, a golden lion, a golden monument, a Chinese heron, and the Chinese emperor, which is the most valuable symbol.
What does the Chinese emperor symbol represent in the Lucky 88 slot game?
The Chinese emperor symbol represents the most valuable symbol in the game and can retrieve multipliers of up to 88 or represent the Wild symbol.
What is the Scatter symbol in the Lucky 88 slot game?
The Scatter symbol in the game can secure players up to 188 coins, more than double the amount rewarded by the other thematic symbols in the game.
How many paylines are there in the Lucky 88 slot game?
There are 25 paylines in the Lucky 88 slot game.
What other slot game is similar to Lucky 88?
If you enjoy Lucky 88, you may like Lightning Box's Fortune 8 Cat, which is another oriental-themed game based on the concept of good luck.
What is the significance of the number 8 in Asian cultures?
The number 8 is considered extremely auspicious in Asian cultures, which is why it has played such a significant role in the Lucky 88 slot game's design and popularity.
What we like
Numerous symbols and bonuses
Bright and lively visuals
Incorporates Asian cultural themes
Exciting bonus features
What we don't like