Luck Spinner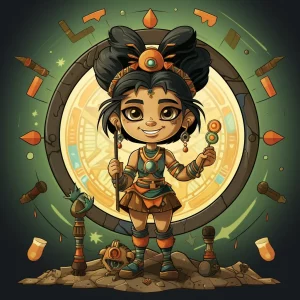 If you're a believer in luck, then Luck Spinner is the slot game for you! This game wants you to feel like Lady Luck is on your side, and it creates a mystical ambiance to make you feel lucky even if you're stuck in your pajamas playing from home.
With symbols like horseshoes, shamrocks, and four-leaf clovers, you might feel like you've stumbled into a leprechaun convention. Who knows, you might even find the pot of gold at the end of the rainbow! (Don't get too excited, it's just a metaphorical pot of gold.)
Discover the Ultimate Relaxation with Lucky Spinner Slot Game
If you're tired of complicated slot games with too many buttons to press, then Lucky Spinner by Jade Rabbit Studio is the game for you!
Unlike other flashy slot games, Lucky Spinner focuses on simplicity and relaxation. Its tranquil 3×3 grid is accompanied by Lady Luck, who cheers you on with her soothing and sensual voice. The game's perfect for players who want to unwind and let their worries spin away.
Get your Spin on with Luck Spinner!
Looking for a relaxing slot game experience without the added stress of complex functions? Look no further than the Luck Spinner game! With three free spin functions and various multipliers, it's the perfect game for players who want to unwind and have a bit of fun. No need to break out the trigonometry skills here!
Whether you're a seasoned pro or new to the world of slot games, Luck Spinner is a great choice. You don't need to be a mathematician to enjoy its various multipliers and free spin options. So sit back, relax, and let the good times roll with Luck Spinner!
Symbols in Luck Spinner
Get ready to feel lucky with Luck Spinner's set of symbols that grace its 3×3 grid. These include a golden scarab, a ladybug, a four-leaf clover, a dreamcatcher, a horseshoe, and a lucky cat. Don't be surprised if you find yourself rubbing your lucky charm while spinning the reels. Luck is in the air!
Relax and Win with Luck Spinner
Need a break from the chaos of the world? Look no further than Luck Spinner. This sweet and soothing slot game takes relaxation to a whole new level. It's like the slot machine went to a spa, got a massage, and came back totally zen.
And don't worry about feeling alone. Lady Luck is here to support you every step of the way, and she's got a voice that'll make you want to curl up with a cup of tea. Whether you're winning or losing, she'll be right by your side, like a supportive and understanding therapist.
FAQ
What is Luck Spinner?
Luck Spinner is a slot game developed by Jade Rabbit Studio that heavily focuses on symbols related to luck.
What kind of symbols can we find in Luck Spinner?
We can find a golden scarab, a ladybug, a four-leaf clover, a dreamcatcher, a horseshoe, and a lucky cat on the 3×3 grid.
Is Luck Spinner a complex game?
No, the gameplay of Luck Spinner is extremely simple and avoids introducing too complex and confusing functions.
What is Lady Luck?
Lady Luck is the main feature of Luck Spinner's sound department, a calm and sensual female voice that will cheer for the player with each win and consoling them with each losing spin.
Is Luck Spinner suitable for those seeking novelty and diversity in slot machines?
No, the simplicity of Luck Spinner may seem excessively minimal for those who seek novelty and diversity in slot machines.
What is the recommended experience when playing Luck Spinner?
Luck Spinner aims to create a relaxing and even reassuring environment for players, transforming slot machines into a sort of S.P.A. to unwind.
What is the Fortune of Luck Spinner?
The Fortune of Luck Spinner consists of 3 free spin functions, which will allow you to obtain various multipliers.
Are there any similar slots to Luck Spinner?
Yes, Lucky Lady's Charm and Irish Pot Luck are other slot games centered on luck.
What we like
Atmospheric and relaxing environment
Several free spin functions
Luck-related symbols and concepts
Simple gameplay
What we don't like
Limited grid and paylines
May get repetitive for some players