Lines of Magic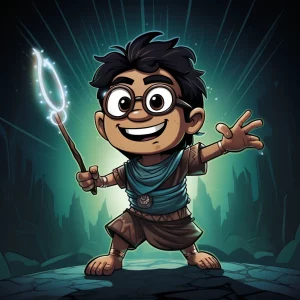 Get ready to brew up some excitement with Felix Gaming's latest creation, Lines of Magic. This 5-reel, 20-payline slot game is set in a mysterious laboratory where you'll encounter everything from Royal cards to colored gems to the lucky number 7. But watch out – the real magic is in the powerful Wizard symbol, which pays up to 750 times your bet!
Your ultimate goal? Land those spellbinding 5 books of witchcraft and you could be rewarded with a whopping 5,000 times your bet. With an RTP of 95.92%, you won't want to miss out on the chance to unravel the mysterious Lines of Magic.
Exploring the Magical World of 'Lines of Magic'
Hold on to your wizard hats, because 'Lines of Magic' is about to take you on a spellbinding adventure. With its easy-to-understand gameplay, this slot game beckons to both novice and experienced players. Set your bets, activate paylines, and watch magic unfold as winning combinations appear from left to right.
But that's not all- brace yourself for special spins that pack a powerful punch of prizes. Have enough power, and you'll trigger a round of rewarding free spins. Want more? Feast your eyes on the cherry on top- a mind-blowing bonus feature of 10 free spins with a 2x multiplier. Exciting, isn't it?
How to Win Big in Lines of Magic
Are you ready to magically increase your bank account? Look no further than Lines of Magic, where the maximum win amount is a whopping 5,000 times your bet! That's right, folks – it's time to dust off your wizard hats and start spinning those reels for a chance to land 5 books of witchcraft symbols.
But beware, not all wizards are created equal. Only the luckiest and most skilled players will be able to summon such a fortune. So why not give it a try? Who knows, maybe you'll be the chosen one to join the ranks of the wealthiest sorcerers in all the land!
Graphics and Soundtrack
Oh, hello there, magic lovers! Today we bring you a game review like no other. Lines of Magic is a visually stunning slot game, set in a laboratory where all sorts of mystical experiments take place. It's like Harry Potter meets Breaking Bad, without the drugs, of course.
The design is simple, yet captivating, featuring powerful symbols like Wizards and ancient books of witchcraft. However, if you're expecting rabbits to pop out of hats or a coven of witches to cast spells during the game, we're sorry to disappoint you. There aren't many animations or innovative features to distract you from winning big, but who needs them when you've got Lucky 7s on your side, right?
Now, let's chat about the soundtrack. Boy, does it fit the game's theme like a glove. Mysterious and determined, it's like you're walking through a haunted laboratory and suddenly, wait for it, a lightning bolt strikes! Don't worry, though, it's just the beginning of a magical journey.
Innovation Level
Okay, so Lines of Magic isn't exactly breaking the mold when it comes to slot games. It's more like a reliable pair of sweatpants than a designer jumpsuit. But sometimes you don't need all the bells and whistles to have a good time, right? If you're looking for a laid-back game with easy-to-grasp mechanics, this one's worth a shot.
Of course, if you're all about the flashy bonus rounds and intricate animations, you might want to keep scrolling. This game is more like a classic car than a shiny new sports car. But hey, classics never go out of style, and this game sure is charming in its simplicity.
FAQ
What is Lines of Magic?
Lines of Magic is an online slot game created by Felix Gaming, which has a magical theme with symbols like books, numbers, gems, and wizards.
How many reels and paylines does Lines of Magic have?
Lines of Magic has 5 reels and 20 paylines, and the game grid is positioned in a mysterious laboratory.
What is the RTP of Lines of Magic?
The RTP of Lines of Magic is 95.92%, which is a bit below average for online slots.
What is the highest payout in Lines of Magic?
The highest payout in Lines of Magic is 5,000 times your bet, which you can win by getting 5 books of witchcraft symbols.
What is the only bonus feature in Lines of Magic?
The only bonus feature in Lines of Magic is 10 free spins with a 2x multiplier, which can be triggered by getting 3 or more scatter symbols.
Is Lines of Magic a complex slot game?
No, Lines of Magic is not too innovative or complicated, but it has good potential and is easy to play.
Does Lines of Magic have any special animations?
No, there are no particular animations in Lines of Magic, but the soundtrack is very mysterious and determined.
Is Lines of Magic recommended for players who love bonuses?
No, Lines of Magic is not recommended for players who are looking for bonuses full of surprises, as it only has one bonus feature.
What we like
Engaging gameplay experience
Visually pleasing design
High maximum win amount
Mystical theme and soundtrack
What we don't like
Lacks animations
Not innovative