Let it snow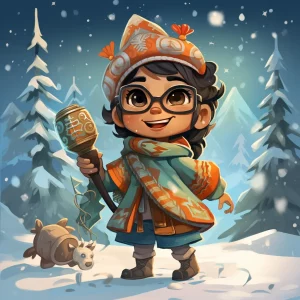 Feeling cold? Hop on to Let It Snow — the popular slot game that will keep you warm during the holiday season. This entertaining game features Christmas-themed symbols that will put a smile on your face, even if you're a Grinch. The dazzling graphics will give you the impression of being in a winter wonderland.
The game board is larger than Santa's naughty list, with 6 reels and 6 rows that provide multiple ways to win. Get in the Christmas spirit, and connect 6 or more symbols anywhere on the board to hit the jackpot!
Don't think gambling during the holidays is cheap? Think again! You won't need to be Scrooge McDuck to play; the betting range is wide, from a reasonable $0.20 to a maximum of $100 per spin. So, don't be shy, give it a try, and experience the magic of the winter season with Let It Snow!
Bonus Bonanza
Get ready to unwrap some serious rewards with Let It Snow's bonus features! The first feature is triggered by the expansion symbol, the gift. Every time this bad boy pops up, the compass on your screen advances as many notches as there are gifts on the reels. Hit 5 gifts, and watch the prizes multiply! With 6 gifts, you'll win a cool $0.20, with 20-24 gifts you could take home $10, and if you get 30 or more symbols, you're looking at a jackpot of $200!
As if that wasn't enough, Let It Snow has a second bonus feature that'll knock your socks off! Spin the blue gift box complete with a 'Bonus' label and a whole new world of rewards will open up for you. Instead of just the game board, a wheel pops up divided into sections filled with multipliers that are added to each spin. Watch your winnings grow from 1x to 10x, 25x, 100x, and all the way up to a whopping 250x! And with up to 50 spins to be claimed, you're in for a real treat… unless you land on the skull, in which case, brace yourself!
Design and Graphics
Let It Snow's design and graphics are as captivating as the feeling of waking up on Christmas morning with presents by your bed. The background is like your own personal winter wonderland, complete with soft snowflakes and a game board that's bolder than Rudolph's nose. The graphics are so seamless that it's like you're walking in a snow globe.
Let's Talk Payday
Let's face it, we're all here to win big and Let It Snow will not disappoint!
The payouts are as balanced as a figure skater doing a triple axel. You'll find yourself mesmerized as you collect your winnings with eight regular symbols to choose from. Keep an eye out for the stick, bell, Christmas ball, and stocking for the lowest-value symbols. You can rake in up to $2 with 15 or more symbols, starting from an impressive $0.02 for just 6 symbols. Feeling festive yet?
10 all the way up to $12! The snowman and Santa Claus offer a chance to win up to $26!
This game pays out more frequently than a grandma in a retirement home and boasts an RTP of 96.35%. So, let it snow, let it snow, let it snow and cash in big!
Let it Snow: A Slots Game That Will Melt Your Heart (and Your Ice)
What can you expect from a slot game named Let it Snow? Well, let me tell you, it's not just a frosty welcome. This game offers an icy coolness that will send shivers down your spine (but in a good way).
Looking for a fun and profitable way to celebrate the holidays? This game should definitely be on your wish list. With its user-friendly interface and eye-catching graphics, you'll be spinning the reels like a pro in no time.
Don't let this opportunity to win big pass you by! Let it Snow's two bonus rounds will keep you entertained and boost your winnings in ways you've never imagined. Not to mention, you'll feel all warm and fuzzy inside, thanks to this game's festive theme.
To sum it up, Let it Snow is more than just a game. It's a heartwarming experience that will leave you feeling as cozy as if you're sitting by the fireplace sipping hot cocoa. Don't miss out on all the fun—give it a spin today.
FAQ
What is the minimum bet in Let it Snow?
The minimum bet is $0.20.
What is the maximum bet in Let it Snow?
The maximum bet is $100.
How do I activate the bonus feature in Let it Snow?
The bonus feature is activated by landing three blue gift box symbols.
What is the RTP of Let it Snow?
The RTP is 96.35%.
What is the volatility of Let it Snow?
The volatility of Let it Snow is medium.
What is the expansion symbol in Let it Snow?
The expansion symbol is the gift symbol.
What happens when the compass is activated in Let it Snow?
When the compass is activated, the gift symbols will multiply and increase your winnings.
How many free spins can I get in Let it Snow?
You can get up to 10 free spins in Let it Snow.
What we like
Impressive holiday-themed graphics and design
Two bonus features for added excitement
Wide betting range suitable for all players
Medium volatility for frequent wins
What we don't like
Average RTP at 96.35%
Possibility of low payouts during regular gameplay