Legend of Fortune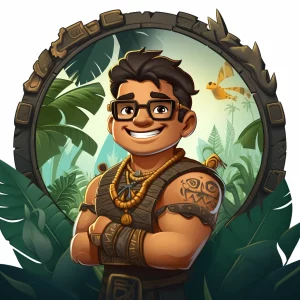 Hold on to your fedoras and grab your Lara Croft backpacks because Legend of Fortune is taking you on a jungle expedition! The semi-cartoon graphics boast vibrant colors that make the game pop, allowing you to immerse yourself in the Central American jungle. With vibrant graphics and a cast of creatures, weapons, and gods, this slot draws inspiration from famous adventurers including Indiana Jones and Lara Croft. You'll feel like you're on a treasure-hunting mission with every spin of the reels!
Plenty of Reels and Paylines!
Do you like winning? Do you like opportunities? Well, then you're going to love Legend of Fortune's 5 reels and 20 paylines! With so many ways to win, you'll never want to leave. Plus, Wild Walls give you the chance to lock in expanding wild reels and even more free spins.
Who needs a real job when you can have all these chances to strike gold? No need to hit the mines, just hit the spin button and let the riches come to you. So what are you waiting for? Start spinning those reels and see how much you can win!
Bonus Features
Alright, folks – get ready for the real excitement: the bonus features! The Zapotec Urns Scatter is your ticket to this wild ride, as it triggers the bonus feature selector. Choose between three tantalizing options, each with their own unique perks. Just like a Choose Your Own Adventure book, but with more money and fewer dragons.
But wait – there's more! We've also got the Wild Walls feature, which is just as wild and wall-y as it sounds. This in-game bonus can turn reels into expanding wilds, and unlock free spins so you can keep on spinning – and winning. Who needs a genie when you have Wild Walls?
Zapotec Urns Scatter
Are you ready to go on a treasure hunt of a lifetime? Look no further than Legend of Fortune! With the Zapotec Urns Scatter, triggering the bonus game has never been so exciting. Choose from three different bonuses and take advantage of the unique mini-games they offer. Who knew escaping a temple could be so rewarding? Or how about tumbling your way to free spins? It's almost like a real-life game of Frogger, but with a chance to win big bucks.
Similar Games That Will Keep the Fun Going
If you had a blast playing Legend of Fortune, then Microgaming's Tomb Raider 2: The Secret of the Sword and NetEnt's Gonzo's Quest can take you on similarly adventurous rides. And they are not just randomly picked games – they have been tested and played by experts, aka me. Trust me, I'm an online slot game writer.
The Adventure You Can't Resist
Buckle up and get ready for an adventure through the reels! Legend of Fortune is everything an adventure-themed slot game should be, and more. With its impressive graphics and dynamic animations, you'll feel like you're right in the middle of the action. There is never a dull moment in this game, thanks to its exciting and engaging features. Are you ready to become the next big winner?
The graphics are so visually appealing that you might forget you're playing an online game and not actually living in the game world. The attention to detail is spot on, and the atmosphere created is what sets this game apart from others. The tension builds as you spin the reels and you can't help but get excited about what's coming next.
But what really makes Legend of Fortune so popular is the chance to win huge payouts. When you hit that big win, you'll feel like you've just discovered a treasure trove. This game is a must-play for all slot game enthusiasts. Let the adventure begin!
Meet the Power Duo Behind Legend of Fortune
Get ready to enter the world of Legend of Fortune, a slot game developed by Red 7 Mobile and distributed by SG Digital. These two industry veterans have combined their superpowers to bring you a premium playing experience that will keep you on the edge of your seat!
With Red 7 Mobile's impressive graphics and SG Digital's cutting-edge technology, Legend of Fortune is a visual feast for the eyes and a thrilling adventure for slot enthusiasts everywhere. From the enticing gameplay features to the seamless user interface, this game is the perfect example of a successful collaboration between two powerhouses in the industry.
FAQ
When was Legend of Fortune released?
Legend of Fortune was released in July 2018.
What type of game is Legend of Fortune?
Legend of Fortune is an online slot game.
Who developed Legend of Fortune?
Legend of Fortune was developed by Red 7 Mobile.
How many paylines does Legend of Fortune have?
Legend of Fortune has 20 paylines.
What are Wild Walls in Legend of Fortune?
Wild Walls is a bonus feature in Legend of Fortune during the base game where the walls start closing in on you until there's a win or the compression walls finally meet in the middle.
What are the bonus features in Legend of Fortune?
The bonus features in Legend of Fortune are the Temple Escape Free Spins, the Tumbling Free Spins, and the Stepping Stones Bonus.
How many free spins do you get in the Temple Escape Free Spins bonus feature of Legend of Fortune?
You start with eight free spins in the Temple Escape Free Spins bonus feature of Legend of Fortune. If you overcome all obstacles, you get two more free spins.
What other slot machines are similar to Legend of Fortune?
Other slot machines that are similar to Legend of Fortune are Tomb Raider 2: The Secret of the Sword and Gonzo's Quest.
What we like
Colorful and well-drawn graphics
Exciting bonus features
Plenty of winning opportunities
Immersive adventure-themed gameplay
What we don't like
Limited selection of bonus games
Gameplay may feel repetitive after extended play