Knight's Treasure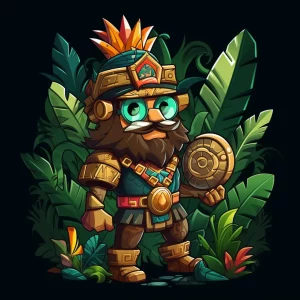 Knight's Treasure is not your typical 5-reel boring slot game – it's like a magical quest with lucrative rewards!
With minimum pay lines starting at 5, you can feel like a peasant or go big and rev up your game with 10 total lines. Boy, do we sound like an infomercial or what?
By using the 'Bet' button, you can unleash the treasures and activate additional lines while simultaneously increasing your current bet. Sorry, no free spins here, folks. But don't despair – Knight's Treasure comes with a 'Double Spin' mode. After the first round of reels, you can cherry-pick some of them at your pleasure to create a second-winning combination. It's like having two shots at the plunder!
Design Fit For A Knight:
Prepare to be dazzled by the glorious graphics of Knight's Treasure. Each character has been lovingly designed by a team with a passion for all things fantasy. Winning spins treat players to unique animations for each character. The symbols on the reels transport you to a world of knights and magic, with orcs, a shield, a book of spells, a war axe, a banner, a mage, and of course a brave knight making an appearance.
Don't want to tire your fingers with constant clicking? No problem, hit up the 'Autoplay' button and relax while the game spins up to 500 rounds automatically. It's magic, we tell you. Magic.
Let's Talk About the Bonus Stage
Who doesn't love a good bonus round? Well, get ready to duel, my friends. The 'Bonus' symbol in Knight's Treasure is your key to unlocking an epic bonus game, pitting you against an Orc in a turn-based battle. Think you can beat him with your sword skills?
Each hit you land guarantees a win, but the real treasure lies in defeating the Orc and winning the 'Big Win' bonus prize. And if you're not quite lucky enough to get the gold, don't worry – the golden chalice and silver candelabrum still offer sweet rewards.
Saddle up, knights! Your riches await in the bonus round of Knight's Treasure.
Double the Fun with Double Spin Mode
If you think one spin is enough to satisfy your quest for treasure, think again! Knight's Treasure offers a unique 'Double Spin' mode that allows you to block certain reels and create a new winning combination on a second spin. It's like being handed two swords instead of one – double the chance, double the fun!
Not only does Double Spin mode increase your chances of winning, it also adds a layer of excitement to the game. It's like a mini-game within the game, and who doesn't love that? So prepare to wield your luck and see if you can unlock the treasure chest with Double Spin mode in Knight's Treasure!
Overall Review
Get ready to embark on a quest for riches with Knight's Treasure. This medieval-themed game has it all, from armored knights to double spins and orcs galore! With stunning graphics and immersive animations, this game is one of a kind.
But it doesn't just look pretty – it pays well too! With its lucrative bonus stage, you can battle it out against orcs and score big prizes.
So if you're a fan of online slot games, you definitely don't want to miss out on Knight's Treasure. It's the perfect combination of fantasy and fun, and the potential for big rewards will keep you coming back for more.
FAQ
What is Knight's Treasure?
Knight's Treasure is a slot machine game developed by WMG that is set in a fantasy world where knights duel against orcs for wealth and power.
What are the graphics and animations like?
The graphics and animations in Knight's Treasure are meticulously crafted with fluid animations, rich details, and custom animations for characters. The symbols all refer to the fantasy world.
What are the slot functions and bonuses?
Knight's Treasure is a classic 5-reel slot with up to 10 pay lines, and there are no free spins. However, the game has a unique "Double Spin" mode where you can block some reels to make a second chance at creating a winning combo. The Wild symbol helps you complete winning combinations, and the Bonus symbol unlocks a bonus game where you duel against an orc for winnings.
What is the goal of the bonus game?
The goal of the bonus game in Knight's Treasure is to defeat the orc by hitting him with your sword before he depletes your energy with his blows. Each hit will give you a good win, and the highest bonus is earned by completely defeating the orc.
What are the three types of bonus winnings in the game?
The three types of bonus winnings in Knight's Treasure are: golden "Big Win" writing (highest), golden chalice, and the silver candelabrum (lowest).
What is the Autoplay button?
The Autoplay button is a feature in Knight's Treasure that allows you to set up to 500 automatic spins.
Are there other slot machines similar to Knight's Treasure?
Yabba Dabba Dosh and the Witch Hunter Slot Machine are two other slot machines that offer a "Double Spin" mode allowing you to block some reels before making a second chance at creating a winning combo, but they have different settings and themes.
Can you adjust the number of pay lines in Knight's Treasure?
Yes, you can adjust the number of pay lines in Knight's Treasure using the"Bet" button, with a minimum of 5 pay lines and a maximum of 10.
What we like
Unique 'Double Spin' mode adds excitement and increases winning opportunities
Detailed and rich graphics with fluid animations
Fun bonus stage that involves dueling against orcs
Lucrative prizes and bonus winnings available
What we don't like
No free spins available
Limited number of pay lines compared to other slot games