Ice Wolf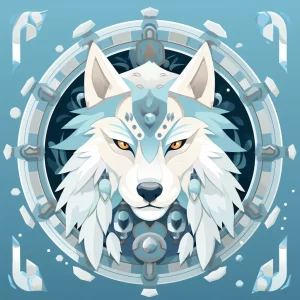 Get ready to explore the icy terrain in this unique game of Ice Wolf. Featuring 6 reels and 18 symbols on each spin, players are in for a wild ride. The game boasts a dual-grid feature – once you win on the bottom grid, you will unlock the upper game grid, giving you more opportunities to score those big wins.
Keep an eye out for the mighty white wolf, who acts as the wild symbol and stretches across the entire reel, on both the upper and lower grids. Though winnings may seem scarce in the beginning, you'll be howling with excitement once you crack the ice and unlock the top grid for massive rewards.
Chillingly Cool Setting and Theme Design
ELK's Ice Wolf game transports players to a winter wonderland filled with magic and intrigue. The backdrop of the game is a breathtaking snowy terrain, complete with towering mountains and an enchanted forest. The game grid itself is just as impressive, encased in ice and flanked by two fierce wolf totems.
As you spin the reels, you'll encounter symbols that seem ripped from the pages of an ancient Nordic legend. From fearsome Viking axes to golden eagle idols, the game immerses you in a world of Norse mythology.
This game is cooler than the other side of the pillow, so grab a cup of hot cocoa and settle in for an unforgettable experience!
Un-brr-lievable Game Symbol and Animation
No need to keep your paws crossed, Ice Wolf's got you covered with its unique symbols and animations. You'll be howling with joy as the wild white wolf expands to cover both the upper and lower grids, making winning feel like a breeze. This symbol is perfect for this frozen wonderland, where magic and a snowy breeze are always in the air. Keep an eye on the pack of running wolves in the animation, and don't be surprised if you feel like you're part of their cool gang.
The Beat Drops: Sound & Music Design in Ice Wolf
Prepare to rock and roll with the sound design of Ice Wolf, a game that takes you to a world of fantasy and adventure. Unlike other online slots, this game features driving music that adds a sense of sophistication to the gameplay. You won't be hearing any standard tunes or simple jingles here.
The music is not just an afterthought; it's an integral part of the gaming experience. It sets the tone and accompanies players on every spin, making it an enjoyable experience with each round. So, turn up the volume and let the music take you on a journey!
Similar Slots with Different Pawsibilities
If you were howling for more after playing Ice Wolf, don't worry, we've got you covered.
We recommend giving Buffalo Spirit a spin, where the buffaloes roam free, or check out Safari Sam, where you can help the jungle's resident explorer uncover hidden treasures.
For those who just can't get enough of that wolfy charm, we suggest running wild with Wolf Run, howling at the moon in Wolf Moon, or trying to strike gold with Wolf Gold.
FAQ
What is Ice Wolf?
Ice Wolf is an online slot game from ELK Studios that has a unique theme and gameplay mechanics revolving around the white wolf that lives in Nordic regions.
What are the symbols in Ice Wolf?
Ice Wolf has symbols like golden idols of eagles, deer and wolves, ancient Viking warriors' axes and shields that players see on the five reels.
What is the special symbol in Ice Wolf?
The white wolf is the special symbol in Ice Wolf that triggers a combination and initiates a beautiful animation of a pack of running wolves.
How does the top grid work in Ice Wolf?
The top grid in Ice Wolf unlocks following winning combinations on the lower grid, increasing the number of symbols at our disposal and allowing players to earn higher-value winnings.
What is a Wild symbol in Ice Wolf?
In Ice Wolf, the white wolf also serves as a Wild symbol that extends across the entire reel, on both the upper and lower grids.
What kind of music is played in Ice Wolf?
Ice Wolf has driving, typical music of the most fantasy-inspired settings accompanying each spin, making it enjoyable to listen to and adds to its overall theme.
Are there similar online slot games like Ice Wolf?
Similar slots to Ice Wolf include Buffalo Spirit, Safari Sam, Sumatran Storm, Wolf Run, Wolf Moon, and Wolf Gold.
What can I expect from winnings when playing Ice Wolf?
Players can expect a reduced number of winnings during their spins in Ice Wolf, but payouts increase dramatically as they start breaking the top ice.
What we like
Unique gameplay mechanics and features
Stunning setting and theme design
Engaging game symbol and animation
Immersive sound and music design
What we don't like
Reduced number of winnings during spins
Limited selection of similar themed slots