Hot to Burn Extreme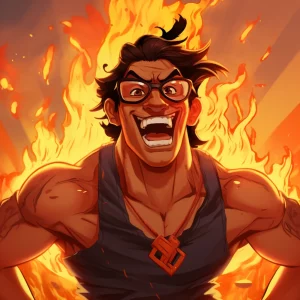 Get ready to go retro with Hot to Burn Extreme! This classic slot game is perfect for old-school enthusiasts looking for some juicy wins. The game is played on a 4 row x 5 reel grid, giving players a whopping 40 paylines to potentially hit it big. Simply match 3 or more of the delicious fruit symbols for sweet payouts.
Speaking of fruit symbols, expect to see lemons, oranges, plums, strawberries, and cherries on the reels. Plus, keep your eyes peeled for the lucky number 7 – it might just be your ticket to the ultimate win. And don't worry about the soundtrack being outdated – the game boasts a techno beat that will get you grooving like it's the 90s all over again. To top it off, the animations are so well made, you might just forget you're not playing on a physical machine!
Design and Graphics: Retro Vibes Everywhere
If you're a fan of retro slot games, Hot to Burn Extreme is the answer to your prayers, with fruit symbols and vibrant graphics that will transport you straight to old Vegas. The design and animations are simple but charming, giving players the feeling of playing on a real slot machine. The graphics are colorful, but not so flashy that you risk losing your eyesight or your balance.
Overall, the visuals are spot on, and the game has a lovely, nostalgic feel that will delight any player looking for a quick trip down memory lane.
Bonus Round: A Chance to Heat Things Up!
Hot to Burn Extreme is more than just your typical slot game! It's got heat and excitement that will keep you on the edge of your seat. This game offers one bonus round, but it's not just any bonus round – it's a chance to ignite some major winnings!
By landing 3, 4, or 5 scatter symbols, you can trigger 10-20 free spins! Who doesn't love free spins? Plus, the free spins round can be reactivated without any limit, making for some truly intense gameplay. So, keep your fingers crossed and watch those reels spin!
Hot to Burn Extreme is Hot to Trot on Mobile!
Are you tired of being tethered to your PC just to play your favorite slot game? Reel Kingdom has got you covered with their mobile compatibility for Hot to Burn Extreme! Whether you're sitting in the park, standing in line at the grocery store, or even just lounging on the couch, you can spin those reels and revel in the heat of the game, right from your mobile device.
So say goodbye to the days of being bound to your desk like a medieval scribe, and embrace the freedom of playing Hot to Burn Extreme on the go. Whether you're a seasoned gambler or just starting out, this game will have you feeling like a high roller in no time. Don't believe us? Just give it a spin and see for yourself!
Ready to Pay? (RTP)
Hot to Burn Extreme might just burn a hole in your pocket…or will it? The game boasts an RTP of 96.65%, which is pretty average for the market. Don't fret, though – your chances of winning big are still pretty high! You can expect to get back around 96.65% of your bets over time.
So, are you feeling lucky, punk? The odds are definitely in your favor with this fiery game. Bet big, win big, and watch those reels sizzle with every spin!
FAQ
What is the theme of Hot to Burn Extreme slot?
The theme of the slot is classic retro-style fruit machine slots.
Does Hot to Burn Extreme slot have any special features?
Yes, the slot has a Free Spin bonus round that you can activate by getting scatter symbols on the reels.
How many paylines does Hot to Burn Extreme slot have?
Hot to Burn Extreme has 40 paylines available.
What is the RTP of Hot to Burn Extreme slot?
The RTP of Hot to Burn Extreme is set to 96.65%, which is in line with the market average.
Can I play Hot to Burn Extreme slot for free?
Yes, some casinos offer the demo version for free, and there are also free versions available on enthusiast sites and portals.
Is Hot to Burn Extreme slot suitable for mobile devices?
Yes, the provider has ensured that the game is optimized for any device, not just for PCs.
What symbols can I expect to find on the Hot to Burn Extreme slot reels?
You can expect to find fruit symbols, including lemons, oranges, plums, and strawberries, as well as the number 7, cherries, and a gold star that serves as the scatter to activate the bonus round.
What is the maximum payout in Hot to Burn Extreme slot?
Hot to Burn Extreme offers a potential payout of up to 5,000 times your bet.
What we like
Classic gameplay for retro slot enthusiasts
Well-made graphics and animations
Free spins bonus round with interesting payouts
Mobile compatible for on-the-go play
What we don't like
Limited bonus features
May not appeal to players seeking more complex gameplay