Hot' N' Fruity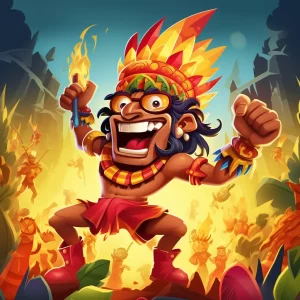 What do you get when you mix fiery hot graphics with fruity fun? Tom Horn Gaming's Hot'n'Fruity slot game, of course! The design of this game sets it apart from other fruit-themed slots, making it feel like a fresh slice of juicy goodness. The visuals are as clear as a summer day in the orchard, with a dynamic fire background that will make you feel like you're spinning in a blazing inferno—minus the heatstroke.
And let's talk about those symbols! From shiny red apples to zesty lemons, the fruits on the reels look so good you could almost taste them. Plus, the traditional symbols like the red 7, the stars, and the bell have been revamped to complement the fruit theme in a way that will make you smile from ear to ear.
Oh, and did we mention the music? The sound team at Tom Horn Gaming have hit the jackpot with the catchy tunes that accompany the game. It'll have you dancing in your seat while you spin those reels.
Hot'n'Fruity: Addictive Gameplay with Unique Features
Hold your horses, slot lovers, because Hot'n'Fruity is not your typical game. It may have the classic feel of a vintage slot, but it has some exciting features up its sleeve. For starters, it gives players the chance to win both ways – from left to right and right to left. Just when we thought we've seen it all, we now have stars with letters on top – nope, not just Hollywood's Walk of Fame – these Wilds have expansion and sticky functions that could drive you wild with excitement! Another Wild acts like a joker, which is fitting since you'll be laughing with joy at your winnings. No bonus mode? No problem. With its addictive gameplay, you won't even notice it.
Get Your Five a Day with Hot'n'Fruity's Symbol Combinations
What's better than getting five a day of fruits and veggies? Winning big, that's what! Hot'n'Fruity slot features a fruity range of symbols including juicy cherries, refreshing watermelons, plump plums, tart lemons, and zesty oranges. If fruit isn't your thing, don't worry, you'll still find traditional symbols like the red 7, the bell, and the stars.
And unlike some other games, Hot'n'Fruity knows that there's no wrong way to eat a hotdog – or in this case, to make a winning combination. Combinations are calculated both from right to left and left to right, so you're practically guaranteed to hit the jackpot.
Experience the Magic with Special Symbols and Wilds
Hot'n'Fruity ain't your average fruit slot game – it comes packed to the brim with dazzling special symbols, like Willy the Wild who expands and sticks around for another round, or the classic jokester Wild, Wally. Seriously, the only thing missing is a drum roll every time these beautiful celebs hit the reels.
But don't be fooled by their shiny facade; these special symbols pack a punch by making the gameplay more varied and exciting. It's like they always say – variety is the spice of life, and man, is it spicy!
Fruit Slots Face-Off: Hot' N' Fruity vs. The Rest
Get ready to pick a side because we're about to compare Hot' N' Fruity to its fruity counterparts, including Fruit Zen, Opal Fruits, and Flaming Fruit.
Now, let's get real – we've all seen fruit slots before. Truthfully, they're a dime a dozen. But, Hot' N' Fruity manages to burst through the bunch with gorgeous graphics and fruity features that will make your mouth water.
Plus, the game's special symbols will have you feeling like you hit the jackpot even if you haven't – and what's more refreshing than that?
FAQ
What is Hot'N'Fruity?
Hot'N'Fruity is an online slot game developed by Tom Horn Gaming that features classic fruit symbols with a modern twist.
Does Hot'N'Fruity have good graphics?
Yes, Hot'N'Fruity has good graphics. The background is a dynamic fire and the symbols have a polished appearance which gives a refresh to the otherwise too essential and repetitive symbols.
Is the Hot'N'Fruity sound department good?
Yes, the sound department of Hot'N'Fruity is good. Unlike other similar slots, it has catchy music to accompany the spins.
What is the gameplay of Hot'N'Fruity like?
The gameplay of Hot'N'Fruity is a mix of classic and modern elements. Combinations are calculated from right to left as well as backwards, and there are various types of WILD symbols that behave differently in the game.
Are there any bonus modes in Hot'N'Fruity?
No, there are no bonus modes in Hot'N'Fruity. However, the varied gameplay due to the special WILD symbols makes up for this lack.
What other games are similar to Hot'N'Fruity?
Fruit Zen, Opal Fruits, Flaming Fruit, and many other similar titles are available to play online.
Can I play Hot'N'Fruity for free?
Yes, you can play Hot'N'Fruity for free at many online casinos that offer this game.
Can I win real money playing Hot'N'Fruity?
Yes, you can win real money playing Hot'N'Fruity at online casinos that offer this game. However, you must be playing with real money in order to win real money.
What we like
High-quality graphics and sound
Unique features and special symbols
Varied gameplay despite lack of bonus mode
Combinations calculated from right to left and left to right
What we don't like
No bonus mode
Fruit theme may feel repetitive to some players