Hocus Pocus Deluxe HD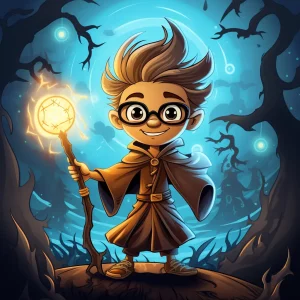 Are you ready to be transported to a world of enchantment and wonder? Look no further than Hocus Pocus Deluxe HD, the perfect slot game to satisfy your magical cravings.
Get ready to meet your new favorite wizard – with his long silver beard and hair, he's sure to cast a spell on you (hopefully not a hex!). You'll feel like you're in the middle of a magical fairytale as you spin the reels and watch as the symbols come to life before your very eyes.
Game Structure
Hocus Pocus Deluxe HD is a spellbinding slot game with 5 reels and 40 enchanting pay lines. It's the perfect game for sorcery enthusiasts and gamblers alike.
The minimum bet to cast a spell in this game is just 40 cents, but if you're feeling brave, you can go all in for a maximum bet of 20 $. With an impressive theoretical return to the player (RTP) of 97.47%, you'll have plenty of opportunity to wave your wand and win big! With medium volatility, you can expect a perfect balance between regular payouts and high-value symbols.
Return to Player (RTP)
Get ready to cash in those coins, because Hocus Pocus Deluxe HD boasts an impressive 97.47% Return to Player percentage. This is one slot that will have you casting winning spells left and right! With odds this good, you'd have to be a mere muggle not to give it a try.
Symbols and PayoutsGet ready to be spellbound with the variety of symbols and payouts available in the Hocus Pocus Deluxe HD casino slot game! With eight regular symbols and two special ones, you'll be winning credits in no time! Look out for geometric shapes, the wizard's hat, and a spellbook, but be careful with that strange magical object – we're not quite sure what it does! The Wild is your best friend as it can substitute for any other symbols except the Scatter which, with just one click, activates six free spins! The wizard symbol is the highest-valued one and can make you rich with 5,000 credits for five identical icons. Keep your eyes open for payouts ranging from 80 to 200 credits and watch them grow with the value of each symbol – it's like watching a magical spell in action!
FAQ
What is the RTP of Hocus Pocus Deluxe?
The theoretical return to player is 97.47%.
How many pay lines does Hocus Pocus Deluxe have?
It has 40 pay lines.
What is the minimum and maximum bet for Hocus Pocus Deluxe?
You can place bets starting from a minimum of 40 cents up to a maximum of 20 $.
Does Hocus Pocus Deluxe offer a free play-for-fun version?
Yes, most online casinos offer a free play-for-fun version.
What are the regular symbols in Hocus Pocus Deluxe?
There are eight regular symbols, including four geometric shapes, a wizard's hat, a magical object, a spellbook, and the wizard himself.
What are the special symbols in Hocus Pocus Deluxe?
There is a Wild with a joker function and a Scatter that activates free spins. There is also a third special symbol represented by dice that can appear during free spins.
What is the Gamble function in Hocus Pocus Deluxe?
It allows you to double your prize or choose the color of a turned card or a fortune ladder.
Is Hocus Pocus Deluxe suitable for beginners?
Yes, it has gameplay that does not feature particular special functions and is, therefore, easily accessible even to beginners.
What we like
High 97.47% RTP
Medium volatility
Free spins with 2x payouts
Gamble function to boost wins
What we don't like
Limited betting range
Wizard theme may not appeal to all players