Hitman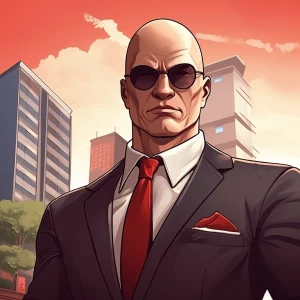 Are you feeling lucky, punk? Microgaming's Hitman slot game is here to test your gambling skills. With five reels and 15 paylines, you'll have plenty of chances to strike it rich. And with exciting bonus games like Contract and Insignia, you'll be living like a high-rolling assassin in no time.
Plus, the game's expanding Wild adds an extra element of danger to your spins. But hey, who doesn't love a little danger? Just like Agent 47, you've got nerves of steel and a killer instinct.
If you're an experienced gambler, you know the drill: it's time to put your money where your mouth is. So load up Hitman and let the games begin.
Hitman Slot – The Game That Will Make You Want to be an Assassin
The gameplay of the Hitman slot game is as simple as putting a bullet through your target's head. Players can place their bets by selecting between one and fifteen paylines with a betting range between 0.01 to 0.5. With over 30 winning combinations available, and the Agent 47/Wild symbol making an appearance, it's as if the game is handing you a silenced pistol to complete those winning combinations.
The Scatter symbol is as hard to find as your target, but when you do, it will trigger multiple images and award you with bonuses. The bonuses include Contract, Insignia, and expanding Wild, which are guaranteed to make your heart race and keep the game exciting on every spin. So, gear up and get ready to complete your mission of winning big with the Hitman slot game!
Get Paid to Kill it with Symbols and Paylines in Hitman Slot Game
The Hitman slot game brings a killer combo with its symbols and paylines. Get ready to see the famous Agent 47, his trusty revolvers, knives, and even machine guns as you play. And don't worry about feeling overwhelmed, there are only 15 paylines to keep track of, with over 30 different winning combinations.
But the real excitement comes when you hit a winning combo and are treated to some killer animations on your screen. Keep an eye out for Agent 47/Wild, who appears as the joker and can replace any symbol to complete your winning combo – even if it's missing pieces. And don't forget the Scatter, represented by multiple images that can pay out big time if you're lucky enough to spot it.
Bonus Games and Free Spins in Hitman Slot
Get ready for some serious excitement in Hitman slot! There are three thrilling bonus games available to players – Contract, Insignia, and expanding Wild. Activate Contract by snagging three bonus symbols on reels 3, 4, and 5. Then, choose your target and weapon to win big. To activate Insignia, just find three Scatter symbols on reels 1, 2, and 3. Then, you'll have to make a tough choice – but we're sure you're up to the challenge. Want free spins? Of course you do! Find the Free Spin icon on the grid three or more times to activate this tantalizing feature. Plus, during free spins, you might even uncover some new bonus games – but unfortunately, you won't get any more free spins. Play Hitman and see if you have what it takes to get big rewards!
Hitman: Return to player (RTP) value of the slot game that packs a punch
Are you ready to get paid like a hitman, but without all of the messy murders and life on the run? Then Hitman is the perfect choice for you! With an RTP value of 95.84%, it's like hitting the slot machine jackpot with each spin. Although the graphics of this game may not win any beauty pageants, its thrilling bonus features, great payout average, and non-stop action will have you feeling like a secret agent on a mission.
FAQ
What is Hitman?
Hitman is an online slot machine developed by Microgaming, based on the eponymous video game character known by experienced gamblers.
What is the structure of Hitman?
Hitman starts with 5 reels and 3 rows with 15 paylines.
What are the bonus features in Hitman?
Hitman has 3 bonus games and 18 free spins, with which players can multiply their winnings.
Can players win a jackpot?
Yes, players can win an astounding jackpot playing Hitman online slot game.
What are the graphics and game symbols of Hitman like?
The graphics may disappoint some players, but the famous agent 47, his revolvers, a knife, machine guns, and special icons cannot be missed in this game.
What is the Wild in Hitman?
The Wild is the same agent, which becomes the Joker and can replace all game symbols to complete combinations even when symbols are missing.
How do players activate the bonus games?
Contract is activated when you place 3 bonus symbols on reels 3, 4, and 5. Insigna is unlocked with 3 Scatter symbols on reels 1, 2, and 3. Free Spins is activated when you find the Free Spin icon on the grid 3 or more times.
What is the RTP value of Hitman?
Hitman has an interesting RTP with a value equal to 95.84%.
What we like
Exciting bonus games
Engaging gameplay
Good payout average
Attractive RTP value
What we don't like
Graphics could be better
Limited free spins