Hit it Hard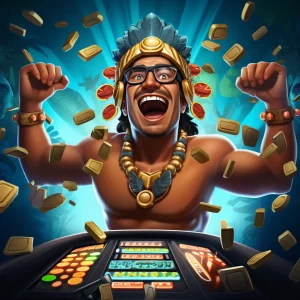 Get ready to roll the reels on an online casino game that's jam-packed with fruits and thrills. Hit it Hard, created by ELK, brings a classic design with a modern twist – kinda like a mullet, but with less commitment. Launched in January 2020, it's about time you give this game a spin.
You'll be transported back in time to the land of fruit machines with the unique vintage accents that perfectly blend in with today's tech. It's the perfect mix of old-school and new-school fun. Just be sure to bring your sunnies, because the colors are popping like a fruit salad.
Gameplay Features and Special Symbols
Buckle up, folks! Hit it Hard is a three-reel, five-payline game that'll keep you on the edge of your seat with its winning possibilities. You won't be disappointed by the regular and special symbols that pay tribute to classic fruit machines. Look out for multipliers, free spins, wild spins, and stacked wilds – they're the cherries on top of this slot sundae!
As for the special symbols, you've got a wild and a scatter symbol at your disposal. These babies are your ticket to increasing your payout, so don't let them out of your sight!
Get Your Bets in and Win Big!
Alright, let's talk about everyone's favorite topic – bets! Don't worry, Hit it Hard has got you covered with a flexible betting range that caters to all players. Whether you're a high roller or a cautious spinner, you can start betting at a reasonable minimum of just 20 cents per spin and work your way up gradually. Feeling lucky? Well then, go ahead and bet the maximum of $100 per spin and get ready to hit the jackpot!
The game's medium-high volatility is no joke and can lead to some pretty impressive payouts, up to a whopping 2,500 times your bet amount. That's right, folks – you could potentially win enough to finally buy that private island you've been dreaming of. So, let's get those bets in and start winning big with Hit it Hard!
Graphics and Design
Prepare to be transported back to the neon-filled 90s with Hit it Hard's expertly crafted mix of modern and vintage styling. It's like a time machine, minus the awkward fashion choices and bad haircuts.
The bright colors of neon lights and vintage graphics will have you feeling nostalgic for a time you may or may not have actually experienced. And with a theme soundtrack to match, you'll be tapping your toes (and hopefully hitting it big) as you spin those reels.
Hit it Hard: Theoretical Return to the Player and Overall Gaming Experience
Okay, let's get nerdy for a moment. The theoretical return to the player (RTP) in Hit it Hard is a solid 96.3%. That's higher than my GPA in college. Just kidding, I dropped out to pursue my passion for writing about slot games. Anyways, back to the game. Not only does Hit it Hard have a decent RTP, but it also offers various bonus features and flexible betting ranges. It's like a choose-your-own-adventure book, but with more money. So, whether you're a big spender or just want to dip your toe in the slot game waters, Hit it Hard has you covered. Plus, it's just a fun game overall, bringing that vintage-style vibe to your screen.
FAQ
What is Hit it Hard?
Hit it Hard is an online slot game launched in January 2020 and produced by ELK software company, featuring a mix of modernity and vintage style, with a gaming experience that takes us back to the 90s.
What is the betting range in Hit it Hard?
Hit it Hard has a very flexible betting range, starting from a minimum bet of only 20 cents per spin, up to a reasonable bet of 100 $ per maximum spin, which can adapt to the needs of most players.
What is the maximum payout in Hit it Hard?
The maximum payout that players can get playing with this slot machine is 2,500 times the bet value, which is quite impressive.
What is the volatility of Hit it Hard?
Hit It Hard is characterized by a medium-high volatility (4/5), which means that although the wins are not very frequent, they are of some weight.
What is the RTP of Hit it Hard?
The theoretical return to the player (RTP) of Hit it Hard is 96.3%, fairly standard, in line with most online slot games.
What symbols are present in Hit it Hard?
Hit It Hard symbols include regular and special symbols, including the number 7 in three colors, BAR in three colors, three fruits, a Wild symbol, a Scatter symbol, and a bonus game that allows winning various prizes, including multipliers and free spins, wild spins, stacked wilds, and more.
What is the theme of Hit it Hard?
The theme of Hit it Hard refers to the tradition of classic Fruit Machines and includes symbols that can also be found in land-based slots.
What is the gaming experience of Hit it Hard?
Hit it Hard provides an engaging gaming experience to any online gambler with decent payouts and a range of exciting features.
What we like
Unique blend of vintage style and modern elements
Decent payouts and winning possibilities
Various bonus features including multipliers and free spins
Well-executed mix of modern and vintage styling
What we don't like
Limited number of pay lines
Relatively low maximum payout