Haunted Chateau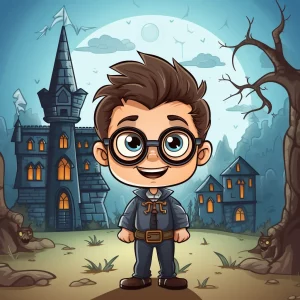 Looking for a game that will get your heart racing faster than when you see a ghost? Look no further than Haunted Chateau, an online slot game which features a spooky 243 paylines spread across five reels.
Your objective? Find the bonus games by confronting the ghost with one of the ghost hunters' symbols. But beware, things might get eerie! It's a world of ghosts, ghouls, and creepy crawlies vying for your attention, after all.
Wild symbols will be your best friends as they can replace any other symbol on the slot. But the real MVP here is the ghost symbol which functions as a wild symbol that moves across the reels to the right after every new spin. This not only sends shivers down your spine but also maximizes your chance of winning big bucks.
Game Symbols and Paylines
Get ready to meet the mysterious main characters of Haunted Chateau and reap some serious rewards! And no, we're not talking about your exes. The chest, map, and necklace symbols are also worth keeping an eye out for. Meanwhile, the statue, candle, and lantern symbols may be the least important, but they're still bringing in the big bucks. It's like they always say – even the supporting actors are essential to a good story, and a good payout.
Just hope Lady Luck is on your side and you get at least 3 symbols along the paylines to bring in some cash. The amount of your winnings is entirely up to the symbols that pop up. With 243 paylines spread across the five reels, you'll have plenty of chances to win big.
Bonus Games and Features
Looking for some spooktacular bonus games? Haunted Chateau has got you covered! With three exciting bonus games to play, you'll be too scared to blink! Players can find these games by capturing the ghosts with ghost hunters' symbols as they move across the reels. Don't worry, these ghosts won't give you the creeps.
The first game is a 2x multiplier which doubles all your winnings while it's active. So, if you win big, you'll be feeling ghostly great! The second game is win-both-ways mode which triggers winning combinations from left to right and right to left. Looks like ghosts aren't the only ones who can do things backwards! Finally, there's the classic free spins mode that gives players the chance to win big without spending a dime. The bonus mode continues until you catch the ghost, increasing your chances of finding all three games.
So if you're brave enough, give Haunted Chateau a spin and try your luck at unlocking all three eerie bonus games. Who knows, you might just scare up a big win!
Get Spooked with Haunted Chateau's Theme and Atmosphere
If you're a fan of all things horror, Haunted Chateau is the online slot game for you. Set in a creepy haunted house, the game will make you feel like you're walking through a real-life horror movie. Two ominous statues guard the infested castle, adding to the eerie atmosphere. The symbols on the reels feature multipliers, giving you a chance to win big while getting spooked.
Don't be surprised if you find yourself jumping at shadows while playing Haunted Chateau. This game's strength lies in its horror-movie ambiance. With every spin, you'll be transported to a world of ghosts and ghouls. It's perfect for those who love a good scare.
Variance and RTP: A Betting Rollercoaster!
Get ready for a thrilling ride with Haunted Chateau's medium-to-high variance and estimated RTP of 96.55%! So, how does that translate into cash? Well, hold on to your hats, gamers, because with a return-to-player rate above average, you're in for a wild ride full of wins and losses!
But don't fret – Haunted Chateau has stacked the odds in your favor with the probability and frequency of winning in the game. So whether you're a seasoned player or a newcomer, you'll have your hands full with this exciting slot game!
Get Spooky with Spinmatic's Development of Haunted Chateau
If you're looking for a ghoulishly good time, look no further! Spinmatic's Haunted Chateau is the online slot game for you. With its chilling atmosphere and thrilling gameplay, it's no wonder this game has become a fan favorite. And let's be honest, who doesn't love a spooky slot game?
Developed by the masterminds at Spinmatic, Haunted Chateau is a winning combination of fun and fright. The game's mechanics will keep you on the edge of your seat, and the bonus games are so rewarding you'll be howling at the moon. And with a horror-movie vibe that's both creepy and captivating, you'll be hooked from the first spin.
FAQ
What is the RTP of Haunted Chateau?
The estimated RTP of Haunted Chateau is 96.55%, which is above average and very good.
What is the objective of the game?
The objective of Haunted Chateau is to capture the ghost to trigger one of the three bonus games.
Are there any wild symbols in Haunted Chateau?
Yes, there is a ghost symbol that functions as a wild symbol and can replace any other symbol on the slot.
What are the bonus games in Haunted Chateau?
There are three bonus games in Haunted Chateau: a 2x multiplier, win-both-ways mode, and a classic free spins mode.
Can I double my winnings during the bonus mode?
Yes, choosing the 2x multiplier bonus game will double all winnings earned during the bonus mode.
What is the maximum reward in Haunted Chateau?
The maximum reward in Haunted Chateau is 1620 times your original bet.
How many paylines does Haunted Chateau have?
Haunted Chateau features 243 paylines across five reels.
What are the most rewarding symbols in Haunted Chateau?
The most rewarding symbols in Haunted Chateau are the main characters of the story.
What we like
243 paylines for more winning opportunities
Multiple bonus games to enhance gameplay
Eerie horror-movie ambiance
Above-average RTP of 96.55%
What we don't like
Limited number of bonus games