Happy Farm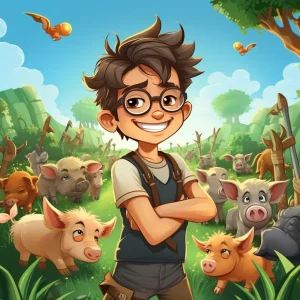 Yeehaw! Happy Farm is a slot game with 5 reels and 20 paylines that will take you on a farm-tastic adventure! Get your overalls ready, 'cause you'll meet special symbols like the Wild white cow and the Scatter puppy dog. These lucky companions will help increase your chances of winning big bucks, or should we say big clucks? Plus, there are lots of special features that will keep the fun rolling and the barn doors open, like free spins and bonus rounds. It's the farming life for us!
Graphic Design and Theme
So, you want to know about the design of Happy Farm? Well, let me tell you, it's like stepping into a cartoon world of greenery, flowers, and cute little critters. The game board is made of wood, and it's adorned with freshly harvested vegetables and happy animals.
Now, let's talk symbols, baby. We've got all sorts of farm staples like artichokes, grapes, and salad, plus some of the cutest creatures you've ever seen; ducks! Pigs! Chicks! But don't forget about our lead farmer, who's really running the show. The 3D effects add some pizzazz to the game, and make it all the more enjoyable, but let's be real, this theme isn't exactly breaking the mold here.
Control Your Bets with Happy Farm
Happy Farm lets you be the boss of your bets! Bet value settings are completely adjustable, giving players unparalleled control over their wagers. It's like being a farmer, but instead of controlling chickens or cows, you're controlling your own money, and that's a lot more satisfying, believe me.
With Happy Farm, you get to decide if you want to bet big or keep it small. It's like choosing between a tractor or a pair of garden gloves. Both can be fun, it just depends on what you're in the mood for.
Return to Player (RTP)
Happy Farm boasts a return to player percentage of 95.00%, slightly above average for an online slot game. Now, we know what you're thinking: why not aim for a 100% RTP? Well, if casinos did that, they'd be out of business faster than a chicken running away from a farmer. It's important for players to remember that the RTP is a theoretical payout percentage over the long term and individual games can deviate significantly from it.
Happy Farm: Play on Your Phone from the John!
Get ready to play even while you're on the go! Happy Farm is compatible with every mobile device, so you can feed your chickens and milk your cows anytime, anywhere. No need to feel guilty about neglecting your crops during your morning routine – with Happy Farm, you can plant and harvest your crops from the comfort of your porcelain throne.
And don't worry, the mobile version of the game has the same great features and gameplay as the desktop version, so you won't miss out on any of the fun. Whether you're in line at the grocery store or waiting for your next meeting to start, Happy Farm is the perfect game to keep you entertained while you pass the time.
FAQ
How many reels and paylines does Happy Farm have?
Happy Farm has 5 reels and 20 paylines.
What is the Wild symbol in Happy Farm?
The white cow represents the Wild symbol in Happy Farm.
What is the Scatter symbol in Happy Farm?
The puppy dog represents the Scatter symbol in Happy Farm.
How many free spins can you activate in Happy Farm?
You can activate up to six free spins in Happy Farm.
What is the RTP of Happy Farm?
The RTP of Happy Farm is 95.00%.
Can you adjust the bet value settings in Happy Farm?
Yes, you can adjust and modify the bet value settings in Happy Farm according to your preference.
Is Happy Farm available on mobile devices?
Yes, Happy Farm can be played on any mobile device.
What is the most lucrative symbol in Happy Farm?
The pig is the most lucrative symbol in Happy Farm.
What we like
Controllable bet values
Mobile compatibility
Unique and relevant symbols
Special features for better winning chances
What we don't like
Average RTP
Not a unique design