Gremlins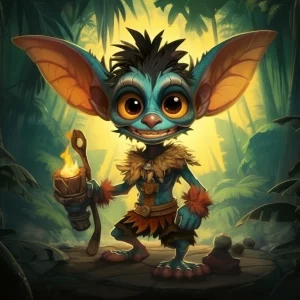 Gremlins is a fun and exciting online slot game that will keep you entertained for hours! With 5 reels and 20 paylines, there are plenty of chances to win big. If you're feeling lucky, why not bet on higher values to trigger one of the eight bonus functions? Who knows, you might just activate one of the three random bonuses during the base game!
But that's not all – there are three more bonus features that offer free spins and expanding wild symbols. It's like having Gizmo on your side, helping you win big. Just don't get them wet or feed them after midnight!
The Bonus Paradise!
Gremlins is full of surprises, as it offers eight bonus features that will make your head spin – and we don't mean the 360 degrees kind the Gremlins are famous for. Three of these features will pop up at random during the main game – we won't spoil it for you, but let's just say you'll be pleasantly surprised!
The other three bonuses come in the form of free spins, and they're not your average run-of-the-mill free spins. With Splashing Wild Free Spins, Gremlin Link Free Spins, and Gizmo Box Hunt, you'll be on a wild ride. You'll get expanding wild symbols, multipliers and numerous ways to boost your winnings. Our personal favorite? Gizmo Box Hunt, where you can pick from an array of boxes arranged on four different levels. You could win up to 100x your bet – definitely worth it, even if you do get a pesky Stripe popping up here and there!
My Ears and Eyes are Poppin'!
The graphics and sound effects of Gremlins are downright awesome! As soon as you hit spin, you'll be transported straight into Billy's bedroom, with all of the film's audio work surrounding you. The range of symbols is so cool, from popcorn to 3D glasses to a milkshake, even the poker card letters have been given a retro vibe that fits perfectly with the overall aesthetic.
And don't even get me started on the wild symbol – it's a Gremlin! This little guy can replace some of the other symbols, helping you to win big. Plus, with the Stripe Wilds feature, when the Gremlin sneezes, you're in for a real treat. He can replace other symbols, multiplying your winnings and giving you loads to smile about.
RTP and Payouts: Shape-Shifting Gremlins Are Hard to Beat
Looking for a big payout with minimal risk? Try your luck with Gremlins, the shape-shifting slot game that has an impressive RTP of 96.47%. This is one of the only times you'll be happy to have a Gremlin on your screen – the wild symbol can pay up to 50x your initial bet if it pops up 5 times on the reels. And don't forget the purple logo, which can pay up to 25x your bet when you hit the right combination.
With potential winnings that are practically off the charts, it's no wonder so many people are talking about Gremlins. This game is perfect for anyone looking to win big without breaking the bank. Who knows, maybe the mischievous creatures will be on your side this time around! But if things go awry, don't say we didn't warn you. Good luck!
Gremlins Slot Game: Bringing the 80s to Your Screen
Get ready to travel back in time to the decade that brought us big hair, neon colors, and the adorable Gizmo. That's right, Gremlins is here to take you on a nostalgic journey with its 1984 movie-themed slot game. And even if you haven't seen the flick, fear not my friend, the game has plenty of charm and features to offer.
Experienced players will be delighted to know that Gremlin's bonus features are sure to bring excitement and increase your chances of hitting the jackpot. It's not just about spinning the reels, oh no. These little green monsters have tricks up their sleeves, and they're willing to share them with you.
FAQ
What is Gremlins?
Gremlins is an online slot machine inspired by the iconic 1984 film directed by Joe Dante.
How many paylines are there?
There are 20 paylines in Gremlins.
What is the RTP of Gremlins?
The RTP of Gremlins is 96.47%.
What are the bonus functions?
There are 8 bonus functions, including 3 that can occur randomly and 3 that offer free spins and expanding wild symbols.
What is the maximum payout in Gremlins?
The maximum payout is 100x your bet in the Gizmo Box Hunt bonus feature.
What is the Wild symbol in Gremlins?
The Wild symbol in Gremlins is the Gremlin, which can pay up to 50x the bet and has the power to replace other symbols.
What happens if the clock strikes midnight in the Gizmo Box Hunt bonus feature?
The game ends if the clock strikes midnight in the Gizmo Box Hunt bonus feature.
Is it necessary to have watched the film to enjoy Gremlins?
No, it's not necessary to have watched the film to enjoy Gremlins as it is a great game in its own right.
What we like
Top-notch graphics and sound effects
8 bonus features offering free spins and expanding wild symbols
High RTP of 96.47%
Staggering potential winnings from bonus games
What we don't like