Gold Canyon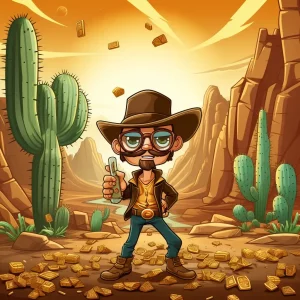 Are you ready to ride into a Wild West adventure filled with explosions and thrilling gameplay? Then saddle up and get ready to play Gold Canyon, a five-reel and 20-payline slot game that offers an exciting and lucrative experience for players of all levels and budgets.
With bets starting from a minimum of 0.10 Dollars per spin and going up to 20.00 Dollars, Gold Canyon offers flexibility for all kinds of players. The symbols of the game are perfectly crafted to match the Wild West theme, including cowboy hats, horseshoes, and bags of loot. But the most important symbol of all is undoubtedly the Dynamite, which can lead to explosive wins.
One of the most exciting features of Gold Canyon is the free spin bonus, which can be triggered by landing three or more Scatter symbols anywhere on the reels. During the free spin bonus, the Wild symbols can expand to cover entire reels, leading to even bigger wins. And if that's not enough excitement for you, the Dynamite symbol can also trigger the dynamite explosion feature, which offers a chance to win a 1000x prize. Talk about blowing up your winnings!
If you're a high-roller looking for big wins, you'll be happy to know that the game's most lucrative symbol can pay up to 10,000x for five identical symbols on a line, at the maximum bet. But even if you're playing with a smaller budget, Gold Canyon's great graphics, fun sounds, and exciting features will keep you entertained for hours. Yee-haw!
Special Features
Gold Canyon is not your typical slot game, with lots of unique special features that spice up gameplay and increase your chances of winning big! One of the most exciting features is the expanding Wild symbols, which can replace other symbols within a payline to help you make matches and hit those elusive big wins. It's like having a little cowboy partner helping you corral those wins.
If you thought that was exciting, wait till you trigger the scattered clusters of dynamite. Not only will you hit big wins, but you'll also get awarded free spins. And the best part? Every additional dynamite that lands on the reels invites another free spin! It's like the dynamite has a mind of its own and just can't get enough of rewarding you for your winning streaks.
Gold Canyon also has a free spin bonus that can be triggered by the Scatter symbol. You know what that means? It means you'll earn yourself a cash prize of 1000 Dollars! Now that's something to yee-haw about!
Graphics and Audio
Yeehaw! Gold Canyon has some pretty impressive graphics that look like they were drawn by a cowboy with a steady hand. Whether you're a seasoned prospector or a greenhorn, the intricate and detailed designs will transport you to the Wild West in no time.
The symbols include poker cards from 10 to Ace, but don't let that fool you. The real gold lies in the higher-value symbols like the horse, the sheriff badge, and the dynamite. When you hit those, it's like striking oil!
But it's not just about the visuals in Gold Canyon. The sound effects and music really round out the experience. It's like having your own personal saloon band playing just for you. The music is so catchy, it'll have you tapping your foot as you spin the reels.
Betting Options
Gold Canyon has an impressive range of betting options so players can choose to either play it safe or go all in. Whether you're a high roller or like to play it safe, this game offers something for everyone, with bets starting at a minimum of 0.10 Dollars per spin and going up to a whopping 20.00 Dollars.
The game's theoretical return to player rate is above average, which means players have a good chance of winning big. With 20 always-active paylines and a possible maximum win of 4,774x multiplied by the bet, players can hit the jackpot with just one spin.
So, whether you want to bet big or small, this game is perfect for any player who wants to have fun and win big. Just remember to pace yourself, or you'll lose your gold faster than a cowboy in a shootout. Yeehaw!
Winning Opportunities
If you're like us, then the thrill of winning big is what makes the online slot experience so exciting. And with Gold Canyon, you're in luck, because this game is all about winning opportunities. With the possibility of winning up to 10,000x the bet with the most lucrative symbol, you could be rolling in dough in no time.
But what really sets Gold Canyon apart is the free spin bonus. Every time a dynamite symbol lands on the reels, players get additional free spins. And let's be honest, who doesn't love free spins? The successive explosions of dynamite can earn players a cash prize of up to 1000 Dollars. So not only are you racking up the free spins, but you're also earning that cold hard cash.
So if you're looking for a game that's packed with winning opportunities and some explosive fun, then Gold Canyon is definitely worth checking out. Just don't let the dynamite go to your head!
Accessibility
Gold Canyon is one of the few slot games that can accommodate players wherever they go, thanks to its compatibility with mobile, tablet, and desktop devices.
Whether you're stuck in traffic and need to pass the time, laying down in bed for the night, or at work pretending to take a bathroom break, you can always count on Gold Canyon to be there to help you escape reality and win some big bucks.
And let's face it, with gambling addiction being a thing, the more accessible a slot game is, the more likely it is that people will become hooked. So, thanks to Gold Canyon's compatibility with multiple devices, the casino industry is one step closer to taking over the world!
Theme and Setting
Gold Canyon takes you back to the dusty and rugged Wild West, where you play the role of a daring prospector searching for the motherlode of gold. The game's graphics and sound design are exceptional, and they create an immersive and authentic atmosphere that will transport you to the frontier.
The desert winds will blow through your hair as you scavenge for gold. The sounds of creaking wooden carts and galloping horses in the game, combined with the game's visuals, make for an authentic Wild West experience. If you're lucky enough to hit the jackpot, you'll feel a rush of excitement like no other.
One thing I love about Gold Canyon is how the game developers have paid great attention to detail. The game's symbols include lanterns, stacks of coins, horseshoes, and other Wild West icons. It's the perfect game for Wild West enthusiasts or anyone who loves slot games.
If you're new to the Wild West genre, don't worry. Gold Canyon is easy to play and quickly gets addicting. Once you start spinning the reels, it won't be long before you're fully absorbed in the game and hoping to strike gold.
Overall, Gold Canyon is an excellent slot game that will appeal to both seasoned gamers and casual players alike. The Wild West theme gives it a genuine character, the immersive graphics and sound combine to create a truly immersive and entertaining experience that you won't be able to stop playing.
FAQ
What is the maximum bet on Gold Canyon?
The maximum bet on Gold Canyon is 20 Dollars per spin.
What are the paylines like on Gold Canyon?
Gold Canyon has 20 always-active paylines.
What features are included in Gold Canyon?
Gold Canyon includes a free spin bonus and the dynamite explosion feature.
What is the most lucrative symbol on Gold Canyon?
The most lucrative symbol on Gold Canyon pays 10,000x for five of these identical symbols on a line, at the maximum bet.
Are there Wild symbols in Gold Canyon?
Yes, the cowboy symbols serve as the Expanding Wilds in Gold Canyon.
Is Gold Canyon available on mobile?
Yes, Gold Canyon is available on mobile, tablet, and desktop.
What is the payout for five gold nugget symbols on Gold Canyon?
The payout for five gold nugget symbols on Gold Canyon is 10,000x for a 20 Dollar bet.
What other slot machines are similar to Gold Canyon?
Other similar slot machines to Gold Canyon include NetEnt's Wild Wild West: The Great Train Heist.
What we like
Exciting gameplay with a chance to win 1000x prize
Expanding Wild symbols and scattered dynamite for big wins
Impressive graphics and detailed Wild West theme
Accessible on mobile, tablet, and desktop devices
What we don't like
Limited betting options with a maximum bet of 20.00 Dollars
Gameplay may become repetitive over time