Geisha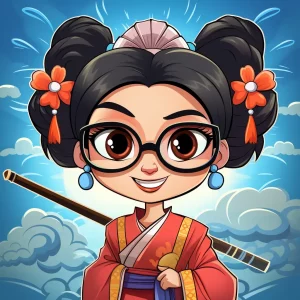 Hailing from the land of cherry blossoms, Geisha slot is a game that packs a punch with its 5 reels and 20 paylines that come to life with every spin. The beautifully designed slot game lets you immerse yourself in Hokusai-inspired scenery, coupled with stunning background music, which makes you feel like exploring the mystical world of the geishas.
And when it comes to the symbols, you are in for a delight. Get ready to meet gorgeous geishas, a golden dragon, and the lotus flower. The game also includes valuable bonus symbols, such as Wild and Scatter, which come with the potential of activating free spins and multiplying bets up to 800 times.
But let's talk about the best part of the slot game – the gameplay! The mechanics are easy to understand and enjoyable thanks to their simplicity and dynamic character. The game is perfect for all kinds of players – both seasoned veterans and newbies alike. The controls for adjusting the bet size, number of paylines, and spins are well-labelled, making it easy to navigate the game.
Overall, playing Geisha slot is a fantastic way to unwind, relax, and earn a bit of money while you're at it. Prepare to be transported to a beautiful world full of excitement, adventure, and some serious wins!
Slot Game Symbols
The slot game Geisha has quite the collection of symbols! You'll find the usual suspects here, such as the classic playing card symbols J, Q, K, and A. But of course, we're not interested in those – it's all about the thematic symbols!
First up, we have the geishas themselves. These lovely ladies not only bring a touch of elegance to the game, but they can also reward you generously. Then there's the dragon, which is always a welcome sight on the reels. And last but not least, the lotus flower – a symbol of purity and enlightenment… or maybe just a symbol of winning big bucks!
The Wild symbol in Geisha is a true gem – it not only doubles your bet, but it can replace any symbol on the reels, except for the Scatter symbol. And speaking of Scatters, you'll definitely want to keep an eye out for those too. They can trigger free spins, and pay out up to 800 times your bet. Exciting stuff!
Overall, the symbols in Geisha really add to the game's charm and excitement. So what are you waiting for? Give it a spin and see for yourself!
Graphics and Sound Design
Geisha's graphics and overall design are truly enchanting, with picturesque and immersive landscapes that will transport you to the game's Japanese setting. As you spin the reels, you'll feel as if you're walking through a serene Japanese garden, complete with cherry blossom trees and flowing streams. The game's designers have clearly put in a lot of effort into making sure that players are visually and aesthetically pleased.
The Geisha girls themselves are well-detailed and portrayed against fairly engaging and beautiful backgrounds that add to the game's overall excitement. You'll find yourself drawn into the gameplay experience thanks to the game's exquisite animation and the unique mix of colors, showing off the beautiful colors of traditional Japanese garb and surroundings.
Of course, the graphics are only part of what makes a slot game truly enjoyable. The game's sound design is also top-notch, providing a collection of soothing and calming soundtracks that consistently enhance the overall gameplay experience. These soundtracks achieve the perfect balance between background music and sound effects, immersing you in the captivating atmosphere of this wonderful game.
All in all, while it's easy to say that the game looks good, it's the combination of excellent graphics and sound design that makes Geisha a truly outstanding online slot game. With relaxing animations and music soundtracks, playing Geisha might just be the perfect way to unwind at the end of a long day.
Comparison to Other Similar Games
Geisha, despite being a unique slot game, has some stiff competition. If you're looking for a similar experience, Sakura Fortune by Quickspin could be worth a shot. It's also set in Japan and offers appealing features that you'll love.
It's a good thing that there are many fish in the sea, or else your options would be pretty limited. But, on a serious note, it's easy to get lost in the sea of slot games. You'll come across some that stick out, and some that don't. Geisha falls into the former category and is a great game, but strive for more.
Winning Potential And Strategy
Geisha's gameplay and bonus features provide players with the opportunity to make significant winnings playing this slot game. And let's be real, who doesn't like winning? With an RTP of 95.12%, this game is a solid choice for high rollers and anyone looking for BIG WINS. But what's the point of playing if you're not going for the gold?
One way to increase your chances of getting a piece of that gold is by activating all the paylines. This gives you the best opportunity to hit those valuable combinations and trigger bonus features. And, if you're gonna put your coins in, might as well go all in, right?
The game's Wild and Scatter symbols are your best friends when it comes to winning. Not only do they increase your probability of winning, but they also reward you with additional opportunities to play. It's like having a wingman that also gets you free drinks.
Now, we can all use some practice when it comes to winning. That's why trying out the free version of the game before throwing in some real cash is an excellent way to develop a winning strategy. Think of it as a sports team watching replays of their games to figure out what they can improve on.
So, let's be smart, activate all paylines, utilize Wild and Scatter symbols, and practice with the free version to increase our chances of winning big. Go get 'em, Geisha!
FAQ
How many reels does Geisha slot have?
Geisha slot has 5 reels.
How many paylines does Geisha slot have?
Geisha slot has 20 active paylines.
Are there any typical Japanese symbols in Geisha slot?
Yes, there are typical Japanese symbols in Geisha slot such as the golden dragon, the image of a geisha, and the lotus flower.
What is the 'Wild' symbol in Geisha slot?
The 'Wild' symbol is a wildcard that replaces any symbol needed to complete an objective and also allows doubling the bet.
What is the 'Scatter' symbol in Geisha slot?
The 'Scatter' symbol allows multiplying the bet up to 800 times and obtaining free spins.
Does Geisha slot have a high probability of winning?
Yes, Aristocrat slots present a high probability of winning, and Geisha slot is no exception.
What is Sakura Fortune slot?
Sakura Fortune slot is another game based on Japanese culture and its artistic views, produced by Quickspin.
What is the best feature of Geisha slot?
The best feature of Geisha slot is its enchanting graphics, representing picturesque views of Mount Fuji and surroundings, making the gameplay even more engaging.
What we like
Beautiful graphics and design
Easy to understand gameplay
Exciting bonus symbols and features
Big winning potential
What we don't like
Limited variety of symbols