G.R.O.W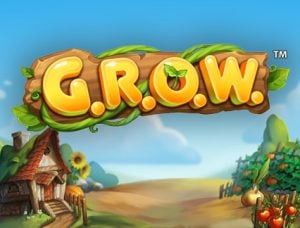 Strap in and get ready for a wild ride with G.R.O.W, the latest free online slot game from Red 7 software. With 5 reels and a whopping 50 paylines that can be played horizontally or vertically, you'll be knee-deep in beans and prizes before you know it.
Whether you're a low roller or a high-stakes player, G.R.O.W has you covered. With bets starting at a mere 0.50 cents, and going all the way up to 200 Dollars per spin, you can play all day without breaking the bank or risking your life savings.
The objective of the game is simple: grow magic bean symbols to win big cash prizes and free spins. And with an RTP of 96.47%, you can bet that you'll have plenty of chances to make it rain on your beanstalk.
Symbols and Paylines
Let's talk about the symbols in G.R.O.W. slot game! It's like taking a stroll in a vegetable garden but with more excitement because you have a chance to win big. You'll see all sorts of vegetables like strawberries, broccoli, beans, and turnips, but don't worry, you don't have to eat them. Instead, they're here to help you hit those winning combos.
And what's a garden without some tools? G.R.O.W. features gardening gloves, shovels, sprayers, and high-value wheelbarrows – everything you need to take care of your garden and possibly your bank account too! But be sure to keep an eye out for the Wild Pepper symbol because it's the key to replacing every symbol in the game for better chances to win, except for the Bonus Scatter, Golden Bee, and G.R.O.W symbols.
The game is played on a 5-reel, 3-row layout with 30 paylines. To get a winning combo, you'll need to land three or more corresponding symbols from left to right starting from reel 1. With so many paylines, even if your luck in gardening or cooking is not the best, you still have a chance to win big.
Bonus Features: A Chance to Grow Your Winnings
If you love bonus features in online slot games, you'll be delighted to know that G.R.O.W has four of them. Yes, four! And we're not just talking about your run-of-the-mill bonus features here. G.R.O.W's bonus features have been designed to give you sustainable growth in your winnings, hence the name of the game.
The first bonus feature is the Golden Bee symbol. When this little guy buzzes onto the reels, it adds extra cash prizes to the corresponding chest. So, watch out for the Golden Bee – he's ready to make it rain honey on your winnings!
The second bonus feature you'll encounter is the G.R.O.W and Magic Bean Treasure symbol. This symbol awards chests hiding cash values. The value of these chests is calculated based on your current bet and the average of all the bets made so far. Plus, this symbol also includes the Magic Bean, a little sprout that will continue to grow and grow until it reaches the highest possible win amount.
If mystery is your thing, you'll love the third bonus feature – the Mystery Bonus Symbol. This symbol randomly replaces the other symbols on the reels and can lead to big wins and lots of excitement. Who knows what hidden treasures await you?
Finally, we come to the fourth and most exciting bonus feature – the Free Spins function. Get three or more bonus symbols on the reels and trigger this feature, which rewards you with ten free spins. That's ten chances to grow your winning potential without risking a penny of your own money. And the best part? You can re-trigger this bonus feature during your free spins for even more chances to win big!
So, if bonus features are your bread and butter in online slot games, don't miss your chance to play G.R.O.W. With four exciting bonus features and plenty of opportunities to grow your winnings, it's the perfect game for any player looking for something unique and fun with a chance to win big!
RTP and Profitability
Let's talk about everyone's favorite topic: money.
Good news, folks! The RTP (return to player) of G.R.O.W. is 96.47%, which means that for every $100 you wager, you can expect to get back $96.47 in the long run. That's not too shabby, if I do say so myself.
Now, onto the big bucks. The Magic Bean Treasure function is where the real money is at. With cash prizes that can reach up to 5,000 times the initial bet, you could be laughing all the way to the bank. Just be sure to grab some smelling salts for when you faint from excitement.
However, don't expect to become a millionaire overnight. The game's low variance means that the winnings are lower, but more frequent. It's perfect if you're a newbie to the slot world and want to dip your toe in the water, but not so much if you're a seasoned player looking for high stakes. But hey, sometimes it's better to win a little and often, as opposed to losing everything in a single spin. Just ask my ex-wife.
Mobile Compatibility
Let's face it, in today's world, being able to play games from the palm of our hands is pretty much a necessity. Luckily for us, G.R.O.W is fully mobile compatible! It doesn't matter if you're sitting in a stuffy office or enjoying some quality time on the toilet, you can always count on G.R.O.W to keep you entertained.
Not only that, but G.R.O.W has been optimized to work across all devices. So, whether you're using a desktop, tablet, or smartphone, you can play G.R.O.W without any hassle. No one likes to be limited, and with G.R.O.W, you don't have to be.
Now, you can take your gaming experience with you anywhere you go! Just don't let your boss catch you playing during work hours, or your secret bathroom gambling sessions might turn into a full-blown addiction. All jokes aside, with G.R.O.W, you'll always have a little bit of excitement in your pocket, just waiting to be unleashed.
Graphics and Animation
If you've got green thumbs and love to play slot games, then G.R.O.W is the perfect choice for you! This casino game is all about gardening, and the graphics and animation reflect that theme perfectly. The game designers have done an excellent job creating fun cartoon graphics and rustic backgrounds that will make you feel like you're in a lush garden with the sun on your face and the soil beneath your feet. It's like FarmVille but with a chance to win real money!
The reels are also beautifully animated with a series of colorful symbols that represent gardening tools, flowers, and vegetables. Even the classic playing card symbols have been spruced up to match the overall theme. But the real standout feature in terms of graphics is the growing bean plant that is displayed on the side of the screen. As you spin the reels, the plant grows taller and taller, and with every spin, you get closer to seeing it fully bloom!
Overall, the graphics and animation in G.R.O.W are excellent, and they really enhance the overall playing experience. So kick back, grab a cup of tea, and let the garden-themed graphics and animation take you on a journey that's both relaxing and thrilling at the same time. And if you're lucky, you might even win enough money to get your own garden started!
Who Will Love This Game? Plant and Slot Enthusiasts
Are you a fan of both gardening and online slot games? Then this is the perfect game for you! G.R.O.W combines the relaxing hobby of plant care with the exciting thrill of spinning the reels.
Even if you don't have a green thumb, you'll still enjoy this colorful and cartoon-themed slot game. The symbols are bright and engaging, and the game offers a moderate level of payouts.
Novice players will appreciate the simple and intuitive gameplay, while more experienced players can take advantage of the special features and complex bonus rounds.
Plus, who doesn't love a slot game with a punny name like G.R.O.W? It's like the game developers are saying, 'Hey, we know it's cheesy, but we're still proud of it.'
FAQ
Can I play G.R.O.W for free?
Yes, you can play this slot for free without registering.
What is the RTP of G.R.O.W?
The RTP of G.R.O.W is 96.47%.
How many paylines does G.R.O.W have?
G.R.O.W has 50 paylines.
What are the main vegetable symbols in G.R.O.W?
The main vegetable symbols in G.R.O.W are strawberries, broccoli, beans, and turnips.
What are the bonus features in G.R.O.W?
There are 4 bonus features in G.R.O.W: Golden Bee symbol, G.R.O.W and the Magic Bean Treasure, 4 Chests, and Mystery Bonus Symbol.
How do you win at G.R.O.W?
To win at G.R.O.W, you must grow the bean plants by landing the G.R.O.W scatter symbols on the reels and reach optimal plant maturity.
Does G.R.O.W have a Free Spins function?
Yes, G.R.O.W features a Free Spins function that can be activated by getting 3 or more bonus symbols on the reels.
Is G.R.O.W suitable for veteran slot machine players?
G.R.O.W seems more suitable for amateur players than for veteran slot machine players due to its low variance in winnings.
What we like
Free to play
Multiple bonus features
Mobile compatibility
Appealing graphics and animation
What we don't like
Low variance of winnings
May not appeal to experienced slot players