FruityBeats Extreme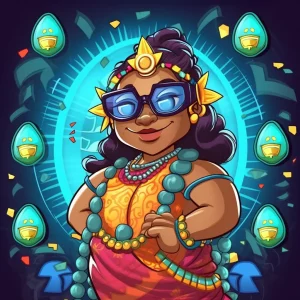 Get ready to groove with Fruity Beats Extreme, the online casino game designed by Spinmatic! The game takes you back to the times of the first physical slot machines with its retro-style interface. But don't let the outdated appearance fool you – this game packs a punch!
The fruity graphics are a feast for the eyes and include symbols like bells, the lucky number 7, and the bar symbol. The disco dance floor where the interface is set up has soundbars floating behind the reels, which change color as you progress through the game. It's like having your own personal disco experience, but with the added bonus of winning some cash while you boogie down.
Let's face it – sometimes the retro look can be a bit off-putting. But FruityBeats Extreme has managed to provide a delightful balance of retro style and modern features. The graphics are a throwback, but the gameplay and sound effects are anything but antiquated.
In conclusion, FruityBeats Extreme offers players a one-of-a-kind gaming experience with its retro-style interface, funky graphics, and disco dance floor theme. This game is perfect for players who want to groove and win some cash at the same time. So put on your dancing shoes and give FruityBeats Extreme a spin today!
Gameplay Features
Are you ready to experience the thrill of FruityBeats Extreme? This exciting casino game is played on a 5×3 grid of reels with 25 paylines. The simple setup is perfect for players of all levels, letting you dive right into the action without any complicated rules to learn.
But just because the game is easy to pick up doesn't mean it lacks excitement. The expanding Wild symbols that randomly appear on the reels can keep you on the edge of your seat. These symbols remain floating around the reels, taunting you with the possibility of a big win. And just when you think they'll never settle in the right place, they suddenly expand and increase your chances of winning big!
With each spin, you have the chance to trigger a win if 3 or more symbols align along a single payline. But with the added excitement of expanding Wild symbols, you never know when a lucky streak will hit and send your winnings through the roof.
All in all, FruityBeats Extreme is a must-play for anyone who loves a classic slot game with modern features. So what are you waiting for? Give it a spin and see if it's your lucky day!
Betting Range
You know what they say, the juicier the fruit the bigger the payout! And in FruityBeats Extreme, it's no different. The game features a wide variety of betting ranges to cater to all players, from the penny-pinchers to the high-rollers. With a minimum bet of 0.25 coins, even the most frugal players can enjoy the game without worrying about breaking the bank. But, if you're feeling a bit more daring, why not go all in and bet the maximum of 100 coins on the reels? Who knows, you may just hit the jackpot and enjoy some juicy winnings!
Winning Potential
If you're looking for a fruity, yet extreme experience, FruityBeats Extreme might just be the game for you. The top payout in this game is enough to make your head spin – up to 200 times your bet! That's like finding a rare unicorn, except with cash instead of rainbows.
The expansion of Wild symbols is the real game-changer here. With the ability to trigger enormous winnings, you'll feel like you just won the jackpot at a fruit market. Just be careful not to get too excited and start throwing bananas everywhere.
Get Wild with FruityBeats Extreme's Expanding Symbols
If you're looking for some wild fun, FruityBeats Extreme has got you covered with its expanding Wild symbols! These symbols don't just sit there like a bump on a log – they float around the reels, covering more and more real estate as they go. Talk about making a scene!
And what's better than one Wild symbol? A whole mess of them, of course! FruityBeats Extreme loves to go all out, offering players multiple expanding Wild symbols at once. It's like a Wild party that never ends!
But these Wilds aren't just for show – they also greatly increase your chances of winning. Wild symbols can replace any necessary symbol to form a winning combination, meaning you could be hitting it big in no time. So, put on your party hat and let's get wild with FruityBeats Extreme's expanding symbols!
Player Return Rate: Don't Miss Out on the Chance to Strike Gold!
You read that right! FruityBeats Extreme boasts of a player return rate of a whopping 95.7%! And you know what that means, ladies and gentlemen? It means that you have a better chance of striking gold with this fantastic game than with any other slot out there!
Now, we know what you're thinking. You want to make sure that you know what you're getting yourself into before you start betting your hard-earned cash. Well, don't you worry, because FruityBeats Extreme has got you covered. The game provides a demo mode that allows you to try the game out for free and learn the dynamics of the slot before you start betting with real money. So go ahead and take advantage of it, because, let's face it, who doesn't love free stuff?
With a return rate like this, you'll be able to spin those reels with confidence and take your chances on the bonus round. And just think, all it takes is one lucky spin to hit that jackpot! So, what are you waiting for? Give FruityBeats Extreme a try today and see your winnings double!
FAQ
What is FruityBeats Extreme?
FruityBeats Extreme is an online slot machine developed by Spinmatic with a disco-themed soundtrack and fruit-filled reels. It has top payouts up to 200 times your bet, expanding Wild symbols, and a player return rate of 95.7%.
How many reels and paylines does FruityBeats Extreme have?
FruityBeats Extreme features a 5×3 grid of reels and 25 paylines.
What is the player return rate of FruityBeats Extreme?
The player return rate for FruityBeats Extreme is 95.7%.
What is the main bonus feature of FruityBeats Extreme?
The main bonus feature of FruityBeats Extreme is the expanding Wild symbols, which cover more reels at the same time, increasing the chances of winning big.
Does FruityBeats Extreme offer a demo mode?
Yes, FruityBeats Extreme offers a demo mode in which users can get used to the game and understand its dynamics before betting real money.
What is a Wild symbol in FruityBeats Extreme?
A Wild symbol is like a joker in FruityBeats Extreme, which can replace any necessary symbol and increase the chances of winning.
What is the minimum and maximum bet for FruityBeats Extreme?
The minimum bet for FruityBeats Extreme is 0.25 coins, while the maximum bet is 100 coins.
What is the RTP of FruityBeats Extreme?
The RTP, or player return rate, for FruityBeats Extreme is 95.7%.
What we like
Expanding wilds increase player's chances of winning
Good variety of betting range
Retro graphics are visually appealing
Demo mode allows players to try for free
What we don't like
Limited game features compared to other slots
Low maximum payout compared to other slots