Fruit Xtreme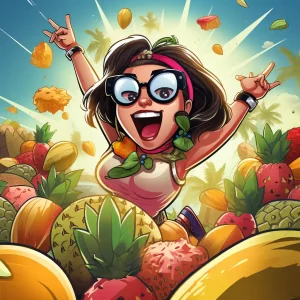 Looking for a classic slot game with modern features? Look no further than Fruit Xtreme! This game has five reels and five paylines, offering players a chance to win big with every spin. With three rows of symbols, you'll have plenty of chances to hit the jackpot and enjoy multipliers of up to x5!
If you're a fan of scatter symbols, you're in luck! Fruit Xtreme comes with a scatter symbol that can appear anywhere on the reel set to award a prize. What's more, these scatters can trigger multipliers of up to x5, giving you even more ways to win. With a max payout of 1000x the bet, the potential rewards are simply mouth-watering.
While there may not be a wild symbol in Fruit Xtreme, there is a stacked symbol feature that can trigger big wins. With multipliers of x3, x4, or x5, the stacked symbols can truly pack a punch and boost your bankroll. And let's be honest, who needs a wild symbol when you have so many other features to keep you entertained and smiling?
All in all, Fruit Xtreme is a fantastic choice for players who want a classic slot game with a few modern twists. With its simple yet engaging gameplay and potential for big wins, it's sure to keep you entertained for hours. So grab your favorite fruit, get ready to spin those reels, and let the fun begin!
Symbols
Prepare to be refreshed with the fruity symbols in this game. You'll see all the classics: watermelons, lemons, oranges, cherries, plums, alongside sevens and bars.
Feeling lucky? Well, you should be if you hit a few sevens on a payline. If you're lucky to land five of them, you'll win payout 1000x the bet! That's enough for you to buy a round of cold drinks for your friends. The juicy watermelon symbol pays out 200x for five symbols, which will give you some extra cash to spare.
But don't get too bummed out if you don't land any sevens or watermelons – the other fruit symbols are still worth at least 20x for all symbols. And if you manage to get five golden star scatters, you'll win 50x for your good fortune.
So, keep your eyes peeled for those valuable fruits while playing Fruit Xtreme! Who knows, you might just land some fruity good luck!
Payouts
Let's talk about money, honey! Winning in Fruit Xtreme is as sweet as biting into a juicy apple – except that it won't leave you with sticky fingers. Winning results in this game are achieved by getting three symbols of the same type on one or more paylines, starting from the leftmost reel. So, if you ever wondered why it's better to start reading a book from the first page – now you know!
The most profitable symbol in the game is the lucky number seven. Just like 007, it's sleek, stylish, and always brings in the big bucks. In Fruit Xtreme, getting five sevens on a payline will pay out 1000 times your bet! And you thought your Grandma's fruit basket couldn't make you rich. Think again!
The watermelon symbol pays out 200 times your bet for five symbols, and if you ask us, that's enough to buy a lot of sunscreen for your next beach vacation. The rest of the fruit symbols carry a payout of 20 times for all symbols, which is still pretty sweet. And we're talking about fresh, juicy oranges, plums, cherries, and lemons – not the dry, tasteless ones you find in a bag of trail mix.
Oh, and we can't forget about the scatter symbol. It pays out 50 times your bet for five symbols, and can appear anywhere on the reel set. It's like the black sheep of the fruit family – it doesn't quite fit in but it sure knows how to party. So, keep an eye out for it and you might just get lucky!
Variance and RTP
Let's talk about variance, baby. Fruit Xtreme has a medium-high variance, which is perfect for those who want to gamble big and win big. It's like rollercoaster of emotions – the highs are high and the lows are low, but it never gets boring.
It's true that the theoretical return to player is 95.66%, which might not be as high as some other slot games out there. But trust me, it doesn't mean you won't have a blast while playing. Think of it this way: you're not just playing to win money, you're also playing to have fun. And Fruit Xtreme sure knows how to keep things interesting.
Another thing that can get you excited in this game is the stacked symbol feature. Get ready to reap some sweet, juicy rewards with multipliers of x3, x4, or x5. It's like having your cake and eating it too – or should I say having your fruit and spinning it too?
Similar Games
If you're on a quest to find the perfect slot game involving traditional fruit and number 7 symbols, then look no further! Fruit Xtreme is the perfect game for you. And let's face it, who doesn't love a good fruit-themed game? It's like a virtual farmer's market.
However, if you're looking for a similar game that allows you to win big, then you might want to check out Imperial Fruits. It's also produced by Playson, and gives players the chance to win up to 40,000 coins on a single spin. That's enough to buy a whole lot of real-life fruit! Just be sure to stay away from the dreaded cherries, they always seem to bring bad luck.
FAQ
How many paylines does Fruit Xtreme have?
Fruit Xtreme has five paylines.
What is the RTP of Fruit Xtreme?
The theoretical return to player of Fruit Xtreme is 95.66%.
What is the variance of Fruit Xtreme?
The variance of Fruit Xtreme is medium-high.
Does Fruit Xtreme have a wild symbol?
No, Fruit Xtreme does not have a wild symbol.
What is the most profitable symbol in Fruit Xtreme?
The most profitable symbol in Fruit Xtreme is 1000x multiplied by the winning bet.
What is the scatter symbol in Fruit Xtreme?
The scatter symbol in Fruit Xtreme is a gold star.
Does Fruit Xtreme have a bonus feature?
No, Fruit Xtreme does not have a bonus feature in the classic sense of the term, but it has a bonus result that can be achieved with stacks of symbols.
What is the maximum payout in Fruit Xtreme?
On the highest bet of 100.00, the most lucrative symbol win of five sevens pays an incredible prize of 100,000.00 pounds, while the scatter pays 50,000.00 pounds.
What we like
Classic fruit and bar symbols
Stacked symbol feature with multipliers
Scatter symbol for additional prizes
Medium-high variance with chance for big wins
What we don't like
Relatively low RTP of 95.66%
No wild symbol in the game