Fruit Warp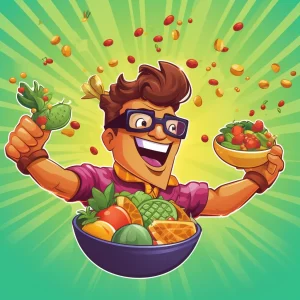 If you're tired of the same old boring slot game layout, then Fruit Warp is the game for you! Not only does it have a fruit theme, but it also offers a unique and innovative gameplay style. With minimal buttons to adjust bets, start the Autoplay feature, and hit the Start button, you won't have to worry about any unnecessary distractions.
One of the most exciting features of Fruit Warp is its variable grid with four reels. The first three reels each have two rows, while the fourth has three rows. It's like nothing you've seen before in a slot game! Plus, with a high theoretical return to player (RTP) of 97% and high volatility, you can be sure that the rewards will be satisfying, even if you win less often.
But don't just take our word for it. Give Fruit Warp a spin and see for yourself! Who knows, maybe you'll be the lucky winner of the game's juicy jackpot. Just make sure you're not playing on an empty stomach, because all those fruits might make you hungry!
Impressive Graphics and Design
If you're looking for a slot game that combines futuristic design with stunning visuals, Fruit Warp is the game for you! As soon as you start playing, you'll be impressed by the game's graphics that make it stand out among other online slots.
The game grid is surrounded by a transparent green liquid with bubbles, making it seem like you're playing in some kind of futuristic laboratory. The floating symbols are incredibly detailed and showcase vivid fruits with colors that gradually come into view as they move up from the bottom, eventually slowing down as they reach the center of the screen.
To top it off, the background music is the kind of lounge music that makes you feel like you're in a fancy bar, sipping on a fruity cocktail. The sound of the rotating reels is also softened, with sound effects that remind you of being underwater. It's a unique experience that makes Fruit Warp stand out from the rest.
Overall, the graphics and design of Fruit Warp are nothing short of impressive. You'll be blown away by how immersive the game is, and it's clear that the developers put a lot of thought and effort into creating an experience that's both fun and visually pleasing.
Special Features
Looking for a slot game with a twist? Look no further than Fruit Warp! Its special features are what truly set it apart from other slot games, and will keep you entertained for hours on end.
With every three-symbol win, the three arrows on the screen light up. Personally, I think the arrows should do a little dance, but that might just be me! And if you're lucky enough to land four symbols, the vortex lights up – just don't get sucked in!
But that's not all – when you hit the jackpot and win with five symbols, the Fruit Mode is activated. The corresponding symbol starts moving to a special counter with steps that function as progressive multipliers, which provide additional lives. So not only do you get to watch your winnings grow, you also get to feel like you have extra lives like in a video game!
Each time at least one matching symbol appears, you get a free spin, and the Bonus stops when there are no more winning symbols or when the step counter is full. It's like a game within a game – how cool is that? And when the multiplier is applied to your winnings, you'll feel like a real high roller.
Oh, and don't forget about the extra life! It can save you when there are no more symbols that triggered the Bonus. Just imagine being the hero of your very own slot game… well, sort of.
Payouts and RTP
Ah, the sweet sound of money falling into your lap! The payouts in Fruit Warp will have you dreaming of pineapple piña coladas on a tropical beach in no time. With minimum bets starting at a mere $0.10 and a maximum of $100, there's a wide range of payouts that'll keep your wallet as full as a fruit basket.
Three cherries and plums can pay from $0.01, which might not be enough to treat yourself to a real fruit basket, but with nine symbols in play, they can go as high as $1.80. If you're feeling really lucky, try your hand at strawberries, oranges, and bananas, which payout from $0.02 to a maximum of $3. 04 but can go up to $4.20!
Turnips in Fruit Warp can reach up to $4.50, and artichokes can give you a whopping $21.60 payout. That's like winning the fruit jackpot!
And here's the cherry on top: Fruit Warp has a theoretical return to player (RTP) of 97%. That's right, you have a high chance of winning some serious coin with this game. Sure, the volatility is high, but that just means the wins are less frequent, but when they do come, boy are they rewarding.
Overall Impression
Get ready to be blown away by Fruit Warp, the futuristic slot game that promises to take you on a wild ride through a world of colorful and juicy fruits. I must say, I was a bit skeptical at first, but it didn't take long for Fruit Warp to win me over with its innovative and ingenious gameplay.
Of course, it's not just the gameplay that sets Fruit Warp apart. The graphics are nothing short of stunning and incredibly futuristic, making it look like something straight out of a sci-fi movie.
If all that wasn't impressive enough, Fruit Warp also boasts an impressive array of special features that take the game to a whole new level. The Fruit Mode, for example, offers a progressive multiplier and provides additional lives. I mean, what other slot game can say that?
So if you're looking for a slot game that stands out from the rest, give Fruit Warp a spin. Trust me, you won't be disappointed!
FAQ
What is Fruit Warp?
Fruit Warp is a slot game that introduces new and innovative gameplay that sets it apart from the rest.
What is the minimum and maximum bet in Fruit Warp?
The minimum bet in Fruit Warp is $0.10, and the maximum bet is $100.
What is the theoretical return to player (RTP) in Fruit Warp?
The theoretical RTP in Fruit Warp is 97%, which is high.
What is the volatility in Fruit Warp?
The volatility in Fruit Warp is high, meaning that you'll win less often, but the amounts you do win are rewarding.
What are the symbols in Fruit Warp?
The symbols in Fruit Warp are fruits, and to win, you need to match three to nine identical fruits anywhere on the grid.
What are the special features in Fruit Warp?
The special features in Fruit Warp include the three arrows and vortex lighting up, Fruit Mode being activated, the corresponding symbol moving to a special counter with steps that function as progressive multipliers, and some fruit symbols increasing the final multiplier and giving an extra life.
What is Fruit Mode?
Fruit Mode is activated when you win with five symbols, and the corresponding symbol starts moving to a special counter with steps that function as progressive multipliers. These steps can also give additional lives.
What is the minimum payout in Fruit Warp?
With a minimum bet of $0.10 per spin, three cherries and plums pay from $0.01 to a maximum of $1.80 with nine symbols.
What we like
Unique and innovative gameplay style
Impressive and futuristic graphics
Several special features that distinguish it from other slot games
High theoretical return to player (RTP) of 97%
What we don't like
High volatility, so wins are less frequent
Limited betting options