Fruit Supreme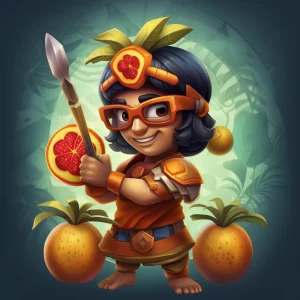 Let's be honest, we all know that sometimes we're in the mood for a game as simple as a fruit salad. And that's exactly what you get from Fruit Supreme! The straightforward and easy-to-understand gameplay is perfect for both beginners and seasoned players who appreciate a minimalist gaming experience.
The game grid has 4 reels and 3 rows, with 25 fixed paylines. Winning combinations occur when at least 3 symbols appear in succession from left to right. It's like counting pieces of fruit on a plate – easy peasy!
If you're feeling lucky you can up the ante with a maximum bet of $100, but if you're just looking for a light snack you can bet as little as $0.25. It's all about enjoying the game on your own terms – just like adding a cherry on top of your fruit salad.
And if you need to step away from the screen for a minute, Fruit Supreme offers the option to set between 5 and 999 automatic spins. That way you can still get your dose of fruit fun even if you have to run to the grocery store for more ingredients. Plus, the Quick Spin function is available for those who want to accelerate the reels' rotation. That's what we call fast food!
Graphics
Fruit Supreme's graphics are so realistic, it's like we're in a fruit stand. But instead of picking and choosing, we're spinning and winning! The bright and colorful symbols create a sense of excitement and fun. However, be careful not to stare too long, or you may think you're seeing fruit flying around your screen. The black background not only makes the symbols pop but also puts you in the mood for some late-night snacking.
The graphics are so good that we wouldn't be surprised if you forgot you were playing a slot game entirely. The realism is uncanny, and you might find yourself trying to reach for a piece of fruit on your screen. We don't recommend this, but hey, we're not your mom. So go nuts! Enjoy the juicy-looking cherries, plums, and lemons to your heart's content. Just don't blame us if your mouth starts watering and you start craving a refreshing fruity beverage.
Bonuses
What's better than a juicy watermelon on a hot summer day? A bonus feature in a slot game, of course! Thankfully, Fruit Supreme delivers just that. Although this game may not have any Wild or Scatter symbols, it more than makes up for it with its unique bonus feature that is sure to keep players entertained.
This game definitely marches to the beat of its own drum, paying out for 3 or 4 symbols instead of the usual 5. But don't let that fool you – the payouts are certainly nothing to sneeze at. Plus, there's no need to worry about keeping track of any pesky Scatter symbols or trying to trigger complicated bonus rounds. Fruit Supreme keeps things simple and straightforward.
The X symbol may be the lowest value symbol in the game, but don't dismiss it too quickly. It can still bring in some decent payouts. And if you're lucky enough to land a bunch of BAR symbols, you might just be in for a treat. The BAR symbol is the highest paying symbol in the game, so keep your fingers crossed and your eyes peeled.
But here's the real kicker – if you manage to get 12 identical symbols on the reels, your winnings will be doubled! That's right, double the pleasure, double the fun. Who says 12 is an unlucky number? With Fruit Supreme, it could be your lucky number.
Betting Options
If you're someone who thinks bigger is always better, you'll be happy to know that Fruit Supreme has an impressive maximum bet of $100. Of course, if you prefer to play it safe, there's always the option to start with the minimum bet of just $0.25. With so many betting options in between, finding the sweet spot for your bankroll is a piece of cake.
For those who like to kick back and relax, the game offers automatic spins ranging from 5 to 999. That's right– you could practically run out of snacks and drinks before your automatic spins run out. And if you're worried about losing too much, simply set a single loss limit. Or, if you're feeling lucky, set a win limit and treat yourself to something sweet once you hit the jackpot!
If you're someone who loves a little extra excitement, the game's Quick Spin function is there to satisfy your need for speed. Watch as the reels turn at lightning speed– but don't blink, or you might just miss a winning combination!
RTP
Looking for some online slot game action but want to make sure you get the most bang for your buck? Look no further than Fruit Supreme, an online casino slot game that boasts an RTP value of 96.27%! That's right, you heard it here first. Not only is this game fun and exciting to play, but it also gives you a better chance of winning than many other popular online slot games.
This game also has a sweet balance of volatility that will keep your expenses under control while still providing plenty of opportunities to score some big wins. Whether you're a seasoned pro or a newcomer to the world of online slots, Fruit Supreme is a must-try game that's sure to keep you entertained for hours on end.
So what are you waiting for? Get those reels spinning and see if luck is on your side. With a game this thrilling and a payout percentage this high, it's safe to say that Fruit Supreme is truly the king of the online slot game jungle.
FAQ
How many reels and rows does 'Fruit Supreme' have?
The game grid chosen by Playson has four reels and three rows.
How many paylines does 'Fruit Supreme' have?
There are 25 fixed paylines.
What is the minimum bet for 'Fruit Supreme'?
The minimum bet is $0.25 ($0.01 per payline).
What is the maximum bet for 'Fruit Supreme'?
The bet can be raised up to a maximum of $100.
Is there a Quick Spin function in 'Fruit Supreme'?
Yes, the Quick Spin function is available, which accelerates the speed of the reel rotation.
Is there a Wild or Scatter symbol in 'Fruit Supreme'?
No, there are no Wild or Scatter symbols, but there is a bonus.
What is the RTP value of 'Fruit Supreme'?
The RTP value of 'Fruit Supreme' is 96.27%.
What is the volatility level of 'Fruit Supreme'?
The volatility level of 'Fruit Supreme' is average, so you can have excellent winnings with a contained expense.
What we like
Straightforward gameplay
Realistic graphics and colorful symbols
Unique bonus feature
Wide range of betting options
What we don't like
No Wild or Scatter symbols
Limited bonus feature