Four Wealth Creatures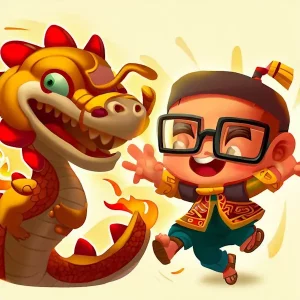 If you're looking for a fun way to test your luck while feeling the thrill of getting big wins, Four Wealth Creatures is an exciting 5-reel slot game that won't disappoint. Not only does it offer a variety of ways to win, but this game also has a unique twist that sets it apart from other slot games.
What makes Four Wealth Creatures stand out is its variable rows, which can randomly change at any time. It's like getting a surprise gift every time you spin the reels! And when those surprises result in wins, it's an even bigger treat.
Winning in Four Wealth Creatures is simple: match at least three identical symbols from the leftmost reel to the right. And if you're not in the mood to hit the spin button repeatedly, don't worry. The game offers an autoplay feature that lets you generate up to 100 automatic spins, so you can enjoy the game without having to do all the work yourself.
As with any slot game, you should know the volatility level before starting. Four Wealth Creatures has a high volatility, which means that while wins may not come often, they can be substantial when they do. And if you're curious about the game's probability of paying out wins, the theoretical return to player is at a respectable 96.1%
In summary, Four Wealth Creatures is an entertaining and rewarding game that offers a pun-tastic way to potentially make heaps of cash. Give it a spin and see if these wealth creatures will bring you good luck!
The Eye-catching Design and Graphics of Four Wealth Creatures
Get ready to be mesmerized by the visually stunning Four Wealth Creatures casino slot game. The Chinese-inspired theme of the game, with its traditional symbols like the Elephant, Fish, Dragon and Tortoise, coupled with the gorgeous mountain landscape, is a treat for the eyes. The developers have truly outdone themselves in terms of the design and graphics of the game, with everything from the symbols to the buttons being eye-catching and aesthetically pleasing.
One might think that the detailed graphics would slow down the gameplay, but that is not the case here. The game runs smoothly on any device, giving players a hassle-free experience. The developers have even taken care to include a beautiful oriental soundtrack, which adds to the immersive experience of the game.
It's not just the beautiful design that captivates players, but the fine attention to detail that has been given to every aspect of the game. The high-resolution symbols bring bright colors that make every detail stand out. The game frame is a red frame with golden inlays, which perfectly complements the Chinese theme of the game. It's the small things that add up to make the overall experience of the game greatly enjoyable.
All in all, Four Wealth Creatures is a feast for the eyes, with its beautiful design, graphics and soundtrack. Even if you're not a fan of casino slot games, you'll find yourself captivated by the sheer beauty of this game. It's no wonder that it's quickly become a fan-favorite among online casino slot players.
The Wild Side of Four Wealth Creatures
Four Wealth Creatures may be just another online slot game to some, but trust us, it's so much more. The Wild symbol takes center stage and it's not just because of its ability to replace every other symbol except for the red dragon. This little symbol packs a punch!
Sure, the four low-value symbols might be just like any other playing card symbols you've seen before, but when you hit a win with one of the thematic symbols, you'll get a taste of the real wealth this game has to offer. Keep an eye out for the turtle representing air, the tiger for earth, the sea dragon for water, and of course, the red dragon for fire.
Now, onto the real MVP of this game – the Wild symbol. It has the potential to create more winning combinations and payouts, making your pockets just a little bit fatter. Plus, the fact that it can appear anywhere on the reels means the chances of hitting a win with the help of the Wild are just that much higher.
Depending on the number of red dragon symbols you land, the game grid transforms, making way for even more chances to win big. It's almost like this game wants to help you become a creature of wealth yourself.
So, don't underestimate the power of the Wild symbol in Four Wealth Creatures. It may just be a small symbol, but its impact on your winnings can be huge. Who knew going a little wild could lead to such great riches?
Volatility: The Wild Ride
Are you ready for a wild ride? Four Wealth Creatures is not your typical slot game. With its high volatility, you may feel like you're on a rollercoaster ride – just hold on tight! While the game offers substantial wins, they might not come frequently. So, don't be surprised if you're spinning for a while before hitting a payout. But, when that payout finally comes, it's a game-changer! That's why we suggest you grab some popcorn, sit back, and enjoy the show.
It's like the game is telling you, 'go big or go home.' If you're too afraid to take risks, Four Wealth Creatures may not be the game for you. But, if you're feeling lucky, why not go for a bigger bet? Who knows, you might just trigger the game's rewards and win big – and trust us, that's a feeling you'll never forget.
On average, Four Wealth Creatures offers a theoretical return to player of 96.1%. This means that for every $100 wagered, players can expect to receive $96.1 back. Now, we're no math geniuses, but those are pretty good odds! So, if you're ready to take a chance and potentially walk away with some serious cash, give Four Wealth Creatures a spin!
The Fun-Filled Bonus Game in Four Wealth Creatures
Who doesn't love a good bonus game in online slot games? And when it comes to Four Wealth Creatures, the game doesn't disappoint. The Bonus game is triggered by landing the red dragon symbol on reels 2, 3, and 4. And boy, oh boy, is that red dragon a sight to behold! It's almost like something from Game of Thrones, but instead of burning things down, it triggers the Bonus and can help players rake in some serious payouts.
Depending on how many red dragons show up, the game grid transforms, and players are awarded three respins. And during those respins, the red dragons keep crossing the reels and transforming them into Wilds. It's like they're spitting out all that mythical fire in the form of juicy payouts and prizes! If you're lucky enough to hit the Bonus game and wrangle some Wilds into the mix, you can easily walk away with a huge payday.
It's not often that we get to see such detailed and fun-filled bonus games in online slot games, but Four Wealth Creatures delivers in spades. And it's not just the potential for payouts that makes this bonus game so exciting. It's the adventure of exploring the game grid as it transforms and seeing what surprises await around every corner. So, if you're looking for a game that's full of fun, fantasy, and big-time payouts, then Four Wealth Creatures and its exceptional Bonus game are sure to do the trick.
FAQ
What is the theoretical return to player?
In Four Wealth Creatures, the RTP value is 96.1%.
Can I try the slot before betting real money?
Certainly, on our website, the Demo version is available precisely to familiarize and evaluate the game.
What is the maximum win?
You can get a maximum win of 2,000 times the bet.
What is the volatility of Four Wealth Creatures?
The volatility is high, with substantial wins but not too frequent.
What are the low-value symbols in the game?
The low-value symbols in Four Wealth Creatures are represented by playing cards.
What are the thematic symbols?
The thematic symbols in Four Wealth Creatures are the 4 elements represented by animals: the turtle, tiger, sea dragon, and red dragon.
What does the Wild symbol do in Four Wealth Creatures?
The Wild symbol replaces all symbols except the red dragon, to which the Bonus game is linked.
How does the Bonus game work in Four Wealth Creatures?
Depending on the number of red dragons that land on the reels, the grid will transform and players will be awarded three Respins, during which the red dragons will cross some reels, transforming them into Wilds.
What we like
Beautiful Chinese-inspired design
High-quality symbols and graphics
Bonus game with potential for big payouts
Autoplay option available
What we don't like
High volatility may not appeal to all players
Small bets may not generate many payouts