Feng Fu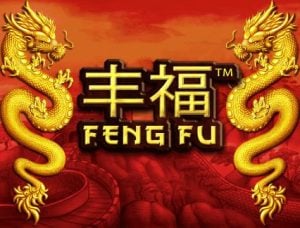 Feng Fu is a slot game that caters to your need for cultural significance while offering the chance to win big. You are greeted with stunning ink paintings of traditional Chinese elements that take you back in time. The reels, adorned with pagoda roofs, bamboo scrolls, trees, and mountains, make for a unique gaming experience.
The symbols in this game revolve around the Chinese zodiac, featuring animals like roosters, rabbits, and pigs. But if the zodiac animals aren't your thing, there are also two lucky animals considered auspicious in Chinese culture – the carp and maneki-neko. Seeing these symbols align can make for a fortune on the reels!
While playing Feng Fu, you'll enjoy a great combination of Chinese culture and online gaming. But be warned – you might find yourself feeling like a Feng Fu master after playing for a while. Don't be surprised if you start looking for your own lucky charm.
Lucky Animals and Chinese Zodiac
Get ready to be charmed by Feng Fu's symbols! The animals of the Chinese zodiac, like the mischievous monkey, confident rooster, and stubborn goat, add a touch of exoticism to the game. Plus, they increase your chances of hitting some sweet jackpots!
For those unfamiliar with Chinese astrology, the game offers two lucky animals to welcome luck and fortune: the carp and maneki-neko. Thanks to their proud and quirky designs, they'll definitely bring a smile to your face after you see them appear on screen.
Overall, it's a neat way to explore a different culture while trying to earn some riches. Who knows, maybe your sign on the Chinese zodiac might be the one to score you the ultimate payout! Or maybe it's just the cat pawing at your wallet. Either way, give Feng Fu a spin and see what fate has in store for you.
Using Chinese Ideograms in Feng Fu
When it comes to online slot games, there are a few tried and tested formulas that tend to work well. However, Feng Fu throws caution to the wind with an unusual choice – replacing traditional playing card symbols with Chinese ideograms.
At first glance, the ideograms may confuse players who are not familiar with the language. But let's face it, who doesn't enjoy a good challenge? Plus, it adds an extra layer of depth to the game's meaning, making it perfect for players who have an interest in Chinese culture.
Just imagine, the next time someone asks you what you've been up to, you can confidently reply, 'Oh, just brushing up on my Chinese while I win big at Feng Fu.'
Gameplay Mechanics
Get ready for some traditional 5×3 online slot game action with nine pay lines in Feng Fu. You might be thinking, "Nine pay lines? That's like nine chances to win!" But hold on to your coins, because the more pay lines there are, the harder it is to win. However, if you do strike it lucky, the value of the spoils is definitely worth the effort. Or so we hear, we haven't won yet…
The Yin and Yang sign is the scatter symbol in this game, which sounds like it should be a symbol for balance and tranquility, but it actually takes you to the bonus function. Who knew? That's not the only surprise though. The gong or plate doesn't just make noise; it also acts as a scatter and wild symbol that can substitute all the regular symbols. Who says you can't multitask?
So, if you're an experienced slot player looking for a new challenge, Feng Fu is definitely worth a spin. Or nine, if you're feeling lucky…and patient.
Difficulty for New Players
Are you a new player to the online slot game Feng Fu? If so, you may find yourself struggling at first to distinguish between certain Chinese ideograms and symbols. But don't worry, once you get a little experience under your belt, you'll start to recognize them with ease!
And, to make the game a bit easier for newcomers, the developers have included a gong or plate symbol that serves as both a scatter and wild symbol. This means you'll have an easier time achieving winning combinations and raking in those big payouts!
If you're still struggling with the Chinese characters, you might want to check out some other oriental-themed slot games available online. Or, if you want something a bit more lighthearted, you could always give Benny the Panda a spin- that guy's always good for a laugh!
FAQ
What is Feng Fu?
Feng Fu is an online slot machine by Tom Horn that explores Chinese symbolism related to luck and wealth.
What can you say about Feng Fu's graphic design?
Feng Fu's design is inspired by ancient China, with Chinese elements like pagoda roofs, bamboo scrolls, and animals from the Chinese zodiac as symbols. The game has a typical Chinese sound for background music.
How many pay lines does Feng Fu have?
Feng Fu has 9 pay lines, which means that winning combinations are more difficult to achieve, but their value is higher.
What are the special symbols in Feng Fu?
Feng Fu has two special symbols: the Yin and Yang sign, acting as a scatter symbol (allowing players to access the bonus function), and a finely decorated gong or plate, acting as a scatter and wild symbol (substituting all regular symbols).
Are there other similar games to Feng Fu?
Yes, there are other oriental-themed slots like Benny the Panda, Chinese New Year, and Choy Sun Doa that cater to a similar taste.
Is Feng Fu an easy game to play?
Feng Fu's main difficulty lies in mastering the various symbols, given the presence of numerous Chinese characters that might not help in distinguishing one from another. However, if you're familiar with Chinese symbols and characters, it should be an enjoyable game to play.
Can you play Feng Fu for free?
Some online casinos offer free-to-play versions of Feng Fu, allowing players to try the game without the risk of losing money.
Can you win real money playing Feng Fu?
Yes, players can win real money playing Feng Fu. However, it is important to remember that gambling should always be done in a responsible and controlled manner.
What we like
Chinese symbolism related to luck and wealth
Lucky animals and Chinese zodiac theme
Use of Chinese ideograms adds depth to the game
Challenging gameplay for experienced slot players
What we don't like
Difficulty for new players unfamiliar with Chinese ideograms
Limited accessibility for non-Chinese culture enthusiasts