Extra Wild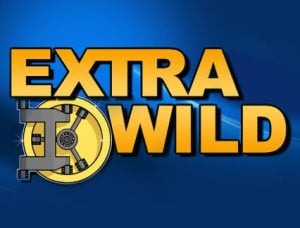 The theme of Extra Wild is all about glitz and glamour, as if you're taking a stroll through a high-end jewelry store. Just don't get any fingerprints on the fancy diamonds! But seriously, this game is sure to satisfy your inner magpie, as it's packed with gleaming symbols like gold coins, diamonds, and rubies. And if you're looking for a game that's both simple and visually pleasing, look no further than Extra Wild. The game grid is set against a luxurious blue velvet backdrop, which is sure to make you feel like you're playing from a VIP lounge. Plus, each symbol in the game has its own original graphical design, making every spin an engrossing experience.
Unleashing the Possibilities of Extra Wild
Extra Wild has an intriguing setup that features 5 reels and 10 paylines, giving you ample opportunities to land winning combinations. The highlight of the game is the Wild symbol, which is none other than the door of a safe. This Wild symbol is not just an ordinary symbol, it also functions as a multiplier that can increase your wins by an extra 2x or 7x. So, prepare to unlock the treasure trove of riches this slot has to offer!
If you're a fan of linear gameplay that's straightforward and simple, then Extra Wild is the perfect game for you. The game's uncomplicated gameplay doesn't make it boring at all, as it still possesses a certain level of excitement and thrill that will undoubtedly keep you on the edge of your seat. Filled with potential and possibilities, Extra Wild truly lives up to its name.
With every spin, you have the chance to hit it big and pave your way to becoming the next big winner. So, take a chance and dive into the world of Extra Wild; who knows what fortune awaits you. Just remember to lock in your bets before spinning those reels – after all, you wouldn't want to be left out!
Exploring the Wild Vault and its Multiplying Magic
So you're playing Extra Wild and need something to help boost your wins? Look no further than the elusive Wild symbol, represented by none other than a vault. This sneaky symbol has the ability to replace any other symbol in the game, acting like a key to unlock bigger and better rewards.
Hidden inside the Wild vault is a multiplier that can make even the smallest wins turn into massive payouts. It's like finding a winning lottery ticket in a pile of old junk mail. Just when you thought it couldn't get any better, the Wild symbol comes in with a big surprise that'll leave you jumping for joy (or maybe just fist pumping in your seat).
With the Wild symbol at your fingertips, you'll feel like a master thief pulling off the heist of the century. So, grab your virtual safecracker, spin those reels, and let the multiplying magic of the Wild vault bring you the riches you deserve.
Evaluation Of Gameplay And Entertainment Value
Extra Wild is a sweet, delicious slot game. It's like a candy shop for your eyes, with its bright and bold graphics. The gameplay is simple, but that doesn't mean it's not fun. One thing that stands out about Extra Wild is how it evokes feelings of wealth and luxury. For anyone who loves to dream big about their future bank balance, this game is perfect.
That being said, the lack of many special features can be a bit disappointing. It's like getting a fancy gift that looks amazing but turns out to be empty inside. However, the possibility of winning big with the Wild symbol multiplier keeps things exciting. Players with a good dose of patience and persistence can still come out on top.
Overall, the entertainment value of Extra Wild is worth a try. It's like a classic car – simple yet elegant, and guaranteed to turn heads. So if you're looking for a slot game that can bring a little luxury to your life, this one is definitely worth checking out.
How Extra Wild Stacks Up Against Other Slot Games
Looking for a new slot game to play but not sure where to start? Extra Wild is a fantastic option for anyone who loves a good treasure hunt with the extra thrill of high rewards. But how does it compare to other similar games in the market?
Well, if you're a fan of jewel-themed slot games, you'll be happy to know there are plenty of options out there for you! However, when it comes to straightforward gameplay and big wins, Extra Wild really stands out. Unlike some of its competitors, this game doesn't rely on complicated bonus rounds or intricate game mechanics – it's just pure, unadulterated fun from start to finish.
Of course, everyone has their personal preferences when it comes to slot games. Maybe you're looking for a more complex experience that requires a bit more strategy and skill (or maybe you just really enjoy unlocking all those hidden bonus rounds). If that's the case, games like Jewel Box or Jewels World might be right up your alley. Or perhaps you're searching for something with a little more edge? If that's the case, check out 7 Sins for a more risqué take on the classic jewel slot game.
But if you're just looking for a great all-around slot game that's easy to pick up and play anytime, Extra Wild is definitely the way to go. So what are you waiting for? Grab your pickaxe and get ready to unleash your inner treasure hunter with Extra Wild!
FAQ
How many paylines does Extra Wild have?
Extra Wild has 10 paylines.
What is the Wild symbol in Extra Wild?
The Wild symbol in Extra Wild is represented by the vault door and serves as a wild card. It can replace any other symbol in the game and multiply your wins.
Does Extra Wild have any special features?
Aside from the Wild symbol, Extra Wild doesn't have many other special features, but its gameplay is still enjoyable.
What is the theme of Extra Wild?
Extra Wild is themed around precious gemstones and wealth.
How many reels and rows does Extra Wild have?
Extra Wild has 5 reels and 3 rows, which is a common layout for online slots.
Are there any classic playing card symbols in Extra Wild?
No, Extra Wild doesn't have any classic playing card symbols. Its symbols revolve around the theme of wealth and gemstones.
Can you recommend any slot games similar to Extra Wild?
Yes, some similar slot games to Extra Wild include Jewel Box, Gems & Stones, Jewels World, Diamonds, and 7 Sins.
What is the graphics style of Extra Wild like?
Extra Wild's graphics are simple and straightforward, with recognizable symbols that are easy to understand at a glance.
What we like
Simple and straightforward gameplay
Innovative Wild symbol with multiplier
Effective communication of theme
Potential for big wins
What we don't like
Lack of special features can feel repetitive
Linear gameplay