Exotic Cats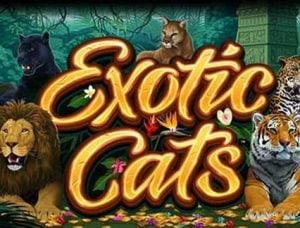 Buckle up, players! Exotic Cats promises to take you on a wild ride with its 5-reel, 3-row slot layout. With 243 pay lines available, the chances of hitting the jackpot are higher than ever. But hold on tight because this game is not for the faint of heart!
Looking for extra excitement? Say no more! The game is equipped with stacked symbols, wilds, and scatters. Plus, if Lady Luck is on your side, you can even trigger free spins. What's that? Expanding wilds and additional scatters, you say? Sounds like a recipe for huge payouts and endless thrills.
Now, let's talk about volatility. You don't need to be a rocket scientist to see that this game is for those with a taste for risk. With medium volatility, it means the payouts can be bigger, but you might have to wait a bit longer for them. But hey, there's always the chance to be rewarded with an average RTP of around 96.36%. And who doesn't love a game that rewards players?
Overall, Exotic Cats is definitely worth checking out. It's loaded with features that add to the excitement and thrill of the game. So, hold on to your hats, folks, and let's see if you have what it takes to tame these Exotic Cats!
Graphic Design
Prepare to be visually tantalized with the visually stunning slot game, Exotic Cats. Take a deep dive into the wilderness and meet the ferocious felines that reign supreme in the jungle. The artwork on this game is a masterpiece; the level of detail on each symbol and background is unparalleled. The felines are uniquely represented with distinct patterns and color schemes making it enjoyable to tell them apart.
Even the basic elements of the game are sophisticated. The use of precious gems for the playing card symbols adds to the game's luxurious feel and the animations of the felines during special combinations add a dynamic and engaging element to the visuals. What more could you ask for? I was so engrossed with the graphics that I forgot I was losing all my coins miserably.
I give the design of Exotic Cats slot game an A+. This game is a visual carnival that is an amusement park for the eyes and the senses. Who knew that losing all of your money could be so beautiful?
Bonusing Up With Exotic Cats
Are you ready to take your gaming experience to the next level? If so, look no further than Exotic Cats. This purrfect slot game offers two main bonus features – free spins and wild reels.
You might be asking, what's the big deal? Well, let us tell you. Free spins are triggered by landing three or more scatter symbols anywhere on the reels. And during this meowvelous round, each reel has its own corresponding feline that can turn the entire reel wild!
If you're still not impressed, let's talk about the wild reels that can also be triggered randomly during base gameplay. Each feline corresponds to its respective reel and can turn it completely wild. This means bigger chances of winning, and more importantly, bigger payouts! Meowza, am I right?
The combination of these two features allows for potentially huge payouts, especially if multiple reels are turned wild at once. So, what are you waiting for? Give Exotic Cats a chance today and let these wild felines lead you to your next big win!
Winning Potential
Are you ready to hear about the winning potential of the one and only Exotic Cats slot game? Well then, let's dive in! This game may not have the highest RTP or volatility out there, but don't let that deceive you. With multiple wild reels potentially appearing at once and amazing bonus features, you definitely have a chance to strike it big.
So how much can you win? Honestly, a lot. The top payouts can range up to 106,000 coins, and that's depending on the size of your bet and how many wild reels you have in play. Now, if you're like me and you're not the biggest risk taker out there, don't worry. This game is still perfect for those who are looking for occasional big wins and medium-sized wins. Just like that saying goes, sometimes less is more.
All in all, you may not be guaranteed a win, but with the right strategy and a little bit of luck, you could be walking away with some serious coin in your pocket. So get those lucky charms ready and give Exotic Cats a spin. Who knows, you could end up being the next big winner.
The Purrfect Soundtrack
Exotic Cats is one of those rare online slot games that manage to strike a perfect balance between gameplay, graphics, and of course, music. If you're a fan of tribal jungle themes, you're going to love the game's musical accompaniment.
The game's tribal drums, flutes, and nature sounds come together in perfect harmony to create an immersive ambiance of wilderness and adventure. Each cat has its own unique sound effect that adds an extra layer of authenticity.
But don't just take my word for it. Turn up the volume and let the wild soundscapes of Exotic Cats transport you to a world of excitement and possibility.
Heck, with a soundtrack this good, you might even forget that you're here to gamble. In fact, I can't be held responsible if you end up swaying to the rhythms and end up losing all your virtual coins!
FAQ
What is Exotic Cats?
Exotic Cats is an online slot game where players can explore the beauty and features of 5 different felines.
What are the main characters of Exotic Cats?
The main characters are 5 exotic felines: the lion, the tiger, the panther, the leopard, and the cougar.
What are the symbols on the reels?
The symbols on the reels are the felines, a mixed-race woman, and the classic card suits (spades, diamonds, hearts, and clubs).
What is the musical accompaniment of Exotic Cats?
The musical accompaniment references typical tribal music, completing the wild ambiance of this particular slot.
What is the gameplay mechanic of Exotic Cats?
Behind each reel, a ferocious feline can hide and decide to scratch its own reel turning it into a Wild symbol stacked one on top of each other.
How can players unlock free spins?
Players can unlock free spins by finding at least 3 dedicated scatter symbols.
What are the similar slots to Exotic Cats?
Similar slots to Exotic Cats include Hot Safari, Safari Heat, King of Africa, and Lion's Roar.
Can more than one feline strike the game grid at the same time?
Yes, more than one feline can strike the game grid at the same time, increasing the number of Wild symbols assigned and the resulting winnings.
What we like
Visually stunning design immerses players in a mysterious jungle
Well-detailed symbols and backgrounds
Two main bonus features – free spins and wild reels
Significant winning potential with up to 106,000 coins in top payouts
What we don't like
Relatively average RTP and volatility
Bonus features may not trigger frequently