Esqueleto Explosivo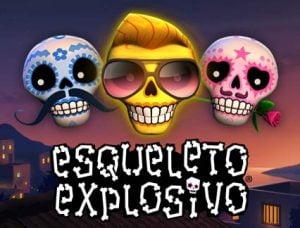 Get ready to have your mind blown with Thunderkick's Esqueleto Explosivo, a slot game that packs a punch with its unique features and bright design! With 5 reels and 17 paylines, the game's main attraction is the charming skull symbols that explode with confetti and cheers whenever they form winning combinations. It's as if the dead have never been more alive! But don't let the quirky visuals fool you, there's much more to this game than meets the eyes.
The Explosivo Wild is one of the game's most useful special characters, which not only replaces other symbols to form winning combinations but causes all adjacent symbols on the reels to explode as well! This adds a whole new level of excitement and potential to each spin. The game's Mucho Multiplier feature is triggered whenever the skull on the top row of the reels shakes its maracas. With each consecutive win, the multiplier increases, reaching up to a whopping 32x your original wager!
And let's talk about the game's RTP of 96%, making it a popular choice for players who want a game with a good chance of raking in some winnings. With an energetic soundtrack to accompany the game, Esqueleto Explosivo is an experience like no other. With exploding skulls, shaking maracas, and a soundtrack that makes you want to dance, this game is sure to make you feel alive!
Graphics and Animations
Get ready to be entertained by the amazing 3D design and graphics of Esqueleto Explosivo! This game packs a punch with its colorful and charming skulls, which are well-crafted and display intricate details. What makes this game stand out is its incredible and complex animations. Every winning combination on the reels is celebrated with a unique explosion of the skulls, making you want to keep playing just to experience the thrilling animations again and again.
The Mexican-style music is another enticing feature of this game. Following each winning combination, the music adds to the excitement and pumps up the mood. The music and animations are a perfect combination that creates a fun and engaging gaming experience.
Esqueleto Explosivo's graphics and animations bring a unique charm to the simple theme of the game. The attention to detail is impressive. Whether it's the hilarious facial expressions of the skulls or their synchronized movements, the game is sure to keep you amused and engaged. The overall design and animations are a testament to the quality of the game and the effort the developer put into making the experience as enjoyable as possible.
So sit back, relax, and enjoy the show as you spin the reels and watch the colorful skulls explode. Esqueleto Explosivo is the delightful break from the mundane that you didn't know you needed.
Gameplay
Get ready to shake your bones with Esqueleto Explosivo, the slot game that offers a smooth and entertaining gaming experience. The game's structure is so user-friendly that even a skeleton can operate it!
Players have the option to choose their bet value, and with a min bet of $0.10 and a max limit of $100, there's something for everyone. With 17 paylines, players have plenty of opportunities to strike a winning combination and dance their way to the bank!
Esqueleto Explosivo features a range of special features, including the explosive Explosivo Wild and the Mucho Multiplier that is enough to make your head spin. These features increase the player's chances of winning, and let's be honest, who doesn't love a good explosion?
Plus, with a return to player (RTP) of 96%, players get to enjoy a highly rewarding game that will leave them coming back for more flaming hot action.
All in all, Esqueleto Explosivo is an explosive game that is sure to bring a smile to your face and get your bones rattling!
Symbols and Special Characters
Get ready to go on a bone-rattling adventure with Esqueleto Explosivo, where every spin guarantees an explosive experience. The symbols in this game are stunningly designed interactive skulls. It takes a minimum of three skulls to form a winning combination, which offers something different from the usual reel spins.
The Wild symbol is something else, represented by a cool-looking skull wearing sunglasses and a fringe. Not only can it substitute other symbols, but it can also explode eight symbols surrounding it. Boomshakalaka! You might not have seen that in any other slot game, and it adds an extra level of excitement to every spin. It's like watching an action movie, but you're in control of the hero.
Do you want to maximize your winnings? Of course, you do! Then, you need to activate the Mucho Multiplier by collecting Explosivo Wilds. The multiplier increases your winnings with every appearance of the explosive skull symbol, ranging from 1x to 32x. That's enough to make your head explode from the excitement. Winning has never been so lucrative, and you'll feel like a skeletal superstar!
All in all, Esqueleto Explosivo is an original and entertaining slot game that will keep you engaged for hours. It has great graphics, innovative gameplay, and a Mexican twist that will make you shout, "Arriba Arriba! Andale Andale!" Give it a try and see for yourself why it's one of the most popular games available. Who knows, you might even win enough to buy your own skull and sunglasses!
Theme and Setting
Esqueleto Explosivo, or in plain English, Explosive Skeleton, is the perfect game for those who want to experience some Mexican culture in their online slots. You'll feel like you're in the middle of a lively fiesta with colorful skulls and mesmerizing sounds, and let's face it, who doesn't love a good fiesta?
And don't worry, there's no need to take a Spanish class to enjoy this game. The symbols are pretty self-explanatory. How do you think we know what a skull looks like? Ha! Just joking, of course.
But really, the vibrant colors of the skulls that explode and make way for new icons are incredibly appealing. It's like every time you spin, you're helping with a piñata. And who doesn't love swinging at a piñata and getting showered with goodies?
Other than the exploding skulls, the game has a simple but exciting theme that makes it perfect for all types of slot players. But let's be honest, we all secretly wish for exploding skulls in every game we play.
FAQ
What is Esqueleto Explosivo?
Esqueleto Explosivo is an online slot game created by Thunderkick. It is centered around Mexican culture and features colorful and explosive skulls that sing, dance, and explode to create new winning combinations.
What are the graphics and symbols like?
The graphics are excellent and the animations for each winning combination are incredible. The charming skulls and Explosivo Wild symbol are the main symbols that players will encounter.
What is the bet range for this game?
Players can bet from $0.10 to a maximum bet of $100.
How many paylines does the game have?
The game has 5 reels and 17 paylines.
What is the RTP of Esqueleto Explosivo?
The RTP of this game is 96%.
What is the Explosivo Wild symbol?
The Explosivo Wild symbol is a skull wearing sunglasses and a fringe. It helps increase the value of the multipliers and your wins. It can substitute for other icons to create winning combinations and can explode the 8 symbols surrounding it.
What is the Mucho Multiplier?
The Mucho Multiplier function increases the multiplication of wins with every appearance of the Explosivo Wild symbol, up to the highest possible value.
Is Esqueleto Explosivo a fun game to play?
Yes, the game is incredibly entertaining and offers a smooth and enjoyable gameplay experience. The charming skulls, colorful animations, and epic music make it a great online slot game to play.
What we like
Explosive and entertaining gameplay
High-quality 3D graphics and animations
Unique and rewarding special characters
Captivating Mexican-themed setting
What we don't like