Dreamzone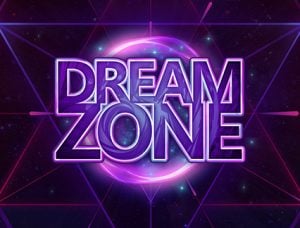 Dreamzone is a Cluster Pays slot game with a 5×5 grid. If you're like me and can never remember what a Cluster Pays game is, it means you need to land adjacent symbols to form winning clusters. It's like a group hug that pays out!
What's great about Dreamzone is the cascading wins feature, which means every time you win, the symbols disappear and new ones drop down, giving you more opportunities to win. On each win, you also collect Dreamzone Features, which you can then use in non-winning Spins. Kind of like saving up for a rainy day while still enjoying the sunny ones!
But wait! There's more! Dreamzone has not one, not two, but four exciting Dreamzone Features, each with its own special power. These features also come into play in the Bonus Drops feature, which is like winning a lottery but without having to leave your house. Each level gives you more free spins and doubles the multiplier up to 512x. It's like climbing Mount Everest, but with more fun and less altitude sickness.
Visuals and Theme
Dreamzone has a space-inspired theme that's truly out of this world. Who knew outer space could look so colorful and bright? The neon symbols really pop against the dark space backdrop, transporting you to a state beyond time and place, a state of pure visual euphoria.
The sound theme is other-worldly too, matching the vibe and aesthetic of a sci-fi adventure. It's almost like you're on a spaceship, exploring the far reaches of the galaxy and discovering new planets, except you're really just sitting and playing a slot game. But hey, that's not a bad way to spend your time!
The crystal-shaped symbols are cool and unique, taking on all sorts of multi-angular forms like hearts, cones, stars, and cubes. Don't be surprised if you find yourself zoning out (pun intended) on the intricate details of each and every symbol, marveling at how they enhance the overall experience.
The 3D design and precious graphics of Dreamzone are truly impressive, satisfying not only your inner gambler, but also your inner artist. It's not often that a slot game combines stunning visuals and sounds to create an immersive experience that's easy on the eyes and ears. It's like a symphony for your senses!
Bonus Features
Let's get down to business – the Bonus Features in Dreamzone are nothing short of amazing. Trust me, I've played my fair share of slots. The Free Drop Bonus feature is triggered when all symbols are removed from the grid, like magic. It's like watching a magician pull a rabbit out of their hat, except you're the one who gets the reward of multipliers and big wins.
Have you ever wanted to feel like a high roller in Vegas? Well, the Dream Features in Dreamzone are your ticket to that feeling. There are Wilds, which can substitute for any symbol and give you that extra boost towards a win. There's Symbol Explore, which allows you to explore new symbols and see what treasures they can reveal. Symbol Upgrade is another great feature which improves your chances of hitting the jackpot, and the Scatter symbol is just as special as it sounds – it helps you scatter your worries away.
The Free Drop Bonus feature also awards you with a multiplier of 2x for every drop that you get – and if you get consecutive wins, that multiplier gets doubled too! The maximum multiplier that Dreamzone can generate is a jaw-dropping 512x. That's enough to turn a small win into a huge windfall. Don't get too excited, though – I can personally attest that chasing that 512x multiplier can be both exhilarating and nerve-wracking. But hey, isn't that the whole point of slots?
Variance and RTP
Are you looking for a slot game that keeps you on the edge of your seat, but won't leave you feeling broke? Look no further than Dreamzone! With a medium-high variance, this game will keep you guessing and your heart racing. One instance you'll be on a roll, raking in the chips, and the next moment, you might just hit a cold streak. But isn't that what makes it thrilling?
Now, let's talk Return to Player. Dreamzone boasts a respectable percentage of 96.00%, which is pretty standard across the online casino industry. It may not be the highest, but at least you know you're getting a fair shot, unlike some of those penny slots that never seem to pay out. I mean, who doesn't like a good gamble with reasonable returns?
I can almost guarantee you won't regret giving Dreamzone a try, even if it ends up being just for a few spins. Who knows, you might just hit that elusive big win you've been dreaming of and be transported to your own dream zone – a place where money is no object and slot machines never run out of coins. Hey, a girl can dream, right?
Symbols and Betting Range
Let's talk about the glittering gems! Don't be fooled by the simplicity of the low-value gem symbols. With the right match and a sprinkle of luck, they can still grant you a decent payout.
But what really caught our eye are the high-value symbols that pop in 3D! We have to admit, we felt like a bunch of magpies at the sight of them. And what's not to love about the red gem symbol? It's not just the most valuable of them all, it's also the shiniest (fact-check needed).
Now, let's talk business. You can adjust the betting range of Dreamzone by clicking on the coin stack symbol. This is where you get to strategize and choose your bet. Feeling lucky? Go for the maximum! But for the faint-hearted, starting at 20 cents is a safer bet. And remember, winning big doesn't always mean betting big.
Availability on Different Devices
Dreamzone can be played on mobile devices, tablets, and desktop computers. Which means you can spin the reels and enter the dream world no matter where you are!
So pull out your phone during a boring meeting and hit a jackpot! Play it on your tablet to escape the monotony of your daily commute. Or sit back at your desktop and let the dreams come to you.
In fact, this game runs so smoothly on all devices you'd think there's some kind of magic involved. But, let's be honest, it's probably just really good programming.
Unleashing the Wild Symbol and Diving Into Symbol Categories in Dreamzone
Rethink your wildest dreams with Dreamzone, a spellbinding online slot game featuring an array of eye-catching symbols. The gaming world is full of clichéd symbols, but hey, who doesn't want to witness a new twist on the classic gems theme? Here's everything you need to know about the Dreamzone wild symbol and symbol categories:
The 'W' symbol in Dreamzone is the game's wild symbol designed to replace any of the standard symbols. So, once you hit the Wild, you're most likely entering the exciting land of big winnings. It's like having a genie granted three wishes; no, it's just like having a Wild.
When it comes to values, Dreamzone features two main categories of symbols: the low-cost gems and the higher-paying crystals. The small gems consist of five variations, and the payout value ranges from 0.1x to 0.3x for groups of three symbols. Getting eleven or more of these symbols is your cue to earn between 4.8x and 6x multipliers, which is a pretty neat payout.
You ask us what's the most valuable symbol? It's the object-shaped red crystal that pays out an astonishing 100x for eleven or more symbols. The purple crystal symbol is the next most valuable, earning you 0.4x for three, and the red crystal earns you 1x for three.
With Dreamzone, get ready to enter a wonderland of symbols, some may turn low while some may turn up high! The symbols have the power to weave magic and luck over your gameplay. So, buckle up, unleash the wild symbol, and get ready to dive into the magical world of Dreamzone!
Non-Winning Drops and Dream Features
Dreamzone is a casino slot game that manages to keep you engaged even when you're not winning. How is that possible, you ask? Well, even non-winning drops that are part of a cascade can continue the cascade in Dreamzone. It's like watching a car crash in slow motion – you just can't look away.
Now, no matter how exciting the non-winning drops may be, you still want those dreamy wins. And that's where the Dream Features come in. These features are like the secret sauce that will take your gameplay experience to a whole new level. Think of them as your very own fairy godmother, ready to make your dreams come true.
The features themselves are almost as dreamy as the wins they provide. First up, we have the Wilds – always a favourite in any slot game. They work to replace any symbol on the reels, forming winning combinations in their wake. Next, we have Symbol Explore. This feature allows you to dive deep into the game's symbols, and discover hidden treasures that you may have missed before. Symbol Upgrade works similarly, but this time it upgrades said symbols. And last but not least – our personal favourite – the Scatter symbol. The Scatter symbol pays out scattered wins, and who doesn't love wins that are scattered? It's like finding money in unexpected places – a thrill that never gets old.
All in all, there's a lot to love in Dreamzone, even when the reels aren't spinning in your favour. With the Dream Features in your corner, and the promise of non-winning drops continuing your cascade, you'll always be on the edge of your seat, waiting for the next big win. So why not give it a try? Who knows, Dreamzone might just be the stuff of your slot game dreams.
FAQ
What is Dreamzone?
Dreamzone is a Cluster Pays slot game from ELK Studios with a space-inspired theme that can be played on mobile devices, tablets, and desktops as standard.
What is the betting range of Dreamzone?
The Dreamzone slot game's betting range starts at 20 cents and ends at a maximum of $100.00 per spin. Players can choose an appropriate bet from the various amounts provided.
What is the theoretical return to player of Dreamzone?
Theoretical return to player of Dreamzone is 96.00%, which is just average.
What is the maximum multiplier that Dreamzone is capable of generating?
The maximum multiplier that Dreamzone can generate is 512x.
What is the unique thing about Dreamzone?
The unique and exciting thing about Dreamzone is that even non-winning drops that are part of a cascade can continue the cascade with Dream Features.
What are Dream Features in Dreamzone?
Dream Features are Wilds, Symbol Explore, Symbol Upgrade, and the scatter symbol, which are collected on every win and can be used in non-winning spins.
What is the most valuable symbol in Dreamzone?
The most valuable symbol in Dreamzone is the red object-shaped symbol that pays 100x for 11 or more symbols.
Is there an autoplay feature in Dreamzone?
Yes, players can play the game in Autoplay mode by selecting the Autoplay button and choosing the number of automatic spins. Optional settings related to the above include adding conditions that stop automatic spins when they have been met.
What we like
Cluster Pays gameplay for unique experience
Cascading wins and Dreamzone Features for added excitement
Space-inspired theme with vibrant visuals
Multiple bonus features for increased winning potential
What we don't like
Medium-high variance may not appeal to all players
Average RTP of 96.00%