Dragon Egg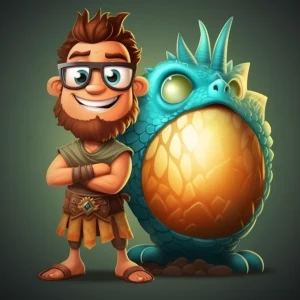 Are you ready to hatch some riches? Dragon Egg by Tom Horn features a 5×3 grid and 9 paylines that offer slightly higher value wins than average. That's right, more gold than a dragon's hoard in this game!
The symbols are simple yet effective, featuring dragons differentiated by the color of their element. The red dragon represents fire, the blue dragon represents ice, the green dragon represents nature, and the gold dragon represents wealth. But watch out for the black dragon because it serves as the WILD symbol, fully replacing any other symbol except for the golden dragon egg, which is the SCATTER symbol.
When you see three or more of those golden dragon eggs appear in a single spin, get ready for the heat to rise as you trigger the free spins mode. It's time to take advantage of the dragons' generosity and rack up those winnings.
With Dragon Egg, Tom Horn has hatched a winner with simple but effective gameplay and symbols that will keep you on the edge of your seat. Plus, it's always fun to pretend you've got a dragon egg hatching on your screen (just don't touch it – we learned from Game of Thrones what happens when you mess with dragon eggs).
Theme and graphics
Dragon Egg is set in a cave, with the game grid featuring mainly shades of gray, though the dragon symbols add a touch of color. But don't let the color palette fool you, this game is hotter than a dragon's breath! The graphics are simple and immediate, with a focus on presenting a clear and concise picture. It's like they say, sometimes less is more, and that's definitely the case here. The dragon symbol designs may not be the most varied, but they're recognizable and pack a fiery punch.
The slot's simplicity aims to avoid confusion and distraction, which is great for those of us who don't want to spend hours trying to figure out what's going on. Plus, with all that fire and brimstone, who needs complicated graphics? Not me, that's for sure!
Sound And Music
Let's talk about the sound and music in Dragon Egg. If you're a fan of Far Eastern music, you'll be pleased to know that the background music in this game is reminiscent of gentle flutes and rhythmic drums that'll transport you straight to ancient China. It's almost like you can hear the Great Wall of China faintly in the distance! But in all seriousness, the music fits the game's setting well and adds to the feel of the game.
However, if you're expecting something more extraordinary, you might be slightly disappointed. The sounds in Dragon Egg are standard, with no significant distinguishing features. It's like the developer put all their effort into the music and neglected to spend time on creating unique sounds for the game. But hey, as long as the music is good, right?
All in all, Dragon Egg's sound and music are lovely, but if you're looking for intense sound effects, you might have to stick your head out of the window and shout your own noises! (Just don't wake up the neighbors.)
Get Egg-cited About the Bonus Features (Free Spins Mode)
If you're looking for a slot game that's going to hatch some serious fun, then Dragon Egg is the one for you. Not only is this game visually stunning, but it also offers players the chance to win big with its bonus features, specifically the free spins mode.
You won't be able to stop yourself from cheering when you land three or more golden dragon egg symbols on a single spin, triggering the free spins mode. It takes a bit of effort, but trust us, it's worth it for the potentially substantial winnings you could earn during these spins. And let's be honest, waiting for the feature to activate just adds to the excitement of the game.
But that's not all folks – during free spins mode, the payout values increase, giving you an even bigger opportunity to rake in the cash. It's almost like the game is saying, 'you're a Dragon Egg-spert now, time to reap the rewards.'
So, sit back, relax, and get ready to watch those wins pile up. Just beware of getting too egg-cited – we don't want any scrambled screens!
Similar Slots with Dragon Themes
The dragon theme is a roaring hot favorite in the realm of online slots. If you're looking to enjoy more dragon-themed slots after playing Dragon Egg, tuck into Dragon Riches and let the excitement set in. From there, try Dragon's Inferno for an inferno of a time or 5 Dragons for a real fire-breathing experience. Each of these slots is different, boasting unique gameplay mechanics and distinct graphics.
Dive into the online slot frenzy and discover which dragon-themed slot is your personal favorite. Be careful though – one spin can lead to a flame-breathing addiction and hours of fiery fun. Your treasure awaits!
FAQ
What are the special symbols in Dragon Egg?
The special symbols in Dragon Egg are the dragon Wild and the golden dragon egg Scatter.
What is the free spins mode in Dragon Egg?
The free spins mode in Dragon Egg is activated by finding at least three golden dragon egg Scatter symbols in a single spin.
How many paylines are there in Dragon Egg?
There are 9 paylines in Dragon Egg.
Is Dragon Egg a high-volatility or low-volatility slot game?
Dragon Egg is a low-volatility slot game.
What is the RTP of Dragon Egg?
The RTP of Dragon Egg is 96%.
What is the theme of Dragon Egg?
The theme of Dragon Egg revolves around dragons and treasure.
What are the graphics like in Dragon Egg?
The graphics in Dragon Egg are simple and mostly shades of gray, but the dragon symbols add touches of color.
What is the music like in Dragon Egg?
The music in Dragon Egg is reminiscent of Far Eastern sounds with flutes and drums to fit the theme.
What we like
Slightly higher value wins than average
Simple and clear graphics and symbols
Background music fits the game's setting
Potential for substantial winnings in free spins mode
What we don't like
Difficult to trigger the free spins mode
Limited variety in dragon symbol designs