Dragon and Phoenix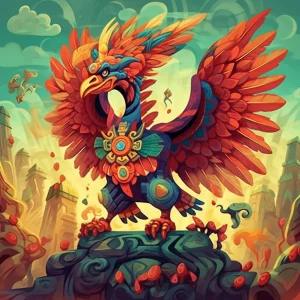 Looking for a mythical adventure with some real payout? Look no further than Dragon & Phoenix, the latest slot game from Betsoft. Featuring two legendary creatures of Chinese culture, the dragon and phoenix bird, this game packs a punch with its 5 reels, 3 rows, and 20 active paylines.
But let's be real here, the real reason you're playing this game is to strike it rich. And with a maximum payout of 8,000x your bet, you just might have a shot. Plus, who wouldn't want to see a dragon and phoenix fly across the screen, shooting out bonuses and free spins left and right?
Of course, like any game of chance, the road to riches can come with a few bumps. The game's high volatility means you might have to endure a few spins before you hit that big payout. But that just makes it all the more exciting when you do finally hit it big. And hey, you can always spin again and hope for better luck.
But enough with the serious talk, let's get back to the real reason we're here – to have fun! And Dragon & Phoenix delivers with its bright, colorful graphics and thrilling sound effects. The animations of the dragon and phoenix alone are worth the price of admission (which, by the way, can be as low as $0.20 per spin).
So what are you waiting for? Give Dragon & Phoenix a spin and see if these mythical creatures can bring you some real-life wealth. And who knows? Maybe you'll find yourself flying high like a phoenix when you hit that big payout.
Features of the Game
Dragon & Phoenix offers several good features, such as regular and expanding wilds, scatters, and free spins. These elements enhance the excitement of the game and increase the chances of winning big! Hearing the dragons roar and the Phoenix birds chirp as you spin your way through the game adds an extra level of entertainment.
But it's not just the features that make Dragon & Phoenix a great game. The attention to detail in the graphics is impressive. The background of the game is a stunning Buddhist temple, while the symbols on the reels consist of high-value symbols like dragons, Phoenix birds, statues, 88 logos, gold ingots, temples, and pearls. As you watch these symbols spin, don't be surprised if you find yourself lost in this mythical world of dragons and riches!
Get Ready for Some Serious Winnings with Dragon and Phoenix's Paylines, Wilds, Scatters, and Free Spins
Dragon and Phoenix is one of the best slot games in the casino industry today, and it is no surprise why. This game has everything any player would ever want in a slot game. With 20 active paylines, regular and expanding wilds, scatters, and free spins, Dragon and Phoenix boasts some of the biggest and most lucrative payouts around.
But let's talk about the real stars of the game: the Emperor and Empress symbols. Serving as the wilds in the game, these two characters can appear in their regular sizes, or they can expand to cover the entire reel they land on. That's right; these two symbols offer huge payouts and even more massive rewards if they show up at the right time.
This is where the game gets super exciting. With three or more of these scatters on the reels, you'll win up to 500x your bet and 15 free spins. But don't stop there. For every additional three or more scatters that appear during your free spins round, you'll get even more free spins. Talk about a game that just keeps on giving.
If you're looking for a slot game that offers huge payouts, massive rewards, and endless excitement, then Dragon and Phoenix is the game for you. So go ahead and give it a spin. Who knows, you might just be the one to unlock the full potential of this amazing game.
Experience the Thrill of Asian-Style Graphics and Theme
Get ready to be engulfed in the world of mystical creatures and temples with Dragon & Phoenix – the sensational slot game in the Asian-themed genre. You'll be charmed by the stunning graphics with the legendary Dragon and the Phoenix making an appearance on your screen. The birds-eye view of the Buddhist temple in the background, along with the richly colored symbols, takes the game to a whole other level.
The high-value symbols in the game are truly impressive and are sure to bring good fortune to all the players. Dragons, Phoenix birds, statues, 88 logos, gold ingots, temples, and pearls, provide a unique experience to traditional slot games.
But beware! The Dragon and Phoenix are very possessive creatures, and if you don't treat them right, you might end up with no treasures. With the 8 paylines available, you need to keep your focus on the game and keep an eye out for those wild symbols.
Dragon & Phoenix is the perfect game for anyone who loves the thrill of the game. From the moment you press spin, you'll be hooked on the stunning graphics and lively soundtrack, and with a bit of luck, you might end up with a real treasure.
Symbols and Their Significance
Dragon and Phoenix is an online slot game so full of surprises and exciting features that you'll be left on the edge of your seat! But first things first: let's talk about the symbols and their significance.
First up, we have the Royal Couple- well, excuse me, with a name like that you know they've got to be important! These two are in charge of the expanding wild symbol- expanding their power (and your winnings) across the reels. But they're not the only ones bringing in the dough- nope, the dragon symbol offers the highest cash prize in the game. So if you're looking to get fired up and make some dough, be sure to keep an eye on our friend the dragon.
Of course, some symbols are more low-key, like the Jack to Ace cards. But hey, they're still valuable in their own right and shouldn't be overlooked. Meanwhile, the money tree scroll is the scatter symbol, and finding it is like stumbling upon a pot of gold- so keep your eyes peeled.
Lastly, the Emperor and Empress symbols serve as wilds, and they're ready to take the reins and help you command an army- uh, I mean, win a lot of money! Honestly, with so many powerful (and sometimes even cute) symbols, playing Dragon and Phoenix is like embarking on an epic quest- are you ready?
Volatility and RTP
Dragon & Phoenix is a game that will keep you on your toes. With medium-high volatility, you'll never know when you'll score a big win or experience a dry spell. But isn't that what makes it exciting? Speaking of wins, the return to player (RTP) is 96.01%, which isn't the greatest, but it's still not too shabby either. Heck, it's better than the chances of winning the lottery! And don't worry about the RTP too much, because this game pays off frequently. You'll see a big odd win every 40 spins or so. Just enough time to gather yourself before shouting 'Dragonnnnn & Phoenixxxxx'!
Potential for Big Wins
Are you looking for a slot game that offers the chance for huge payouts? Look no further than Dragon & Phoenix! This game has the potential for players to win up to 8098x their total bet, which means a maximum payout of $161,964. That's enough money to buy a pet dragon and a phoenix, right?
While the game is known for its medium-high volatility, don't let that scare you away. The potential for big wins is definitely there, especially thanks to the expanding wilds that can cover multiple columns and the free spins that can be re-triggered. With so many chances for free spins, you can continue playing this game for hours without ever having to spend a dime.
If you're feeling lucky and you're ready for some excitement, then Dragon & Phoenix might just be the perfect game for you. It's not every day that you get the chance to win such massive amounts of money! So, sit down, spin the reels, and let the mythical creatures of the game give you all the luck you need.
FAQ
What is Dragon & Phoenix?
It's an online slot game designed to be entertaining for the Chinese market. The game is about two legendary creatures of China, the Asian-style Dragon and Phoenix bird.
What are the features of Dragon & Phoenix?
The game offers regular and expanding wilds, scatters, and free spins. The game has a maximum payout of $161,964.
What is the RTP of Dragon & Phoenix?
The game's RTP is 96.01%.
What is the betting range for Dragon & Phoenix?
The player can bet anywhere from $0.20 to $20. The betting line can range from $0.01 to $1.
What is the maximum payout of Dragon & Phoenix?
The game has a maximum payout of $161,964.
What is the volatility of Dragon & Phoenix?
The game has medium-high volatility.
What is the wild symbol in Dragon & Phoenix?
The wild symbol is the Emperor and Empress together. It's a substitute that can expand when landed on reels 2 to 5.
What is the scatter symbol in Dragon & Phoenix?
The scatter symbol is a golden scroll with the image of a Money Tree. It triggers the free spins feature, with a maximum of 15 free spins.
What we like
Asian-themed graphics and theme
Regular and expanding wilds
Scatters and free spins feature
Potential for big wins
What we don't like
Medium-high volatility
RTP of 96.01%