Cubes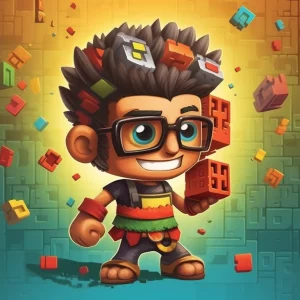 Cubes, oh how you've caught our attention! This cluster-win slot game has taken the online casino world by storm with its engaging 5×5 grid. And, if that wasn't enough, it can expand up to 11×11 – we're talking bigger than a Texas-sized cowboy hat (and trust us, everything's bigger in Texas)!
This medium volatility game has an impressive RTP of 96.35%, meaning that while the wins might not be as frequent as your favorite aunt's cat photos on Facebook, when they do come, they're worth the wait (and we mean like waiting-for-your-pizza-to-arrive-on-a-Friday-night worth the wait).
Oh, and let's not forget the maximum prize of 3,000 times the bet – that's a lot of greenbacks! Speaking of bets, Cubes caters to everyone from the penny pinchers to the high rollers. Whether you're betting 20 cents or 100 Dollars, there's a seat at the table for you.
The Cube-tastic Special Features
Get ready to boost your excitement levels with Cubes – the online slot game that packs a punch when it comes to special features! In this review, we will shed some light on the game's three unique functions – Central Multiplier, Free Spins, and Color Blast, so you'll know what to expect!
First off, let's talk about the Central Multiplier. It offers a variable multiplier that can skyrocket up to x22, which means you can potentially earn a ton of extra funds! It's almost like a lucky box of chocolates, you never know what you're gonna get – but in this case, it's always a sweet surprise.
Next up is the Free Spins feature! Rarely do unicorns exist, and rarer still is the chance of getting five groups of different colors. But hey, it could happen! And when it does, you're in for an exhilarating time as it triggers Free Spins, where a random color is assigned, and the grid does not decrease in size. So you have the whole board to spin and win with that locked color! It's like having a genie in a lamp, except there's no rubbing involved – just spin those Cubes!
And last but not least, the Color Blast feature. This function is activated when you manage to break the record of 70 cubes of the same color during Free Spins. The prize? An incredible amount equal to 2,500 times the bet! That's huge! It's like winning the lottery while being struck by lightning.
So, there you have it – Central Multiplier, Free Spins, and Color Blast – the three amazing special features that make Cubes a standout game in the online slot world. Try your luck in Cubes, and may the Cubes be with you!
Payouts That Will Make You Feel Like A Million Bucks
Cubes not only offers a fun gaming experience, but potential for huge payouts that will have you feeling like a million bucks. The payouts depend on the adjacent symbols that make up a cluster-win. It's like playing a colorful game of Tetris, but with actual rewards.
Players will love the variety of colors used in Cubes, but don't be fooled, each color has its own value. Blue, purple, and light blue are the friendlier colors, paying less compared to the boisterous red, yellow, and green. So choose wisely and keep an eye out for those greens!
Are you ready for the ultimate challenge? The maximum prize in Cubes is an incredible 3,000 times the bet. That's insane! It's like winning the lottery, but with better odds.
Volatility: Is it Worth the Risk?
If you're like me, you want to know whether a slot game is worth your time and money. That's why understanding the volatility of a game like Cubes is so important. And trust me, Cubes doesn't disappoint!
With its medium volatility, Cubes strikes a great balance between frequent wins and sizable payouts. You won't get bored with constant losing rounds, but you also won't be raking in millions either. But, hey, who needs millions when you can get the perfect combination of cubes dancing around on your screen? It's like a little party for your eyes.
The truth is, no one knows when they'll hit a jackpot in any slot game. But with Cubes, you'll have a better chance of walking away with some coin in your pocket. Plus, who doesn't want to feel like they're beating the odds?
RTP: Rolling in the Potential
Ready to get your gambling fix? Look no further than Cubes! With an RTP of 96.35%, you'll have a better chance of winning than your neighbor's cat has of catching that pesky bird outside.
Some might call it luck, but we call it strategic gambling. And with an RTP like that, you'll have more than a fighting chance. If you're using a betting strategy, it's always good to check the RTP of a game first. After all, you want to make sure you're getting the biggest bang for your buck.
With a high RTP like this, you'll be rolling in the potential. Just don't expect to suddenly become a millionaire – unless you're one of the lucky ones! But who knows, maybe that neighbor's cat was able to catch the bird after all. Anything is possible in the world of online slots!
Mobile Compatibility
Are you tired of being glued to your desktop computer or stuck in front of your laptop to play online slot games? Fear not, because Cubes has got you covered! This exciting and fun game has been optimized for mobile devices, allowing you to play on the go anytime, anywhere.
Picture this, you're sitting on a train, with nothing to do but stare out the window. Suddenly, you remember you have Cubes on your phone! Before you know it, you're deep in a game, winning big and earning bragging rights among your friends.
Not only does Cubes work seamlessly on mobile, but it looks and feels fantastic, too. The game's vibrant colors and stunning graphics pop on any screen, making playing on mobile devices a truly immersive experience.
So what are you waiting for? Take your slot game experience to the next level by playing Cubes on your mobile device today!
FAQ
Is Cubes available on mobile devices?
Yes, Cubes has been optimized to be compatible with mobile devices.
What is the Color Blast feature in Cubes?
The Color Blast feature is a special feature that can increase your winnings and create profitable combinations.
How many paylines does Cubes have?
Cubes uses a cluster-win format instead of traditional paylines. Wins are formed with 5 or more adjacent symbols in any spot of the grid.
What is the maximum payout in Cubes?
The maximum payout in Cubes is 3,000 times the bet.
What is the volatility of Cubes?
Cubes has medium volatility, meaning that win frequency and payout amounts are well-balanced.
What is the RTP value of Cubes?
The RTP value of Cubes is 96.35%.
What are the special features of Cubes?
Cubes has three special features: the Central Multiplier, Free Spins, and Color Blast. These features increase the chances of winning and add excitement to the game.
Are there any graphics or music settings in Cubes?
Yes, you can adjust the graphics and sound settings in Cubes. You can turn the music off, use the turbo function, open the pay table and customize other settings.
What we like
Cluster-win format allows for creative gameplay
Expanding grid up to 11×11 adds excitement to the game
Three special features offer opportunities for big rewards
Medium volatility and high RTP make for a well-balanced game
What we don't like
Payouts for some symbol colors are lower than others
Maximum prize may not be as high as some other slot games