Cubes 2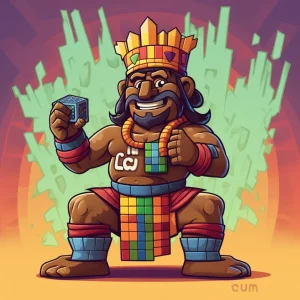 Get ready for a slot experience like no other with Cubes 2 – the latest addition to the online casino world! This highly innovative game boasts a unique gameplay mechanic that revolves around matching adjacent identical symbols on a grid that keeps increasing in size with every win, all the way up to a colossal 11×11 grid! Start from a humble 5×5 grid and watch it grow as the wins keep tumbling in.
As for the betting range, the game caters to both penny players and high rollers. Bets start from as low as $0.20 and go all the way up to an impressive $100. So, whether you're looking to play it safe or bet big and win even bigger, Cubes 2 has got you covered.
But the gameplay mechanics are just the beginning, Cubes 2 has a lot more to offer. The slot game comes with an automatic spin feature that can be activated from the side of the screen or the menu, letting you sit back and enjoy the action without having to lift a finger. Moreover, if you're looking for something extra, try unlocking the corner quadrants as they offer some exciting multipliers that can boost your winnings instantly.
And if that's not enough, Cubes 2 spoils you with the option of locking some colors, allowing you to achieve 5-12 free spins with every five or more winning combos. Who knew matching symbols could be this rewarding?
Cubes 2 is a breath of fresh air in the online slot world with its innovative gameplay mechanics and generous features that keep the game exciting and engaging. Don't miss out on the chance to explore this cubic world and see what surprises it has in store for you!
Uniqueness Overload: Cubes 2
If you're looking for an online slot game that is unlike the rest, Cubes 2 is your best bet. Unlike the usual game themes of fruit, gems, and movies, Cubes 2 brings a unique and unusual twist to the table. Taking inspiration from the classic Rubik's cube and transforming it into a slot machine game is genius! The rectangular prisms in the background only add to the excitement as it teases the brain with unusual patterns, making you wonder when the cubes will align and pay out.
But let's be real; you're not just here for the themes, are you? You want the chance to win big, and Cubes 2 delivers! With the game's unique setup and a combination of cascading reels, it's easy to get hooked. Of course, the game's intricacy means you'll have to be patient to win big bucks, but it's definitely worth it.
Now let's talk about the visuals: absolutely stunning! The graphics are crisp and clear, making it easy to distinguish between the different colours on the cubes, and the futuristic sound effects are a real cherry on top. The smooth karma-style background music is also a nice touch. The only downside is that with all the intricate details, you might end up staring at the screen for too long, increasing your chances of being called out for procrastination by your superior, if you're, let's say, at work.
In conclusion, Cubes 2 is a game that is equal parts fun and unique. If you're looking to shake things up and are not afraid of a bit of complexity, then this game is perfect for you. So, grab your Rubik's cubes and get spinning!
Bet Limits and Accessibility
Are you tired of playing online slot games where the betting range is too high or too low? Look no further than Cubes 2! This game has a betting range that is both affordable and worthwhile for every player. With a minimum bet of $0.20 and a maximum of $100, even the most budget-conscious players can enjoy a few rounds of spinning the cubes.
Cubes 2 offers the option for automatic spins, which can be activated from the side of the screen or within the menu. This saves you time and energy so you can enjoy the game without the hassle of pressing the buttons constantly.
And if you're worried about losing too much money or winning too little, Cubes 2 offers the option to set some win or loss limits. This feature is both responsible and thrilling, as it allows you to play with peace of mind and still gives you the chance to win big.
Game Volatility and RTP
Are you ready for a wild ride? The volatility of Cubes 2 is so high, you might want to hold on to your seat! This element of unpredictability adds an extra level of excitement to the game, keeping you on the edge of your seat. But don't worry, the rewards are worth it.
With an RTP of 96.3%, Cubes 2 is a generous slot. You'll have plenty of opportunities to scoop up some decent wins. And let's face it, who doesn't love a good win? Just don't forget to take a break and stretch your legs after sitting in one spot for too long. We wouldn't want you to get cramps from all the excitement.
Overall Gaming Experience
Hey, fellow slot enthusiasts! I'm here to tell you all about my experience playing the Cubes 2 slot game. First of all, I have to give Hacksaw Gaming some serious props for creating such a unique and visually stunning game that really grabbed my attention.
But enough about the looks, let's talk gameplay. The betting range is pretty flexible, which means you can play for pennies or go all-out and risk it all for a big win. Speaking of big wins, the volatility is high, so be prepared for a bit of a challenge. However, with a reasonable RTP, you can be sure that you still have a chance to score some massive wins.
Overall, I had a blast playing Cubes 2. Whether you're a seasoned gambler or a newbie just starting out, I think you'll find something to enjoy in this game. So why not give it a spin and see if you can hit the jackpot?
FAQ
What is Cubes 2?
Cubes 2 is an online slot game created by Hacksaw Gaming, which revolves around the popular Rubik's Cube and features a 5×5 grid that can increase by 2x based on wins.
What are the features of Cubes 2?
Some of the features of Cubes 2 include special symbols such as corner quadrants with multipliers, free spins, and locked symbols as well as a high volatility rate and an RTP of 96.3%.
What is the minimum and maximum bet in Cubes 2?
The minimum bet for Cubes 2 is $0.20, and the maximum bet is $100.
What is Cubes 2's RTP?
Cubes 2 has an RTP of 96.3%.
How can I win in Cubes 2?
You can win by matching identical symbols adjacent anywhere in the grid, combining at least 5 quadrants of the same color up to a maximum of 25 or more, and using special features such as corner quadrants with multipliers and free spins.
Can I play Cubes 2 for free?
Yes, most online casinos allow players to try out demo versions of online slot games, including Cubes 2, without risking any real money.
Can I purchase special features in Cubes 2?
Yes, you can purchase special features such as free spins and locked symbols through the appropriate button in the game.
Is Cubes 2 a fair game?
Yes, Cubes 2 is based on a random number generator, which ensures fair and unbiased results for every spin.
What we like
Matching symbols on a grid that can increase in size.
Corner quadrants that unlock multipliers.
Unique theme and visuals based on Rubik's cube.
High volatility for an exciting challenge.
What we don't like
Limited free spins option.
May not appeal to players who prefer traditional slot games.