Crusader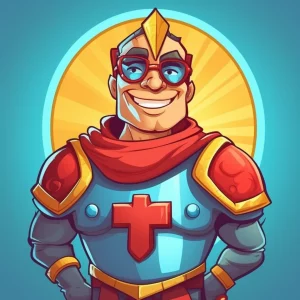 Looking for a slot game that takes you on a holy adventure? Enter Crusader – a video slot game with so much madness waiting for you! With 5 reels and 26 paylines, this game has long been a hit among casino gaming fans.
Things get even more exciting when the bonus round is triggered – the paylines increase to 98! That's more chances of winning for you. Plus, there's an expansion symbol, which is an arrow, and it can be found on reels 2, 3, and 4. This one-of-a-kind symbol expands the grid up to 5×12. Whoa, that's brilliant – just like how you can expand your waistline by eating too much pizza.
The best part? For each spin, players can bet between 0.10 and $100. Think of all the endless possibilities! And if you're feeling lazy, you can always use the autoplay option. But we warn you, there are no maximum loss limits available. So, it's game on, baby!
Theme
Prepare to travel back in time with Crusader, an online slot game that takes you to the world of knights, epic battles and brave warriors. The game channels the medieval spirit of the Battle of Acre with breathtaking graphics and sound effects that make you feel like you're right in the midst of the action.
With its striking depiction of a fortress amidst a reddish sky, Crusader captures the somber and combative atmosphere of warfare. The design elements, including symbols like swords, shields, and coat of arms, add to the authenticity of the theme and transport players back to a time when chivalry was alive and well.
Whether you're a history buff or just a fan of good online slot games, you'll find plenty to love about Crusader. The game is a perfect example of how the right mix of theme and gameplay can create a truly magical experience. Plus, if you're lucky enough to make it past the fortress, you might just walk away with a big win to fund your own Crusades!
Design
Get ready to enter the battlefield with the Crusader slot game. The design is dark and brooding, which sets the tone for the game and immerses you in the world of medieval warfare. However, if you're someone who's used to flashy graphics and bright colors, then you might find the design a little underwhelming.
Having said that, the graphics themselves are quite good and do justice to the theme. The symbols on the reels represent various aspects of medieval life, and the attention to detail is commendable. You'll find helmets, shields, swords, and other weapons of war on the reels, along with the standard playing card symbols.
But let's be honest here. When it comes to slot games, most players are more interested in the gameplay and the potential to win big than the design. If you're one of those people, then you won't be disappointed with Crusader. It's a game that has the potential to pay out some serious cash and keep you entertained for hours on end.
Overall, the design of Crusader may not be groundbreaking, but it's still good enough to create the right atmosphere for the game. And while it might not be the flashiest game out there, it more than makes up for it with its gameplay and potential payout.
Symbols
Are you ready to battle it out with the Crusaders in this online slot game? Let's take a look at the symbols that will get you that coveted win. Of course, you'll see a warrior in full armor on the reels, ready to fight for his kingdom. But what's a warrior without his shields? You'll find those on the reels too, ready to protect you from any losses.
But what's a medieval-themed slot game without a dagger? The dagger symbol not only adds to the authenticity of the game, but it also pays out nicely if it appears on the reels. And who can forget the chalice? This holy grail can pay out up to 10 times your bet if it appears five times on the reels! So keep your eyes peeled for this lucky symbol.
But the real treasure in Crusader is the Crusader symbol itself. This wild icon can replace any other symbol on the reels, which means more chances for you to hit that winning combination. And watch out for the Crusader Wild feature – it can trigger a round of free spins, giving you even more chances to win big!
And what's this? An expansion symbol? That's right – during the bonus round, keep an eye out for the arrow symbol. It can add more rows and paylines to your game, increasing your chances of winning even more!
All in all, Crusader has a variety of symbols that can help you win big. So grab your weapons and get ready to enter the arena – it's time to join the Crusade!
RTP: Is Crusader Worth Your Time and Money?
Are you tired of playing casino games with meager returns on investment? Look no further than Crusader, a slot game with an RTP value of 96.1% that promises to deliver thrilling gameplay and big cash payouts!
Okay, maybe we overstated things just a bit. Don't get us wrong, the Crusader slot has its pros. The return-to-player rate is respectable enough, and the graphics certainly look the part. But let's not get too carried away. It's still a slot game, and the house always has the edge.
That being said, if you're looking for a slot that won't bleed your bank account dry, Crusader might be the answer. The RTP value is average when compared to other online slots, but hey, average is still better than below average. So if you feel like taking a spin and testing your luck, give Crusader a try. You might walk away with a bit of extra cash- or you might not, but at least you'll have had some fun in the process!
FAQ
What is the theme of the Crusader slot game?
The Crusader slot game has chosen a unique theme that calls upon the Crusades, the great battles that iGaming has decided to reinterpret.
How many reels and paylines are there in Crusader?
The Crusader slot game relies on 5 reels and 26 paylines which become 98 if the bonus is unlocked.
What is the bet range for Crusader?
For each spin, you can bet between 0.10 and $100.
What is the RTP value of Crusader?
The RTP value of Crusader is 96.1%, making it average in comparison to other online titles.
What is the wild icon in Crusader?
The Crusader symbol is the wild icon that can trigger the Crusader Wild, useful for accessing one or more free spins.
What is the maximum win in Crusader?
You can win up to 2,500 times your bet, particularly if you take advantage of the bonus features.
Is there an autoplay feature in Crusader?
Yes, there is an autoplay button that maintains the settings you have chosen. Remember that you cannot set maximum loss limits if you use this feature.
Are the graphics in Crusader impressive?
The graphics of Crusader might not fully convince players as some might find them a bit dull compared to initial expectations. However, the gameplay and features still offer great entertainment.
What we like
Impressive graphics
Expanding grid during bonus round
Generous RTP value (96.1%)
Exciting gameplay features
What we don't like
No maximum loss limits with autoplay
Graphics may be too dull for some players