Crime City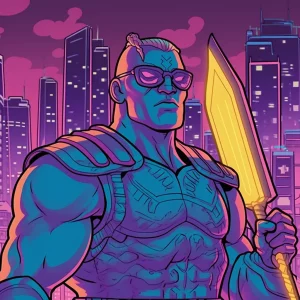 Get ready to enter the seedy underworld of Crime City! This slot machine is as straightforward as a good ol' mobster shakedown, with five reels and 243 ways to win. In other words, you'll be rolling in the dough with every spin.
The betting range is nothing to sneeze at either, with a minimum of $0.25 on all lines up to a maximum of $50. It's a good thing too, because with all the Tommy guns and brass knuckles flying around, you'll need to have plenty of cash at the ready.
Token value ranges from one cent to $2, so players of all bankrolls can feel like they have a shot at the big score. And if you're feeling extra lazy after a long night of "work", Crime City offers an Autoplay mode that lets you sit back and let the game do the dirty work for you.
Best of all, the theoretical return to the player (RTP) is a whopping 96.4%! That's better odds than what most wise guys get when making a deal with the don. So go ahead and take a spin – with odds like that, you might even make a REAL killing.
Graphics
Tuko Productions did not pull any punches when developing Crime City, opting for simplicity and functionality over extravagance and eye-candy in its graphics. The visuals are crisp, clean, and efficient, with an accurate portrayal of all the symbols and a skyline that perfectly captures the dark essence of the city in which the game is set. While the graphics might not be the most intricate or advanced, they are consistently in line with the cyberpunk theme of the game, immersing you even further into the world of crime that the game represents.
Let's be real; we're all here for the chance to win some major bucks and put the heat on those dastardly villains. The graphics don't need to be groundbreaking, but they do need to set the right tone. Crime City's graphics do precisely that, drawing you into its murky, shadowy world of gangsters, heists, and high-stakes action.
Symbols
The symbols in Crime City are almost as diverse as the criminals populating the city itself! The game features a mix of classic and thematic symbols that will make you feel like a real gangster. The thematic symbols include a badge, a gun, a whiskey glass, and even handcuffs! You can win up to 100x to 500x the bet if you manage to land these symbols on all five reels!
The classic symbols are also present in the game to spice things up. The Royals, represented by neon graphics, add to the overall cyberpunk theme of the game, even though they are not entirely themed. They might not be as exciting as the thematic symbols, but they are still capable of exclusive surprises when they appear.
Overall, the symbols in Crime City are pretty creative and well-designed. They'll make you imagine what it's like to be in a real-life heist movie, except winning in this case is not only a matter of luck.
Special Features
Ah, the exciting world of Crime City! This slot game may be online, but it's got all the suspense and drama of a classic gangster movie. Well, if the movie were replaced with spinning reels and the gangster actors were changed to vibrant symbols, that is. But hey, we're not complaining, especially since Crime City comes with some amazing special features.
Let's start with the Wild symbol. If you ever wished a singer could help you win big bucks, your wish is granted here! This Wild symbol is one talented lady, as she can substitute for any other symbol on the reels except the Scatter and Bonus symbols. Who knew singers were so versatile?
Next up, we have our dear gangster Scatter symbol. Landing three of these bad boys or more on the reels will trigger free spins, which is always exciting. But here's the kicker – you can get up to 50x your initial bet from multipliers. Cha-ching! That's the sound of you raking in those winnings, baby.
And last but not least, we have the Bonus symbol. Represented by a target, this symbol grants access to the Bonus game. What's in the Bonus game, you ask? Well, extra chances to win, of course! Because who doesn't want more opportunities to boost their bankroll? So, to sum it up, Crime City's special features are top-notch and sure to keep you hooked for a good, long time.
Betting for Beginners: A Flexible and Fun Betting Range in Crime City
In online slot games, one of the most important factors to consider is the range of betting options available. Luckily for players of Crime City, this game offers a flexible and inclusive betting range, making it accessible to players of various budgets.
Whether you're a high roller or a player on a budget, Crime City's betting range is designed to suit your needs. With a minimum bet of $0.25 and a maximum of $50 per spin, the game allows for a variety of different betting strategies.
The token value in Crime City ranges from one cent to $2, giving players the ability to adjust their bets on each spin by choosing the number of coins per line and the cash value of each coin. This feature is perfect for those who want to carefully tailor their betting strategy to their playing style and desired outcomes.
Overall, we were impressed by the range of betting options available in Crime City. So, whether you're a novice player or a seasoned gambler, we're confident that you'll find a betting option that's perfect for you!
And if you're feeling really lucky, you can even put it all on red and hope for the best. Just don't blame us if things don't work out!
FAQ
What is the betting range of Crime City slot?
Crime City offers a betting range from a minimum of $0.25 on all lines up to a maximum of $50 and a token value ranging from one cent to $2.
How many ways to win does Crime City offer?
Crime City has 243 ways to win.
What is the RTP of Crime City?
The theoretical return to the player (RTP) of Crime City stands at a good 96.4%.
What are the special symbols in Crime City?
Crime City has three special symbols: Wild, Scatter, and Bonus symbol.
What does the Wild symbol represent?
The Wild symbol in Crime City is represented by a singer and acts as a wild card.
How can you trigger free spins in Crime City?
To trigger free spins in Crime City, you need to land three or more Scatter symbols represented by a gangster.
What is the highest value symbol in Crime City?
The badge symbol offers the highest value and pays up to 500 times the bet.
Can you play Crime City in Autoplay mode?
Yes, you can play Crime City in Autoplay mode by setting the number of spins through the buttons found at the bottom of the game screen.
What we like
Flexible and inclusive betting range
Autoplay mode available
Thematic and classic symbols that contribute to the game's consistent cyberpunk theme
Offers a theoretical return to the player (RTP) of 96.4%
What we don't like
Graphics are simple and straightforward
No extravagant special effects or 3D animations