Cloud Corsairs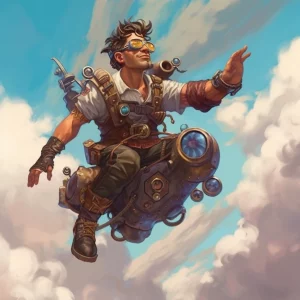 Ahoy there matey! Welcome to the highly volatile world of Cloud Corsairs where you can join the swashbuckling adventure for as little as $0.25. This 5×3 grid slot game offers 27 paylines, and players need to match identical symbols starting from the left reel and moving right or rely on the Wild symbol to complete the combo.
With an astounding RTP figure of 96.34%, there's no surprise as to why this game has become a favorite for many brave sailors. But beware, the high volatility comes at a cost! You need to keep your wits about you and weather the storm to make the journey worth your while.
However, there is one silver lining amid this tumultuous journey. Next to the fifth reel lies an additional reel stuffed with multipliers that can increase the value of your wins. So, if you're feeling lucky, come aboard and let's conquer the high seas of the Cloud Corsairs!
Symbols and Paylines
If you're a fan of pirate stories and adventurous slot games, then Cloud Corsairs is the perfect game for you! With 27 paylines and 8 fun symbols, this game offers exciting chances to win big. Let's dive into the symbols and paylines and see what this game has in store for us.
The symbols in Cloud Corsairs are divided into two levels. The low-level symbols are represented by wind roses of different colors. If you're not familiar with wind roses, don't worry, they won't give you motion sickness. They're just fancy looking compasses that sailors and pirates used to navigate the high seas. The high-level symbols, on the other hand, are the buccaneers of the story. They're a motley crew of pirates with eye patches, beards, hats, and swords. It's like a casting call for Pirates of the Caribbean, but with less makeup and more treasure hunting.
The airship symbol is the Wild. It's not just any airship though, it's a super-powered, steam punk-inspired blimp that can substitute for any other symbol to create a winning combination. That's like having a genie in a bottle, but instead of granting wishes, it grants you gold coins and cash prizes. To make a winning combo, players must match symbols on any of the 27 paylines. These paylines start from the left reel and move towards the right. Think of it like a treasure map and you're trying to connect the dots, except instead of an X, you're looking for the airship symbol.
Overall, Cloud Corsairs is a fun game that combines pirate adventure with classic slot machine gameplay. With its colorful symbols and generous number of paylines, it's a game that is sure to keep you entertained for hours. So hoist the mainsail, and get ready to find your fortune in the skies!
The Extraordinary Special Features of Cloud Corsairs
Have you ever wanted to sail through the sky on an airship, plundering treasure and battling sky pirates? Well, that might not be possible in the real world just yet, but in the Cloud Corsairs slot game, you can do just that. And to make your adventure even more exciting, this game offers three unique special features to help you win big.
The first special feature is the Zeppelin Respins. Triggered by the airship symbol in a winning combo, this feature locks the symbol in place while triggering a respin with various multipliers up to 50x. Talk about flying high with your winnings!
Next up is the Bonus round, activated by three bonus symbols. This feature grants 12 free spins and a winning payout from left to right as well as from right to left. Plus, every time additional bonus symbols appear, a counter moves up on the left side of the screen, unlocking more multipliers and granting additional free spins. It's like unlocking a treasure chest full of rewards!
And finally, the lightning mystery feature. This feature is a literal shock to the system as lightning incinerates six random symbols and replaces them with winning combos. It's like having Zeus on your side during the game- who wouldn't want that?
Overall, the special features of Cloud Corsairs take this slot game from ordinary to extraordinary. The next time you're looking for a high-flying adventure with exciting twists, give this game a spin. You never know, it might just give you wings – and winnings!
Volatility and RTP
When it comes to gambling, some people like to live life dangerously and go for the high volatility games. If you're one of those people, then Cloud Corsairs might just be the perfect slot game for you! With high volatility, it means that the game is more likely to give out larger wins, but you might have to wait a bit longer for them to come your way. But hey, the wait will definitely be worth it!
34% – that's definitely above average and will keep your bank balance feeling healthy. The RTP figure is like that one trusted friend who always seems to look out for you when it comes to gambling. With a figure like that, you can rest assured that you're getting a fair shot at the game.
Overall, Cloud Corsairs' high volatility and excellent RTP figure make it a fantastic choice for those who like to live on the edge. So why not take a chance and give it a try? Who knows, maybe you'll get your hands on the treasure chest!
Steampunk Style: Air Pirates from the Sky
Yo-ho-ho and a bottle of rum! Cloud Corsairs takes players to a world of adventure and danger as they join a gang of sky pirates who are fighting for treasures beyond the clouds. The game's steampunk theme is perfect in every detail; from the airships, machineries, and characters to the cities suspended in mid-air, it will make you feel like you're living in a Jules Verne book.
The graphics are precisely drawn with each character popping up on the screen making it look like they are ready to jump out of the game and into your living room. You'll be blown away by the level of detail in each of the characters and the effort put into their design. Even the backgrounds – whether you're flying high or engaging in ground battles – are nothing short of exemplary.
Who doesn't love steampunk? Everything from the archaic machinery to the historical elements will be sure to captivate the interest of players who love adventure, dressing up in Victorian-era clothing, and eschewing modern technology. So, human, come aboard and take off with the sky pirates as you embark on an unforgettable voyage.
FAQ
What is Cloud Corsairs?
Cloud Corsairs is a slot game with a steampunk theme in which players can earn prizes with airships and lightning.
What is the minimum bet for Cloud Corsairs?
The minimum bet for Cloud Corsairs is $0.25.
How many paylines are there in Cloud Corsairs?
There are 27 paylines on a 5×3 grid in Cloud Corsairs.
What is the volatility of Cloud Corsairs?
The volatility of Cloud Corsairs is high.
What is the RTP figure of Cloud Corsairs?
The RTP figure of Cloud Corsairs is 96.34%.
How many regular symbols are there in Cloud Corsairs?
There are 8 regular symbols in Cloud Corsairs, 4 low-level and 4 high-level.
What are the special functions in Cloud Corsairs?
The special functions in Cloud Corsairs include Zeppelin Respins, Bonus, and Lightning Mystery.
What is the Super Free Spins feature in Cloud Corsairs?
The Super Free Spins feature is activated when 15 bonus symbols appear, and in this case, the grid is emptied, and only airships appear.
What we like
High volatility for bigger wins
Excellent RTP figure of 96.34%
Exciting steampunk theme
Three special features to enhance gameplay
What we don't like
Limited minimum bet of $0.25
Limited number of paylines