Choy Sun Doa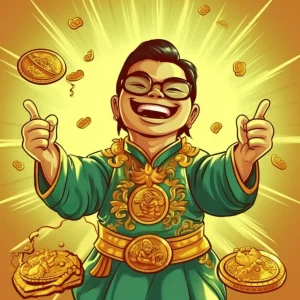 Choy Sun Doa is a slot game with an Asian backdrop, providing you with a unique and engaging experience. The game boasts 243 winning combinations that keep you on the edge of your seat throughout. Get ready to spin the reels and watch as the beautiful graphics and animations come to life, giving you a glimpse into traditional Chinese culture.
The 'Wild' symbol is the God of Wealth who promises good fortune to its players. When the God of Wealth appears on the reels, you can expect a winning combination as it replaces all other symbols apart from the Scatter symbol. Speaking of the 'Scatter' symbol, it is represented by gold bullions that can increase your chances of hitting the jackpot.
What's more? The game features an incredible Free Games feature, which magnifies your winning potential. Players can gain different bonuses through the Free Games feature, and with the maximum bet, you can earn up to 30x the bet amount. Now that's what we call a lucrative opportunity!
In conclusion, if you're looking for an online slot game that offers a perfect combination of immersive gameplay, captivating graphics, and lucrative bonus features, then Choy Sun Doa is the game for you. What are you waiting for? Go ahead and spin those reels!
Design and Graphics
The Empire of China is the main theme for Choy Sun Doa, with its culture and god of wealth providing inspiration for the graphics and symbols. It's almost as if the designers have taken a step back in time to ancient China, but with a modern twist. Whether you're a fan of Asian culture or not, the graphics and animations are impressive.
Every symbol on the reels has been richly designed. From the gold bullions to the coins, and even the jade rings, you can see the amount of time and effort the designers have put in to make this game stand out. You'll feel like you're walking through the streets of China, surrounded by all of the beautiful imagery.
The bright and vibrant colors of the graphics are attention-grabbing, while still being easy on the eyes. The overall aesthetic is both fun and inviting. You won't be able to resist getting lost in this world.
Aristocrat has hit the jackpot when it comes to the design and graphics of Choy Sun Doa. They've managed to provide players with a truly unique and captivating design that is both entertaining and engaging. I mean, who wouldn't want to spend hours playing a game that looks this good?
Winning Combinations
Are you ready to hit the jackpot? Then you need to try Choy Sun Doa, where you have 243 ways to win and numerous opportunities to hit it big! With so many different winning combinations, you can spin the reels for hours and always find something new to get excited about.
Wild and Scatter symbols add even more excitement to the game, giving you even more chances to win. And when you trigger the Free Games feature, watch out! You could earn up to 30x the stake amount, and that's nothing to sneeze at.
But let's talk about the real reason why you're here – the RTP. Choy Sun Doa has a high RTP, which means that you have a better chance of winning than with other slot games. This is great news for those of us who want a good return on our investment!
So what are you waiting for? Try Choy Sun Doa today and see if you have the luck to strike it rich!
Similar Slot Games
If you're a fan of the Chinese tradition and want to experience the same thrill as Choy Sun Doa, buckle up and give Pragmatic Play's Peking Luck a shot. This game takes you on an exciting journey filled with alluring graphics and symbols that embody the culture's celebration of luck and fortune. Compared to Choy Sun Doa, Peking Luck features a 5×3 grid and offers an abundance of bonuses that increase your chances of winning big.
Just like Choy Sun Doa, Peking Luck is perfect for players who want to indulge in a cultural experience that is both fun and rewarding. The game offers an intuitive interface that makes gameplay effortless and exciting. All you need to do is place your bets and spin the reels. Who knows? You might be one spin away from winning a jackpot.
In conclusion, Pragmatic Play's Peking Luck is a fantastic choice for anyone looking for a similar game to Choy Sun Doa. With its lively graphics, cultural themes, and array of bonuses, Peking Luck offers players an outstanding experience that is both entertaining and rewarding. So, go ahead and give it a try. Who knows? Maybe it's your lucky day.
Developer Reputation
When it comes to online slot games, nothing is more important than the developer's reputation. Fortunately, Aristocrat is a name that is well-respected in the industry. They have a proven track record of creating fun and exciting slot games that keep players coming back for more. Choy Sun Doa is one of their best offerings, thanks to its fantastic graphics, engaging gameplay, and high payout percentage.
In fact, some people say that Aristocrat's games are so good that they are almost too addictive. We don't know about you, but we've definitely spent more than a few hours spinning the reels on Choy Sun Doa. There's just something about the game that keeps us coming back for more. Maybe it's the dragon, or maybe it's the promise of hitting the jackpot. Whatever it is, we're hooked.
All in all, Aristocrat has done an excellent job with Choy Sun Doa. They have crafted a game that is both entertaining and rewarding, and we can't wait to see what they come up with next.
FAQ
What kind of game is Choy Sun Doa?
Choy Sun Doa is a slot game by Aristocrat with 243 winning combinations and various bonus features.
What is the theme of Choy Sun Doa?
The game's theme is centered around the Empire of China and its culture, specifically the theme of luck, with symbols like gold bullions, coins, and jade rings.
What kind of graphics does Choy Sun Doa have?
The game has bright and vivid graphics with a realistic style that immerses the player into a culture different from their own. Aristocrat's design skills in online gaming are showcased in this game.
What is the Wild symbol in Choy Sun Doa?
The God of Wealth is the Wild symbol and acts as a joker on reels 2, 3, and 4.
What is the Scatter symbol in Choy Sun Doa?
The gold bullion is the Scatter symbol, and it must appear on reels 3, 4, or 5 to activate the Free Games feature.
What is the Free Games feature in Choy Sun Doa?
The Free Games feature offers different bonuses depending on the symbol you land. The yellow fish offers 20 free spins, red yields 15, blue provides 10, pink brings 8, and Green gives 5 free spins.
How much can you increase your bet by in Choy Sun Doa?
If you add the Wild symbol during the Free Games feature, your bet will increase by a maximum of 30 times.
Can you recommend a similar slot game to Choy Sun Doa?
Peking Luck by Pragmatic Play is a comparable slot game that also has a theme highlighting Chinese tradition and luck.
What we like
243 winning combinations increase chances of winning
Engaging bonus features enhance the gameplay
High return to player (RTP) percentage
Captivating design and graphics
What we don't like