Chaos Crew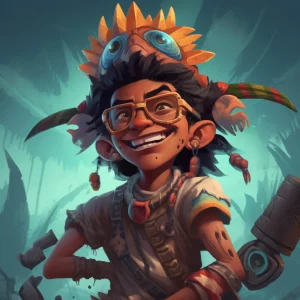 Get ready for the ultimate roller-coaster of thrills and excitement with Chaos Crew, the slot game extravaganza that will keep you on the edge of your seat! With 5 reels, 5 rows, and 15 paylines, this high volatility game is perfect for players who are ready to take on a challenge.
The betting ranges for this game are between $0.20 and $20, so you can choose to play according to your comfort level. And if you're feeling particularly adventurous, you can set between 10 and 1,000 automatic spins to keep the game going for longer.
Chaos Crew offers a Wild symbol with multipliers, adding an extra dose of excitement to every spin. And if that's not enough to whet your appetite, there's also a Scatter symbol that triggers free spins, giving you even more chances to win big.
The game also comes with a Bonus feature where all symbols disappear, and only the cat and the skull remain, each with their own individual multipliers. These multipliers are added up to calculate the total win, which could be enough to make you purr with delight.
Buckle up and get ready for a wild ride with Chaos Crew. Trust us, your nerves will thank you later!
Winning Potential and Top Prize
So you want to hear about the winning potential of Chaos Crew? Hold on to your hats, folks. The top prize is a jaw-dropping 10,000 times your bet! That's a whole lotta cat food. But seriously, with the high volatility of the game, payouts can be massive if lady luck is on your side.
The Wild symbol comes with multipliers of x2, x3, or x5. And if you're lucky enough to land multiple multipliers on the same pay line, they get multiplied together. Talk about jackpot city!
The Bonus feature is where things really start to get interesting. Each cat or skull symbol has its own multiplier that gets added up at the end of the game. It's like a math problem with high stakes! Just make sure you have your calculator handy.
Unleash the Chaos with Symbols and their Values!
Get ready for an adrenaline-pumping adventure with the Chaos Crew casino slot game! With all symbols being thematic, this game takes the excitement to a whole new level. The billiards ball, skull, smiley face, x, lightning bolts, moth, brain, apple, and tentacle are all symbols you'll find on the reels.
Now, who would have thought of including a billiards ball in a slot game? Only Chaos Crew! The skull is an ominous sign of what's to come, but don't let it scare you. The smiley face will lift your mood and liven things up, and the 'x' tells you that you've missed something special. Beware of the lightning bolts, they can strike at any time, but when they do, they bring great rewards. The moth is elusive, but if you catch it, you'll love it. The brain is for the clever players, and the apple is for those who get it. The tentacle symbol is the one that brings in the most reward.
But, let's talk about the Cranky Cat Wild symbol. Not only does it substitute for other symbols to form winning combinations, but it also comes with multipliers. In short, it's the best feline friend you could ask for. !
Design and Theme
Chaos Crew is a slot game that will transport you to a world of street art, and it's nothing like you've seen before. The graphics have a realistic urban feel, and they'll make you feel like you're walking on the streets of Brooklyn. The theme revolves around two characters, Cranky and Sketchy, who can be seen peeking out from the reels.
The symbols are a feast for the eyes too, with each one designed to reflect different aspects of street life. From cans of spray paint to toasters filled with cash, each symbol is carefully crafted to tell a story. The background music is perfect for the theme, with industrial beats that could make even the most seasoned graffiti artist groove.
Overall, the design of the Chaos Crew is spot-on, and it's definitely a slot game that will catch your attention.
Bonus Feature and Epic Version
Are you ready to wreak some Chaos on the reels? Then you must try the Chaos Crew slot game! The exciting and thrilling Bonus Feature is one of the highlights of this game. By landing both the cat and the skull symbols on the reels, you awaken this feature. Once triggered, all the symbols disappear, and only the two bonus symbols are allowed on the reels. With multipliers ranging from 2x to 20x, you can earn some significant wins during this feature.
The Bonus Feature also includes epic versions of both the cat and the skull. The epic cat and skull symbols offer even higher multipliers and therefore provide even bigger wins. So, prepare yourselves for the ultimate Chaos Crew experience.
And if that is not enough, the Bonus Button can allow you to purchase free spins. So, if the reels are not your friend, you can up the ante a bit and try your luck with some free additional spins.
Before you start spinning, however, let's take a look at the theoretical return to player (RTP) of the Bonus game, which is 95.92%. This is an impressive RTP that promises some exciting gameplay and significant potential wins.
So, grab your helmets and join the crew in this Chaos-filled adventure that promises to leave you spinning and winning for hours on end!
Return to Player (RTP)
Are you tired of online slot games with low RTPs? Well, you're in luck because Chaos Crew boasts an RTP of 96.30%! While it's nothing to write home about, it's within the average RTP range for most online slots. But beware, during the Bonus feature, the RTP takes a dip down to 95.92%. Don't worry, though! The high volatility of the game ensures that although you may not win as often, when you do win, the payouts are significant enough to make it worth the wait.
Chaos Crew is like a box of chocolates – you never know what you're going to get. With the high volatility, each spin is like a rollercoaster ride. It's unpredictable, exciting, and at times, terrifying. But hey, what's life without a little excitement? And if you're really lucky, you might just hit the coveted max win of 10,000x your bet. Just remember to hold on to your hat, because the chaos doesn't stop until the last spin!
FAQ
Can I play Chaos Crew for free?
Yes, Slotjava is the right place to try Chaos Crew and other fun slots for free, without any registration or initial deposit required. Any casino site that collaborates with our portal allows free access to the demo mode.
What is the best place to play Chaos Crew?
Once real money is invested, it is necessary to select a legitimate operator with a good reputation and excellent services. The best choice varies depending on personal preferences. Reading our online slot reviews might make your search easier.
How to win at Chaos Crew Slot Game?
Like all safe casino games, this certified title generates random results (RNG), and all you need is a lot of luck and a bit of analysis. Check the paytable to discover how and how much you can win.
What is the RTP of Chaos Crew?
The RTP value is 96.30%, while the volatility is high, which means you don't win often, but when you do, the payouts are always significant.
What is the top win in Chaos Crew?
The top win in Chaos Crew is up to 10,000 times the bet.
Are there any special symbols in Chaos Crew?
Yes, the Cranky Cat is the Wild symbol and the Scatter is the Free Spins symbol. Both have multipliers attached to them that can increase the winnings. There are also epic versions of both symbols that offer even bigger payouts.
How many paylines does Chaos Crew have?
Chaos Crew has 15 pay lines that are active on a 5-reel, 5-row grid.
What is the volatility of Chaos Crew?
The volatility of Chaos Crew is high, which means that payouts are infrequent, but they tend to be significant when they do occur.
What we like
Unique theme and design featuring street art culture
Bonus feature with individual multipliers for each symbol
High volatility with a top prize of 10,000x the bet
Wild symbol with multipliers of x2, x3, or x5
What we don't like
RTP in the Bonus feature is significantly lower
High volatility may not appeal to all players