Captain Wild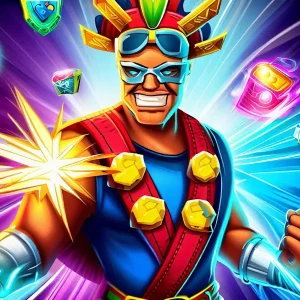 Get ready to enjoy some adventure on the reels as Captain Wild welcomes you aboard his ship in this exciting 5-reel, 3-row slot game with 20 fixed paylines. To win some impressive rewards, all you need to do is get at least three adjacent identical symbols on the same line, starting from the left. Remember, only the highest combo on a line will be paid out if there are multiple wins.
If you're wondering about the symbols, they range from the usual playing cards to higher-paying items such as a laser gun, burning skyscraper, radioactive bomb, ring, and even a newspaper page. The game features a unique wild symbol, Captain Wild himself, who can replace all other symbols except for the Scatter, which is represented as the infamous villain Loki.
If you're looking for some explosive wins, keep an eye out for the Boom symbol! It might make an appearance and will surely light up the reels and your earnings with some explosive payouts.
The thrill doesn't stop there! Landing three Scatters triggers the epic free spins feature where you'll be part of an ultimate showdown against Loki himself. Can you defeat the enemy and claim your winnings? Only time and spinning the reels will tell! And who said slot games couldn't be heroic?!
Symbols and Payouts
Ahoy, mateys! If you're on the lookout for a game that'll blow your mind, then look no further than Captain Wild. This slot game comes equipped with symbols ranging from run-of-the-mill playing cards to high-paying items like a laser gun, a burning skyscraper, and even a radioactive bomb. Don't worry – you won't need a degree in physics to spin these reels, just your trusty sea legs and a bit of luck.
Now, let's talk about the Wild symbol. The one and only Captain Wild himself can replace all other symbols in the game (except for the Scatter symbol, which is Loki), giving you the chance to really boost your winnings. And for those of you who are feeling particularly explosive – keep an eye out for the Boom symbol. You never know when it'll show up, but when it does, it'll explode and transform into a paying symbol. Who said slot games were boring, eh?
So – I bet you're wondering how much you could potentially win, right? Well, the maximum payout in Captain Wild is a jaw-dropping 5,763 times your initial bet. That's enough to buy yourself a one-way ticket to your own private island. Of course, with great payouts come great responsibility. If you want to know the ins and outs of what you could potentially win, it's always worth checking out the Paytable for more information. Bon voyage!
Bonuses and Free Spins
Are you ready for some major perks? Captain Wild has got you covered! This slot game features not only one, but two amazing bonus features that can significantly boost your chances of winning big. Let's dive right in and take a closer look at what you can expect.
The first bonus is triggered by landing three Scatters, Loki. This will activate the free spins bonus round, where the villainous Loki launches a bomb that turns one or more reels green. Sounds explosive, right? But Captain Wild isn't afraid of a little danger. If a Wild symbol appears on the green reel, our fearless hero intervenes to remove the contamination and increase the multiplier, which applies to all your winnings. The more green reels you get, the higher the multiplier you can score. And if you're lucky enough to land a Super Wild symbol, all of the reels are decontaminated, and the multiplier increases by the number of reels decontaminated. Talk about a supercharged win!
But that's not all. Captain Wild also comes with a unique feature that rewards players for sticking with the game, even when luck isn't on their side. There's a bar next to the playing grid that increases with every non-winning spin. When full, you can spin the wheel to activate a multiplier of up to 100 times the bet value. Trust us, it's worth the wait. And who knows, you might just land that winning combination while charging up the bar.
So what are you waiting for? Come aboard Captain Wild's ship and set sail for adventure and riches. With the promise of exciting bonuses and free spins, you won't be disappointed. Plus, with Captain Wild on your side, you can rest easy knowing that no villainous bomb or contaminated reel will stand in your way!
Graphics and Design
As a slot game enthusiast, I love it when a game has an attention-grabbing design, and Captain Wild definitely hit the mark. The comic book-inspired graphics are top-notch and contribute to making the game a feast for the eyes. It's like watching an action-packed superhero movie, only you get to participate in it!
The game's smooth gameplay mechanics also make it user-friendly, whether you're an experienced player or a newbie to the slot game world. The background music deserves a shout-out too, as it adds to the cinematic atmosphere. I found myself tapping my feet to the beat while spinning the reels with excitement.
The game is set in New York, and the designers paid attention to detail. The iconic symbols like the Empire State Building and the Statue of Liberty help to create an immersive experience for players, almost as if you were walking through the bustling streets of the Big Apple. As a New Yorker, I can say that the game designers did a pretty accurate representation of the city's landmarks. Heck, if you don't live in New York, playing Captain Wild might just give you enough of a desire to visit!
Overall, the graphics and design of Captain Wild are impressive and fun, bringing a well-rounded entertainment experience to the table. It's no surprise that it's gaining popularity quickly. Kudos to the development team for delivering such a visually stunning and engaging game!
Exploring the Volatility and RTP of Captain Wild
Ah, Captain Wild – truly the best slot game on the market! Now, let's talk about something important – its volatility.
The volatility in Captain Wild is medium, meaning players can expect a balance between spins made and sums awarded by the game. Although some players might prefer either low or high volatility games, medium volatility slots like Captain Wild guarantee the perfect mix of entertainment and excitement.
The RTP (theoretical return to player) of this game stands at 95%. Not too shabby, right? Just so you know, an RTP of 95% is typical for an online slot game. So, if you're looking to take a break from life and try your luck, you won't be disappointed.
Players can place their bets from a minimum of 0.10 coins to a maximum of 15 per spin. And trust us, there's nothing more thrilling than risking it all with only a few coins in your pocket. So, put on your pirate hat, and let's set sail for some big wins with Captain Wild!
FAQ
What is the RTP of Captain Wild?
The theoretical return to player (RTP) of Captain Wild is 95%.
What is the minimum bet amount in Captain Wild?
The minimum bet amount in Captain Wild is 0.10 coins.
What is the maximum bet amount in Captain Wild?
The maximum bet amount in Captain Wild is 15 coins.
What type of symbols are featured in Captain Wild?
The slot features playing cards, a newspaper page, a laser gun, a fist, a radioactive bomb, a ring, and a burning skyscraper as symbols.
What is the Wild symbol in Captain Wild?
Captain Wild is the Wild symbol in this slot, replacing all symbols except the Scatter.
What is the Scatter symbol in Captain Wild?
The Scatter symbol in Captain Wild is Loki.
How do I trigger free spins in Captain Wild?
You can trigger free spins in Captain Wild by landing three Scatter symbols on the reels.
What happens during free spins in Captain Wild?
During free spins in Captain Wild, an epic battle between Captain Wild and the villain occurs. The radioactive reel turns green, and any Wild symbol appearing on the reel will increase the multiplier to apply to all winnings.
What we like
Great comic book-inspired graphics and smooth gameplay mechanics
Free spins bonus feature with multiplying Wild symbols and wheel multiplier
Medium volatility balances spins made and sums awarded
RTP typical of an online slot game at 95%
What we don't like
Limited betting range may not suit high rollers
Only up to five of a kind wins, which may limit potential payouts