Captain Jack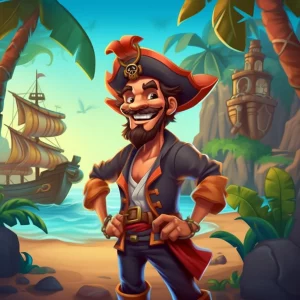 The gameplay experience of Captain Jack is nothing short of exciting – it's a real treasure of an online slot game! Players will be immediately drawn in by the beautiful graphics, which bring to life the pirate theme in stunning detail. The 3D animations are simply mesmerizing, making it feel like you're part of the action and adventure on the high seas.
With 5 reels and 20 pay lines, there are plenty of chances to win big in this game. But what really sets it apart are the special symbols. You'll find everything you'd expect to see on a pirate ship, including a flag complete with a skull and crossbones, a sword, an anchor, a chest full of treasure, a cannon, and a helm. Each symbol has been expertly crafted with its own unique personality and charm, making the game all the more engaging and enjoyable.
If you're looking for an online slot game that will lead you on an epic adventure and have you sailing the seas alongside Jack and his crew, then Captain Jack is definitely the game for you. So hoist the Jolly Roger, set sail, and get ready for a swashbuckling good time!
Bonuses and Features
So you want to talk bonuses and features, do you? Well, let's start with the wildcard, the Treasure Chest. This little beauty might be small, but it packs a big punch. It can help players obtain those lucky combinations that make spinning the reels so exciting. Who knows, this little treasure may just be the key to unlocking the jackpot!
Next up is the Scatter symbol, represented by the Flag with the Skull. This symbol is not only cool-looking but also extremely handy. It can activate free spins or offer players multipliers compared to the standard bet – making it a very powerful weapon in the Captain's arsenal.
Captain Jack also comes with a bonus game that allows players to multiply the bets made to increase the final prize. Talk about a jackpot boost! All players need to do is position at least three symbols of the Map on reels 2, 3, and 4 to participate in the treasure hunt. It's like a virtual treasure map, but without any of the pesky pirates or hidden booby traps!
In short, the bonuses and features of Captain Jack are top-notch – just like the Captain himself. With so many exciting ways to win, it's no wonder that this game has become a favorite among online slot game enthusiasts. So what are you waiting for? Set sail with Captain Jack and see if you can't strike it rich!
Symbols and Graphics
Ahoy there matey! Let's talk about the swashbuckling symbols and graphics of Captain Jack. They say simplicity is the ultimate sophistication, and that holds true for this pirate-themed slot game. The graphics are stunning, with attention to every detail that will transport you across the seas to go on a treasure hunt.
This game is a real treat for the eyes with gorgeous 3D animations that will have you entertained for hours. The symbols on the reels include a Skull and Crossbones flag, a shiny Sword, an Anchor, and other seafaring objects like a Chest, a Cannon, and a Helm.
And who could forget about our trusty wild symbol, the Treasure Chest? This flashy icon can help you unlock wins and treasures on your journey. Look out for the Scatter symbol, a Flag with a Skull, which is your ticket to the bonus rounds.
Overall, the graphics and symbol designs in Captain Jack are top notch. It's enough to make you wonder if Blackbeard himself designed this game. So hoist the Jolly Roger, and let's set sail together to hunt for riches!
High Return to Player Percentage
If you're anything like me, you want to get the most bang for your buck when playing slots. Well, Captain Jack is here to make all your wishes come true with a whopping 96.35% return to the player! That's right, you have a better chance of winning big with this game than you do with most other online slots out there.
But that's not all. Captain Jack also offers a wide range of betting options, with a minimum bet of just 0.02 cents and a maximum bet of 20 Dollars. You can even adjust the number of pay lines and coins per line to really customize your playing experience.
With up to three available, you could hit some serious jackpots. And the best part? These spins can be reactivated up to 20 times! It's like getting free drinks at the casino – except you don't have to deal with the annoying cocktail waitresses.
Software and Developer
Are you ready to set sail on the high seas? Then let's talk about the software and developer behind Captain Jack. Tuko, an Italian software house, is the brains behind this adventurous online slot game. Don't underestimate the power of the Italian touch – they know a thing or two about making things exciting and fun!
Captain Jack has a pirate theme – if you're a fan of Johnny Depp and his swashbuckling ways, then this game is perfect for you. The bonuses and features are a treasure trove of fun. Don't be surprised if you start hearing sea shanties in your head as you play. Trust us, this game is that immersive.
The game is well developed, and players are ensured an excellent gaming experience. It's like playing a slot machine in a pirate's hideout. Just don't expect to see Captain Jack Sparrow himself – we don't want to get sued!
FAQ
What is the Captain Jack slot machine?
The Captain Jack slot machine is an online game developed by Tuko that takes a pirate theme and features numerous bonuses and special symbols.
What are the graphics like in Captain Jack?
Captain Jack has simple but beautiful graphics, including 3D animations. Symbols include flags, skulls, swords, and more pirate-themed objects.
What special symbols are in Captain Jack?
Captain Jack features Wilds, represented by a Treasure Chest, which can substitute for any other symbol except Scatters. Scatters, represented by a flag with a skull, can activate free spins and offer multipliers.
How many pay lines are in Captain Jack?
Captain Jack has 20 pay lines.
What is the minimum bet for Captain Jack?
The minimum bet for Captain Jack is 0.02 cents.
What is the maximum bet for Captain Jack?
The maximum bet for Captain Jack is 20 Dollars.
What is the percentage of return to the player in winnings?
The percentage of return to the player in winnings is 96.35%.
What is the bonus game in Captain Jack?
The bonus game is a treasure hunt where players must open eight chests to collect a prize. The game is triggered by positioning at least three Map symbols on reels 2, 3, and 4.
What we like
Beautiful graphics and 3D animations
Exciting bonuses and features
Attention to detail in symbols and graphics
High return to player percentage
What we don't like
Limited number of free spins
Limited reactivation of free spins