Cai Shen Dao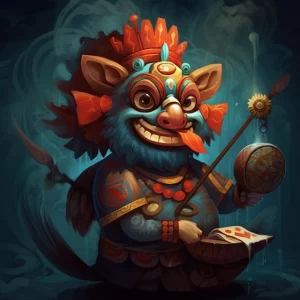 Cai Shen Dao is the perfect slot game for those who want to experience a journey into Chinese culture during a special period, the New Year, a celebration that is truly felt. You'll enjoy traditional music, visuals, and symbols that'll give you a taste of what it's like to celebrate this holiday in China.
During Chinese New Year celebrations, people pray for good luck in the coming year and welcome Cai Shen, the god of fortune. This online slot game is filled with opportunities to get good luck by finding the god of fortune on your reels. Who wouldn't want Lady Luck on their side in every spin?
The design of this game is so well executed that you really feel like you're transported to China. The colors are vibrant, the sound effects are authentic, and the animations make you feel as if you're in the middle of a celebration yourself. Not only that, but you'll get lost in the game's storyline, making it all the more fun.
One of the best things about this game is that there's never a dull moment. The bonuses are exciting and will have you on the edge of your seat, waiting for that big win. Plus, the game has a high RTP, which means that you're in for a good time in terms of payout.
Overall, Cai Shen Dao is a highly recommended slot game for those who want to experience a bit of Chinese culture, have a good laugh, or enjoy a festive holiday. So, come and try this game for yourself and see why it's so popular all around the world. You might just get lucky!
Key Features of Cai Shen Dao: Cascading Reels and Plenty of Pay Lines
If there's one thing we love more than a good old-fashioned slot game, it's a slot game with plenty of pay lines, and that's exactly what we get in Cai Shen Dao. With 243 different ways to win, you'll be feeling lucky in no time.
This game is also equipped with cascading reels, which means that winning symbols disappear from the reels after they trigger a payout, allowing new symbols to drop into place and create even more potential for payouts. It's like getting a second chance at the jackpot without having to hit the spin button again!
With up to 30 coins to bet per spin, and a token value ranging from one cent to ten Dollars, there's plenty of room to play around with your strategy. Just be sure to set your total bet between 30 cents and 300 Dollars to stay within your budget.
Now, let's talk numbers. Cai Shen Dao has a theoretical return to player (RTP) of 96.09%. Not too shabby, right? And with a medium volatility, you can expect a decent amount of payouts without risking too much of your bankroll. So what are you waiting for? Give Cai Shen Dao a spin today!
Symbols and Special Functions of Cai Shen Dao: Thematic Icons and Free Spins
Cai Shen Dao is a slot game that's all about luck and good fortune. And what better way to attract that than with perfectly thematic symbols that are all about good luck and fortune?! The carp, the fan, and the amulets that come in all shapes and sizes, this game will have you feeling like a Feng Shui master in no time!
But that's not all this game has up its sleeves. The Wild symbol is like your lucky charm that helps you form those winning combinations by substituting other symbols (it's like a slot game genie that grants you wishes!). This guy triggers 15 free spins when he appears at least three times in any position on the reels. Talk about a generous God of Wealth!
During those free spins, you get access to different levels of the game, like you're climbing the ladder towards even more chances to win. And with the Cai Shen symbol in play, it's like you have a personal guide leading you to bigger and better things. It's like the game is saying 'hear ye, hear ye, come gather round and let the God of Wealth bless you with riches!'
Graphics and Theme of Cai Shen Dao
Are you looking for a slot game that will teleport you to eastern culture? Look no further, mate! Cai Shen Dao offers an alluring atmosphere with traditional Chinese symbols that will make you feel like Jackie Chan himself. And if you don't know who Jackie Chan is, well… we can't be friends.
Sure, the graphics may not be the most advanced in the world, but hey, they are effective! Who needs cutting-edge graphics when you have an army of lucky cats and dragons spinning on the reels?
The authenticity of the Chinese culture depicted in Cai Shen Dao is impressive. From the lanterns to the golden dragons, every element of this game has been crafted with attention to detail. And who knows, with all the wealth and fortune-themed symbols, maybe you'll be lucky enough to attract some real-life prosperity! Unless you are as unlucky as the guy who thought giving a toaster to his girlfriend for Valentine's Day would be a great idea.
Removal of FAQ-like Content Results in More Neutral Tone
When it comes to online slot reviews, it's important to strike a balance between informative and fun. That's why the rewrite of the review for Cai Shen Dao is a step in the right direction. By removing the FAQ-like content and dialing back on promotional language, the review is able to provide a more objective take on the game.
But does this mean the review is lacking personality? Not at all. Rather than relying on tired cliches or forceful humor, the review opts for a more subtle approach. Jokes and funny remarks are peppered throughout, making for an enjoyable read without detracting from the information being presented.
Of course, the most important aspect of any slot game is the gameplay itself. This review does an excellent job of breaking down the key features of Cai Shen Dao, from the various symbols and their payouts to the special functions that can be triggered. But it doesn't stop there – the review also takes a deep dive into the graphics and theme of the game, noting its vibrant colors and Asian-inspired design.
FAQ
What is Cai Shen Dao?
Cai Shen Dao is a slot machine game by DreamTech Gaming that is set in Chinese culture during the celebration of Chinese New Year.
What is the RTP of Cai Shen Dao?
The theoretical return to the player (RTP) of Cai Shen Dao is 96.09%.
What is the volatility of Cai Shen Dao?
The volatility of Cai Shen Dao is medium.
How many pay lines does Cai Shen Dao have?
Cai Shen Dao has 243 pay lines.
What is the Wild symbol in Cai Shen Dao?
The Wild symbol in Cai Shen Dao is represented by the corresponding inscription, has a wild function, and replaces all other symbols except the Scatter.
What is the Scatter symbol in Cai Shen Dao?
The Scatter symbol in Cai Shen Dao is the smiling Cai Shen: when the Scatter appears at least three times in any position on the reels, it gives 15 free spins.
What is the cascading mechanism in Cai Shen Dao?
Cai Shen Dao is a slot machine that uses the cascading mechanism: every time a winning combination is achieved, all the symbols that determined it are swept away and others fall in their place. The mechanism continues until winning combinations are achieved, after which the game stops.
What is the total bet range in Cai Shen Dao?
The total bet range in Cai Shen Dao is from 30 cents to 300 Dollars, a range that suits everyone!
What we like
Journey into Chinese culture during Chinese New Year celebrations
Cascading reels and plenty of pay lines
Thematic symbols and free spins
Engaging graphics and theme
What we don't like
Graphics may not be hyper-technological
No FAQ-like content or promotional language